Houston Outdoor Living: Our Spokesdog Speaks

Houston outdoor living spaces
should be
beautiful place
s where pets and their humans can gather for great food, entertainment and shade from the sun! In Houston, TX, where so many homeowners have and love dogs –
covered patios are an absolute must
! At least that's the word on the street from Bentley, Outdoor Homescapes of Houston's faithful spokesdog!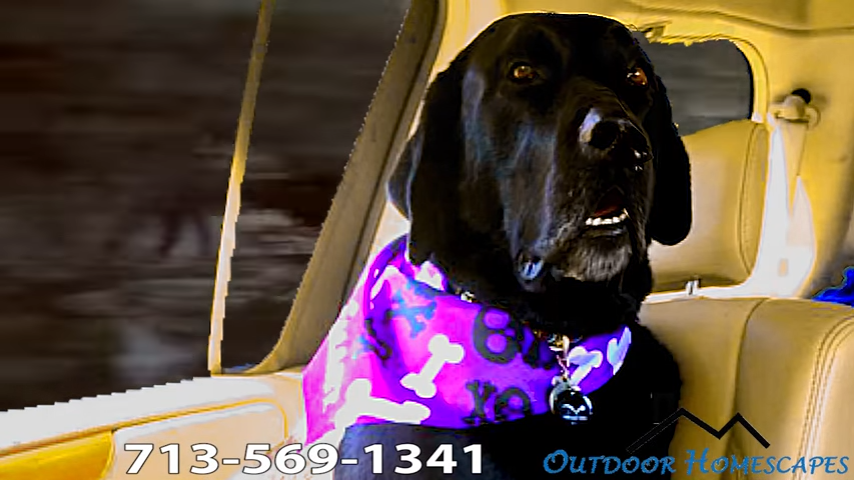 "On long drives as I await the arrival of spring, my mind often wanders to thoughts of a better world," says the black lab in the car after a trip from the groomer's. "And by a better world, I mean a great backyard to play in!" But Bentley's not just thinking of himself.  He wants a place where
everyone
can enjoy themselves – his humans, their friends and family… even that neighbor with the cute poodle! And in Houston, outdoor living spaces are used year 'round. So it's an investment in your quality of life
and
property values! "You can turn your backyard into another amazing room for living, entertainment and cooking those things humans call 'hot dogs!'" says Bentley. "And Outdoor Homescapes of  Houston is the expert on this! I've even seen them install a Big Green Egg – those are great for smoked ham!" Get it? Green eggs and ham? Or – he suggests – what about a wood-fired outdoor pizza oven? "I'll take mine with pup-eroni," he cracks. And don't forget a pergola for shade – "It's what we dogs call a roof-roof!" Outdoor Homescapes is also known for its outdoor audio-visual systems: "And don't forget the subwoofer!" adds Bentley. What's more, he adds, Outdoor Homescapes makes sure the project comes out perfect! "The Outdoor Homescapes team comes over and discusses ideas with you. They check out your backyard and create digital blueprints and 3D renderings of what they visualize for you. Then, they start making the magic happen! After all, that's the kind of customer service that has earned the company a 2015-2017 Best of Houzz award for customer service. Check it all out on Bentley's new video! Like what you see?
Contact us
! Or, call (713) 569-1341 today!
Don't let Bentley be the only lucky dog this season! Contact us to get the spring outdoor retreat or party place you've always wanted! Just contact us using the form on this page!