Give the Gift of Outdoor (And Indoor) Design This Holiday - Click "Gift Our Services!"
Or, Get $500 Off Outdoor Heating Systems! Click "$500 Off Outdoor Heating!"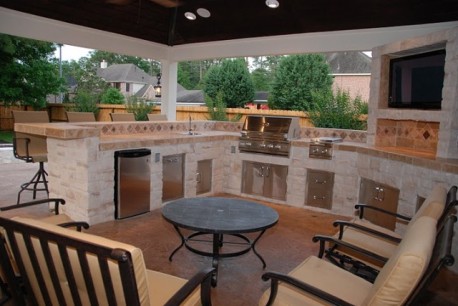 home.scape
Pronunciation: (home'skap")
An enjoyable yet functional extension to your existing home that reflects your distinct style and blends with the existing architecture.
Makes a lasting impression on your family, friends, neighbors, and business associates.
Most importantly, it helps make you feel good!
Used in a sentence: "Don't settle for a backyard, make it your Homescape!"

As you can see, we're able to design and build outdoor kitchens, patios and other Houston outdoor living spaces in many different custom styles, themes, and architectures.
We're also able to integrate everything from outdoor heating systems to outdoor furniture to outdoor lighting and audio-visual systems. We do interior kitchen design, too!
Click on any image to make it larger: