NEED TO REMODEL AFTER THE FLOOD? WE OFFER INSURANCE CLAIM ANALYSIS! COMPLIMENTARY WITH POST-FLOOD RE-DESIGN! CONTACT US! (AT RIGHT)
We know materials, finishes and furnishings! Get the full value back for your property!

Award-Winning Customer Service!
Best Of Houzz Award Winner 2015 - 2017!
Outdoor living space design is about more than beautiful custom patio covers, outdoor kitchens and backyard retreats. It's about making sure you know exactly what you're getting for your investment, with no surprises - only perfection.
We get it right. Every time. And not because we steamroll clients into doing what we want, but because of our collaborative design process, 3D renderings and virtual video tours that allow you to see - and edit - your project beforehand from every angle.
Do your covered outdoor kitchen plans include RCS grills or a built-in Big Green Egg? Houston loves patio kitchen plans with multiple outdoor appliances and cookers - and we know how to integrate them into beautiful outdoor living space designs that look original to your home.
What about covered patios, Houston? We have a full portfolio of outdoor kitchen design ideas, too, and can add everything from wood-fired outdoor pizza ovens to outdoor heating systems to outdoor audio-visual areas, even if you have a small-space outdoor kitchen or patio! In fact, outdoor kitchen design for small spaces is one of our many specialties, thanks to smart outdoor space planning.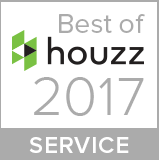 You can also extend the season with permanently installed outdoor heating systems and outdoor lighting!
The quality of our work shows in our long list of positive reviews for custom outdoor kitchens and other designs for outdoor living. Houston customers have given us so many good reviews that we earned a Best of Houzz Award for customer service the past three years in a row! We also do interiors, whether it's a kitchen or bath rehab, or whole house redesign!
We're now also on Home Advisor, which means we've passed the home service hiring site's extremely strict screening process, ensuring only top-rated local contractors!
As you can see, Outdoor Homescapes of Houston, Texas is able to design and build outdoor kitchens, patio covers and other Houston outdoor living spaces. And we're able to design many patio and backyard kitchen plans in a wide variety of custom styles, themes and architectures. Houston patio customization is our specialty!
We're also able to integrate everything into our Houston outdoor living space designs – from outdoor heating systems to outdoor furniture to outdoor lighting and audio-visual systems. We do interior kitchen design, too! From small space outdoor living design to extensive resort-at-home stay-cations, we can do it all!
Click on any image to make it larger: