Outdoor Cooking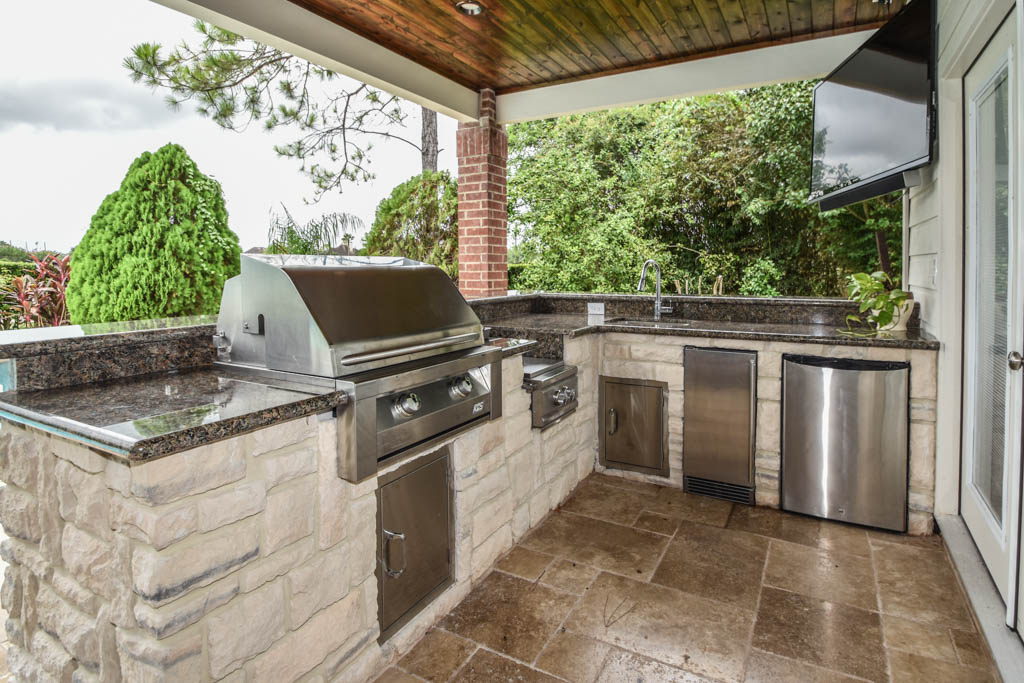 In Houston, built-in grills are a must, with everyone cooking outside year-round.
And Outdoor Homescapes of Houston delivers, with a wide variety of outdoor cookers and cooking appliances that can be custom-built into your outdoor living design – or kept separate, if you prefer.
RCS & FIRE MAGIC GRILLS
Outdoor Homescapes of Houston has been integrating RCS and Fire Magic grills and appliances into its outdoor kitchen designs for years, although clients can choose any brand or manufacturer of outdoor cooking that suits their needs.
The RCS line of grills and outdoor kitchen accessories are backed by a U.S. company with more than 50 years of experience. They offer 304 stainless steel that will hold up to the fiercest outdoor elements. RCS also offers a wide variety of accessories that can match – or rival – the look and function of those found in indoor kitchens, including under-counter outdoor refrigerators, access drawers and doors, trash cans, side burners, beverage centers and sinks with faucets. (The entire kitchen featured above is outfitted in RCS products, including the grill).

For more than 80 years, Fire Magic (picture above) has been building the world's finest outdoor grills, for people who demand the highest quality and performance. Made from the highest-quality materials, with the most advanced features for today's discerning outdoor cook, and backed by the industry's best warranty, Fire Magic is the last grill you'll need to buy. Fire Magic also offers outdoor-rated 304 stainless steel and an extensive line of premium accessories, making it easy to create an extraordinary outdoor kitchen.
WOOD-FIRED OUTDOOR PIZZA OVENS
Wood-fired outdoor pizza ovens for outdoor living spaces?
Yep!  They're no longer just for restaurants – or for Old World-style pizza with that perfectly bubbly, chewy, charred crust – but for grilling, roasting, baking and more!
No wonder more and more homeowners are bringing this culinary experience to their own back yards!
That's why we're now specializing in outdoor wood-fired pizza oven installation for your custom outdoor kitchen or other outdoor living space in Houston. And we're talking Forno Bravo wood-fired pizza ovens – the best in the world!
We're even offering a limited-time special promotion – $300 off Forno Bravo pizza oven accessories when you buy a Forno Bravo wood fired pizza oven through us!  Get yours today – just contact us!
"This is just a natural for us, since we can help you choose which model is right for you and custom design it into your outdoor living space," says Wayne Franks, owner of Outdoor Homescapes of Houston. "And Forno Bravo is THE name in wood fired pizza ovens for the home and garden – as well as for caterers, pizzerias, bakeries and restaurants."
Just check out this video of one in action:
Wood-fired outdoor pizza ovens, notes Franks, are now the go-to additional outdoor cooking appliance for everything from pizza to bread to roasts and more. "If you can imagine it, a wood-fired pizza oven can do it – with that Old World flavor and texture you can't get anywhere else."
Here's an image gallery of Forno Bravo wood fired pizza ovens installed in outdoor living spaces in Houston. We think you'll agree – they're a beautiful addition to your outdoor living experience.
KAMADO GRILLS
Kamado grills are widely considered the most versatile cooking device ever, serving as a cooker, griller and smoker in one!
Here are two of Outdoor Homescapes of Houston's favorite brands, which can be ordered and installed as part of outdoor designs like custom covered outdoor kitchens, patio covers and more!
Interested in how we can incorporate one of these kamado grills into your outdoor design? Just contact us, and we'll set you up!
Smoke-N-Hot
Unlike other kamado grills , this ceramic backyard cooker from Smoke-N-Hot saves you from adding twigs or lump charcoal. With just the push of a button, you can just set your desired temperature with the advanced digital cooking controls.
In contast to some other kamado grills, the Kamado Gourmet also offers a generous cooking area. It costs $1,699 and takes about 90 days from ordering to installation.
Big Green Egg
As the first of the American-designed kamado grills, the Big Green Egg comes in five sizes.
The largest, XLarge, has a price tag of about $1,100 and has a grid diameter of 24 inches. It can cook two 20 lb. turkeys, 24 burgers, 11 whole chickens, 12 steaks or 14 racks of ribs (vertically). The smallest, the Mini, is priced between $470 and $540 and has a grid diameter of 10 inches. It can hold two chicken breasts, two pork chops or one steak.
The Big Green Egg comes with plenty of accessories, including stands called "nests." And we make these nests look good in your outdoor living space, building them into natural or man-made stone islands.
EVO GRILLS
Evo grills can be purchased through Outdoor Homescapes of Houston, now an authorized dealer. These circular flat top grills turn outdoor cooking into a social display!
Evo's circular flat top cooking system was created by innovative food people with a passion for cooking and entertaining. The Oregon-based cooking appliance manufacturer wanted to connect people around food that guides everything we do.  And since 2001, it has done just that – with a full line of exceptionally energy-efficient gas and electric circular cooktops for both indoor and outdoor use. 
"With its circular flattop cooking surface, Evo lets you prepare virtually any cuisine from any angle," says Outdoor Homescapes of Houston owner Wayne Franks. "By cooking foods directly on the cook surface, you can sear, grill, saute, toast and stir-fry. Indirectly, you can use pots and pans to boil, braise, poach or steam."
Made in the U.S.A., these wildly popular circular cooktops create a social cooking experience for customers in both the commercial and residential markets. "Guests at your party will gather around the grill and be entertained, much like dining guests at a hibachi restaurant," says Wayne.
In other words, adding a built-in Evo grill to your outdoor kitchen island will definitely amp up your outdoor party potential. And if you're looking for beautiful built-in cooking appliances in Houston – we're the team you need! After all, we won the Best of Houzz award for client satisfaction in 2015 and 2016 for all our positive reviews, and the Houzz "Recommended" award, reserved only for Houzz's top local pros! And we're especially known for our beautiful built-in grills, kamado-style cookers like Big Green Eggs and other outdoor cooking appliances:
"Evo grills are the leading live-action display cooking equipment in the world and built to last a lifetime," says Wayne. "Used by foodservice professionals and top chefs as a versatile cooking platform, they also allow for more theatrical and entertaining food prep at home out on the patio."
The exceptional performance of Evo's circular cooking surface is the result of a single, slightly-crowned piece of steels that's formed with a flanged edge to trap heat, then oil-seasoned multiple times to promote a natural, non-stick cooking surface.
"This complements what we do," says Wayne, "and is like the Big Green Egg in terms of its popularity for being a versatile way to cook without an open flame."