Outdoor Kitchens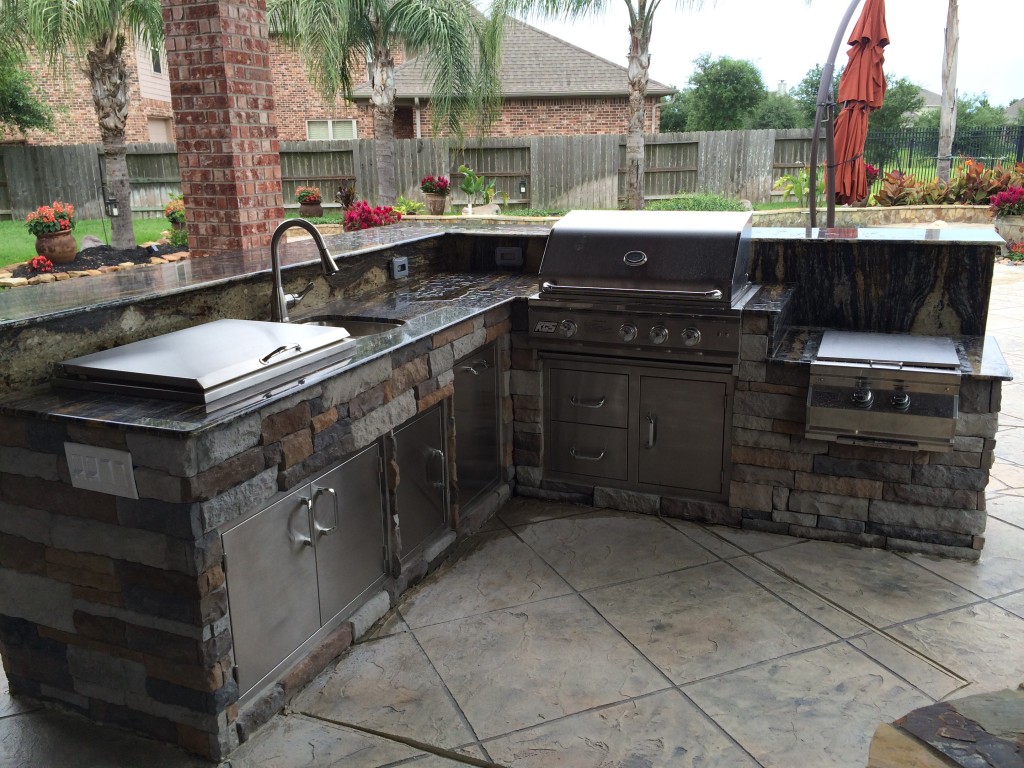 Outdoor kitchens are our specialty, with more than 600 of them completed by us since 2006!
Browse through this page of outdoor kitchen islands created by us to find inspiration. Or, browse our in-house library of other projects and ideas. Once you've worked with us to create your own outdoor kitchen, use our 3D design renderings and virtual video tours (see our 3D Design Examples page), you can preview your project from every angle – and make all the changes you'd like – till you get exactly what your heart desires.
These outdoor kitchen islands can house everything from built-in outdoor kitchen appliances and grills to bars, storage, electrical outlets, USB cable ports for your smartphone, kamado-style cookers like the Big Green Egg, wood-fired pizza ovens, custom built-in lighting and more!
Our highly trained masonry crews typically encase these islands with natural or manmade stone walls that go with any architectural or décor style. If stone isn't for you, however, our team of professional designers can work with you to choose other materials that are weatherproof, beautiful and durable.
Our design professionals can also help you select countertop materials like granite, travertine, tile or stone and help you match colors, finishes, materials so that your outdoor kitchen integrates into the exterior and architectural style of your home. This one perfectly complements a contemporary home with Spanish Mission influences in the Houston area:

Appliance selection can also be tricky, with kamado-style cookers, outdoor refrigerators and even pizza ovens among today's many offerings. We recommend installing commercial-grade, quality products from manufacturers like RCS (Renaissace Cooking Systems), Fire Magic, Big Green Egg and more. But our experts are happy to guide you through the selection process and install whatever outdoor appliances, amenities and fixtures work best for you: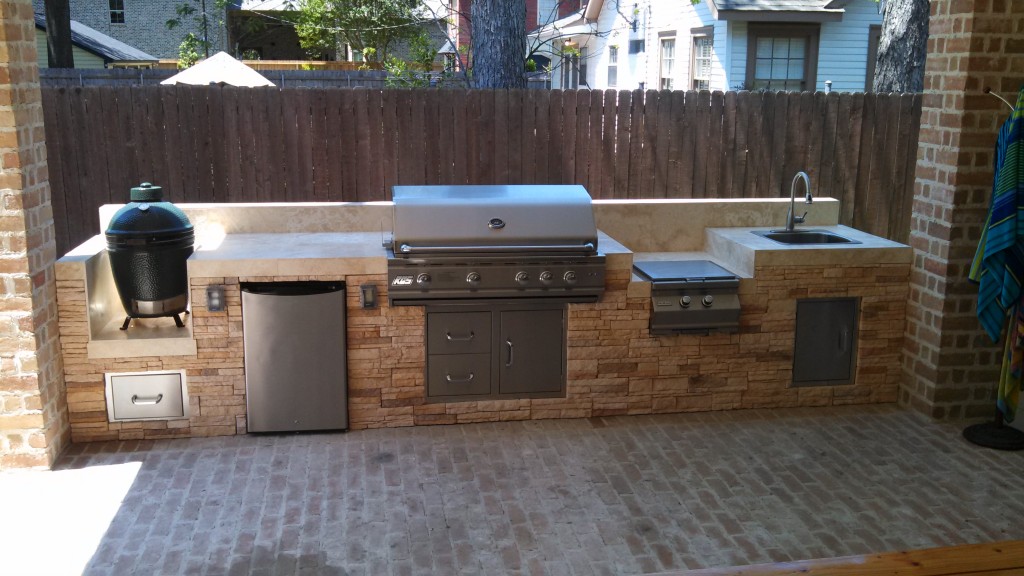 Want an outdoor kitchen but limited on space? Our gallery of small-space outdoor kitchen projects shows how we can maximize whatever available space you have, whether it's a small back patio, your front porch or even a curved walkway:
We can also help you with your outdoor space planning, integrating your outdoor kitchen with your home and any other design elements in your yard.
"Space planning is an often-overlooked aspect, especially when it comes to outdoor kitchens," says Homescapes of Houston's general manager, Ryan Cline. "Not only should you keep an outdoor kitchen close to the house for efficiency's sake, you need to place it in a way that maintains optimum traffic flow for guests, face it in a direction that allows you to converse with your company while you're cooking and a zillion other aspects that make it look – and work – its best."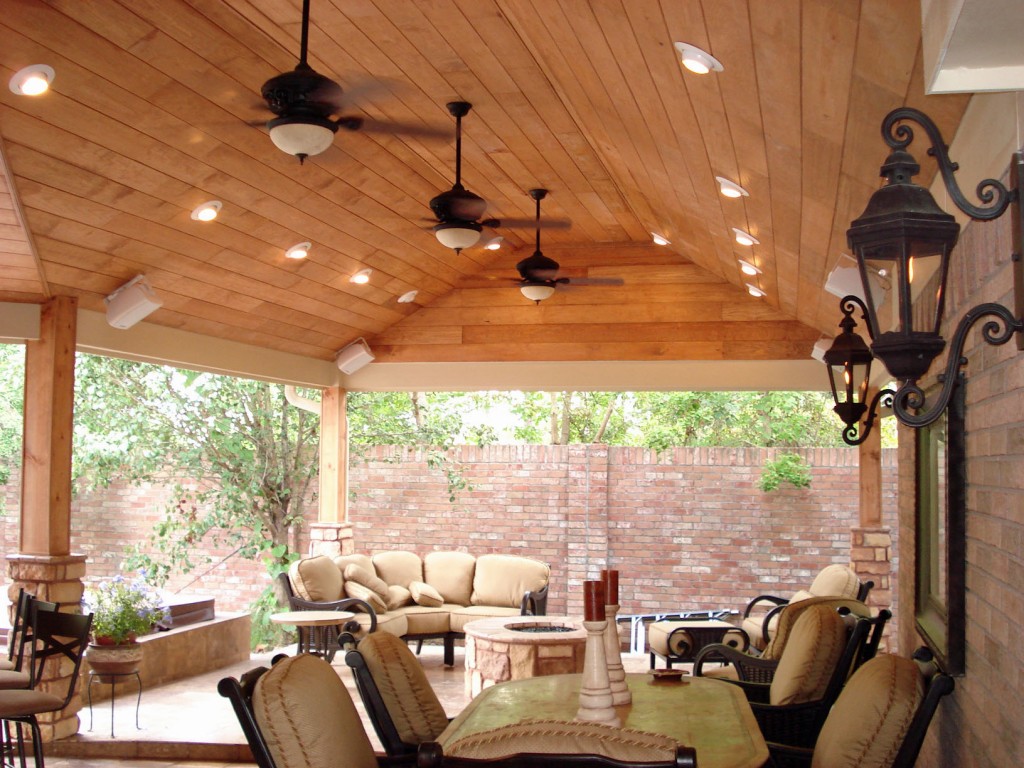 Covered patios
Whether it's a roof extension, arbor, pergola or free-standing cabana, our patio covers are second-to-none.
"We look at the existing style and architecture of the house and our goal is to blend these existing elements into a new outdoor space that has more form and functionality," says Cline. "When we design and build a covered patio, we excel at making it like it was always there."
This means continuing existing rooflines, meeting strict homeowners associations guidelines for exterior home changes and integrating the current architectural style:
"The design and layout of the outdoor living space underneath the patio cover is just as important," says Cline. "That's why we've got a team of professional outdoor designers and space planners working with you on issues like traffic flow, sightlines to focal points and the coordination of finishes, colors and materials."
Outdoor Homescapes can also help you choose and expertly place outdoor furniture and décor. Via partnerships with upscale outdoor furniture manufacturers like Restoration Hardware and Janus et Cie, we'll make sure your designs are durable, comfortable and always on-trend: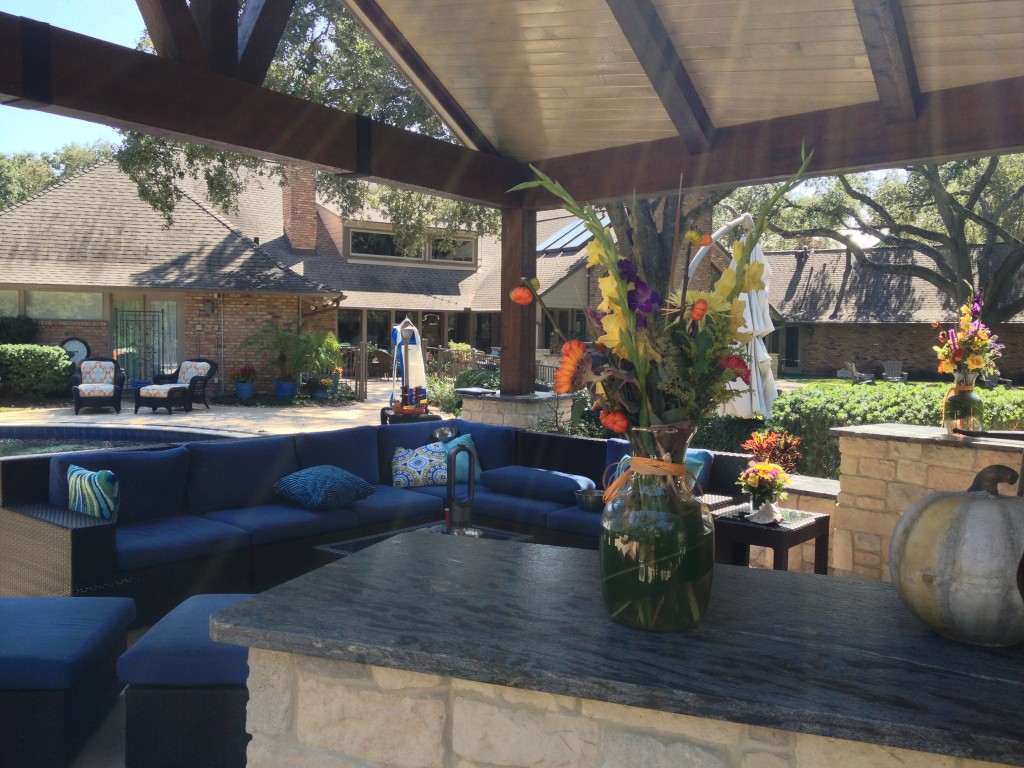 And don't forget – we also specialize in outdoor lighting, pest management integration like MistAway mosquito systems, water and fire features and customized flooring options like stamped and designer concrete.
You can also check out more of our Houston outdoor design projects on Houzz.
If you have any questions or are ready to get started, just contact us! We'll be happy to help!