Outdoor Living Design Services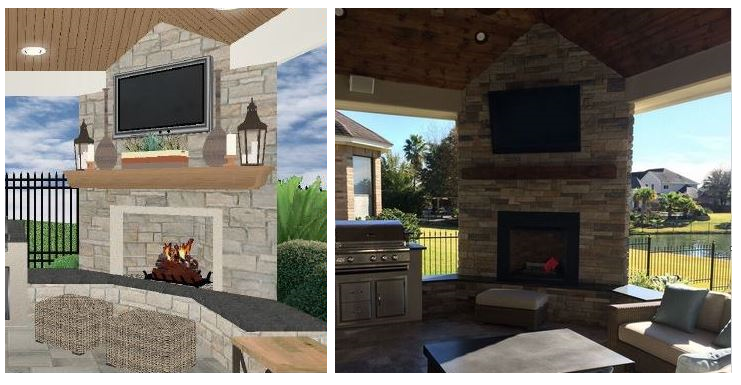 When it comes to outdoor living design services in Houston, Texas, Outdoor Homescapes of Houston's got your covered!
Customers love our smart outdoor space planning and collaborative approach to outdoor design.
Regardless of what look or function you need, we've got an outdoor living design plan for you!
Our specialties range from custom covered outdoor kitchens to custom patio covers and extensions to small-space outdoor kitchens and built-in Big Green Eggs.
For each of these, we can build your own graphical tour with live blue prints that allows you to see your house and view how your new outdoor living space will look before construction starts:
Here are the steps we take to develop your own personal virtual tour, realistic 3D graphic renderings, blueprint and materials list.
1. Get Acquainted Meeting
Discuss clients' ideas, expectations, and budget. Show client Design Roadmap on laptop.
(1-2 hours with client)
2. Second Consultation
Discuss each component's location, size, texture, and color with client. Components can include: outdoor kitchen, roof structure, patio, fire place or pit, water feature, pool, landscape front and back, drainage, irrigation, and lighting.
Review clients' ideas after viewing Outdoor Homescapes' private on-line library and web links of kitchen plans, kitchen photos, natural stone samples, cultured stone samples, arbors, water features, fire pits, and landscapes.
(3-4 hours with client).
3. Development of Design
Review 3D graphical renderings of client's house with new, planned components.
Complete blueprint to scale, with foundation and elevations by AIA architect.
Customize space planning for outdoor living.
Develop materials list, with quantities such as linear feet, square feet and yards listed in line-item form. 
Complete cost quotation, with cost per component in line item form.
(8-10 hours in office)
4. Presentation of First Draft
Done within 14 days of second consultation.
Client views graphical renderings, blueprint, materials list and quote.
Client requests design changes.
(1-2 hours with client)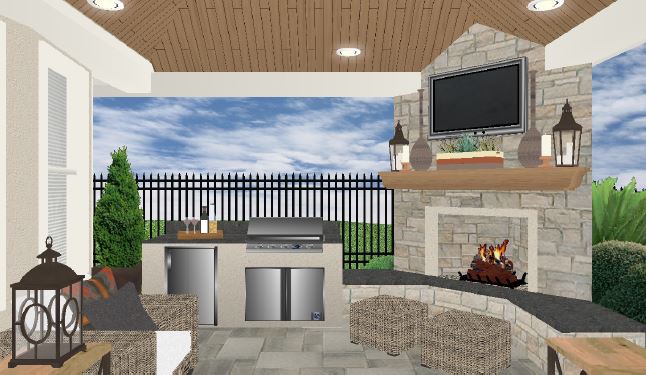 5. Fine Tuning of Design
Changes made per client request.
(1-2 hours in office)
6. Presentation of Final Draft
 Done within 5 days of first draft presentation.
Client views new graphic renderings, blueprint, materials list and quote.
Discuss next steps and action items.
(1-2 hours with client)
7. Homeowners Association and/or City Representation
Complete review of covenants and restrictions.
Submit of all documentation to HOA/ARC or City.
(1-2 hours in office)
Maximum Fee: $1,995.00. 50 percent of fees are credited to the install and build if completed by Outdoor Homescapes. Smaller design packages are available on request.