About Us

We provide more than outdoor kitchens and covered patios. Houston wants an experience, an escape – an entertaining hub from their patio kitchen plan, outdoor media center or poolside retreat.
Outdoor Homescapes of Houston's outdoor living space design is known throughout the area for its ability to give homeowners exactly what they want.
Outside kitchen design ideas for grills and wood-fire pizza ovens? You got it.
Patio covers with built-in, outdoor radiant heating systems? Absolutely!
What about outdoor media centers with weatherproof TVs, outdoor refrigerators and high-end outdoor furniture?
Whatever outdoor living space design you want – we make sure it looks and functions to your exact specifications.
Smart outdoor living space design
With a 12 years of local service and 800-plus projects under our belt, we offer you the knowledge, confidence and satisfaction you're looking for. We're particularly known for our 3D project previews and design expertise, and we specialize in the following areas:
Custom patio covers
Designer/stamped concrete
Outdoor fireplaces
Arbors
Roof/porch extensions
Outdoor lighting systems
MistAway™ mosquito systems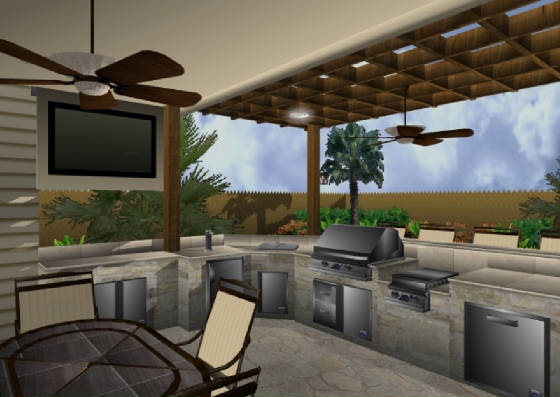 3D project previews
Word is out about our 3D landscape software that lets you preview your outdoor living space design before it's built!
That's right – we can produce life-like, computer-generated "before" and "after" images of your outdoor kitchen, patio cover or other outdoor design. We can also generate 3D virtual tours that let you see it from every angle!
With these imaging capabilities, you never have to wonder if your outdoor designer "got it right."  You also don't have to worry about dumping time, money and energy into a backyard design that doesn't look or work right for you. Just preview your project, make changes and we'll tweak it!
Here's how one of our clients put it on our Customer Testimonials page:
"From the moment my wife and I saw the 3D renderings of our kitchen and extended patio (which was really cool) with all details we want in place, our vision began to come to life."
Design expertise and collaboration
We've also distinguished ourselves with our client-centered blend of professional guidance and collaboration. We call it our Design Services Roadmap.
This roadmap is about what works for you and your family every day. And that's why you – the client – stays in the driver's seat.
Sure, we'll tell you if the size of your counter is going to restrict the traffic flow around your space. And we'll say something if the TV isn't in the ideal place for a conversation area. And yes, we'll have a professional designer guiding you through details like colors, materials, fixtures and finishes. But we won't pressure you, rush you or try to sell, sell, sell.
"Wayne made sure that all opportunities were given to me to choose stone, tile and floor surfaces," reads another customer testimonial. "Even when it meant building miniature stone walls until I could decide."
Get to know us better
Learn more about us on the rest of our site!
Check out more reviews, for instance, on our Customer Testimonials page. See the media's features of our projects and interviews with Wayne under "In The News. Or learn how we give of our time, money and energy at "Community Giving" And don't forget to meet Bentley – our talking spokesdog!
If you're interested in an outdoor living space design with several components (i.e. outdoor kitchen, seating area, dining area, etc.), take a look at "Outdoor Living – Design Services." Just interested in an outdoor kitchen? See our streamlined process and pricing at "Outdoor Kitchens – Design Services."  Or, see some examples of our 3D imaging.
Want to see some examples of our work? Go to our "Projects" page for some photo galleries. Want the latest trends, tips and news on outdoor living? Browse the "Resources" section or visit our blog.
When you're ready to get started, go to "Contact Us." If you're too busy to meet with contractors, meet us online. We'll be ready to make your dreams of an outdoor living space come true!