Covered Patios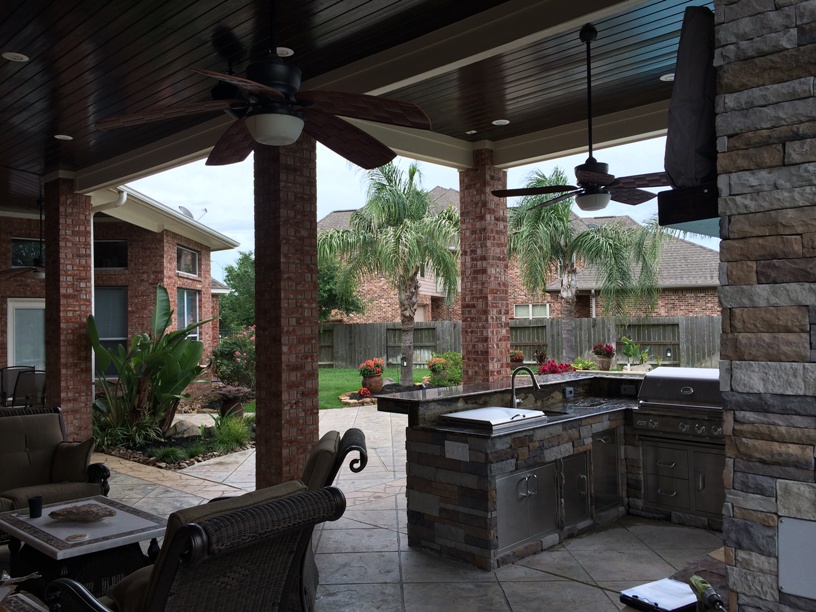 Covered patios are a must in the Houston area. Especially when it comes to sun and heat protection, quality of life and the value of your home.
That's why you need the job done right. No surprises – just perfection.
And that's where we come in, with a team of seasoned interior designers, outdoor space planners and 3D graphic artists –  so you can preview and make changes to your covered patio before it's even built. You can even take one of our video tours before construction:
 "Let's face it – covered patios are an investment of time and money," says Homescapes of Houston's general manager, Ryan Cline. "So you want the most value for your money when it comes to function and style."
Form follows function when it comes to a covered patio. You must first decide: "What do I envision doing in this space?" Fun with the family? Entertaining friends or clients? Escaping away to your own private retreat? Our space planners will help you determine the best size, layout and traffic flow for your patio. They'll even develop a master plan, so your covered patio can change as you do, accommodate future planned projects or accommodate extra guests when necessary. They'll also make sure your covered patio blends in with the existing style and architecture of your home, so it looks like it's supposed to be there – not an afterthought.
Whether it's a roof extension off the existing home or a pergola or arbor providing filtered shade, Wayne knows how to site and ventilate your covered patio so it's cool and free of smoke and sun glare. He also knows how to incorporate customized mood, task and security lighting, as well as permanently installed infrared red heating systems that will extend the day – or season:
 "Our goal isn't to steamroll clients with what we think is best, but we do want to arm them with the best knowledge we can when it comes to design, planning and product performance," says Cline. "Clients also like our collaborative design process, which keeps everything on time and on budget, while keeping them in the driver's seat."
Next, the fun part – choosing and coordinating the look of your covered patio.
Here's where experienced interior and exterior designers help you pick out colors, coordinate finishes and select furnishings, accessories and decor We make sure that the style's all you, but that it goes together and will hold up over time.
Ready to get started on your own covered patio? Just contact us!