Aluminum Pergolas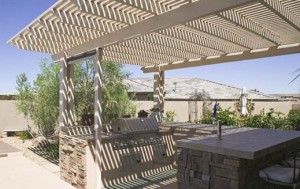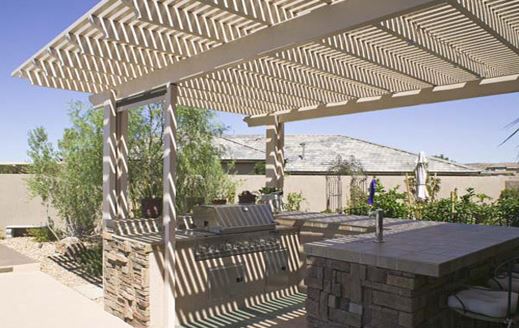 Aluminum pergolas are a great choice in the Houston area because they offer superior weather resistance. They stand up the best to heat and corrosion, offering beauty, durability and low or no maintenance.
The aluminum pergolas we install also offer a shorter wait time for your custom shade solution – just a few days for these prefab units, compared to a month or two for those made of traditional wood. We can make it as simple as a simple lattice cover to a custom design – whether it's a pergola attached to your home or a freestanding outdoor living space.
And talk about flexibility! You can adjust the amount of shade – from 40 percent to 60 percent to total shade, You can also offer shade under one part of the cover while allowing in as much light as you want in another part of the cover.
Special add-ons, meanwhile, help you develop a design that's all your own.  Add special-order columns or beautifully contoured beams. Then, preview – and edit – your pergola from every angle, before it's even built, with our 3D graphic renderings or virtual video tours.
Finally, say goodbye to maintenance – no cracking, warping or splitting. No need for repainting, either!
Learn more about our aluminum pergolas or get a quote – just fill out the contact form at the right!