Contact us & FAQs

It would be our pleasure to help you design everything from outdoor kitchens to family media areas to backyard covered patios – even if you have a small outdoor living space! Houston outdoor designer Wayne Franks has done more than 800 such projects for nearly a decade in the Houston, Texas area!
We are a true design and build firm. We build a HOMESCAPE! If you truly want an outdoor living space to enhance your family's lifestyle and increase the value of your home, just contact us!
Please click on the link below, fill out the form and we will get back with you shortly.
Or if you just want to pick up the phone and talk to someone now call 713-569-1341. If you get voice mail, your message will be returned promptly.
Too busy to meet with contractors at your home? Meet us online!
Want to give the gift of outdoor (or indoor) design to someone outside the Houston area?
Both can be accomplished at our new website, www.customoutdoorlivingdesigns.com!
Before you contact us, however, you may want to skim through these answers to frequently asked questions: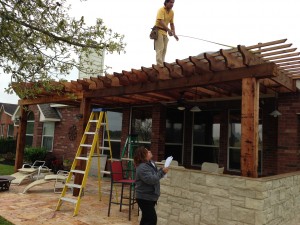 Q: What kind of experience do your workers have?
A: Many of our craftsmen have worked for us over five years. We pay them very well.
Q: Is your work custom, or out-of-the-box?
A: We do all custom work. It's time consuming. You expect perfection. We expect to deliver perfection. You can't expect perfection from the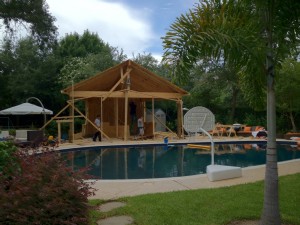 lowest bid. These are very complex projects. There will be no less than six different trades people that will work on your project.
Q: How much of a say do I have in finishing material choices?
A: Finishing materials like stone and tile are handpicked by you with our designers.
Q: How much control do I have over the shapes and sizes of structures in my outdoor living space?
A: The shapes and sizes of structures are built to your requirements with our professional help.
Q: How do I know my outdoor living design will be up to code?
A:  We use experienced draftsmen, an architect, and a structural engineer to insure your outdoor living space is built to local code and can be inspected any time.
Q: What kind of costs am I looking at?
A: Our outdoor kitchens start at approximately $7,500 for a small island. It can be $40,000 to $50,000 or more, however, for outdoor living spaces complete with a roof professionally tied into the house and matched to the existing pitch of your roof and features like an outdoor kitchen, sink, fridge, ice maker, doors, drawers, grill, electrical power and utilities.
Contact Form