Custom Pre Built Outdoor Kitchens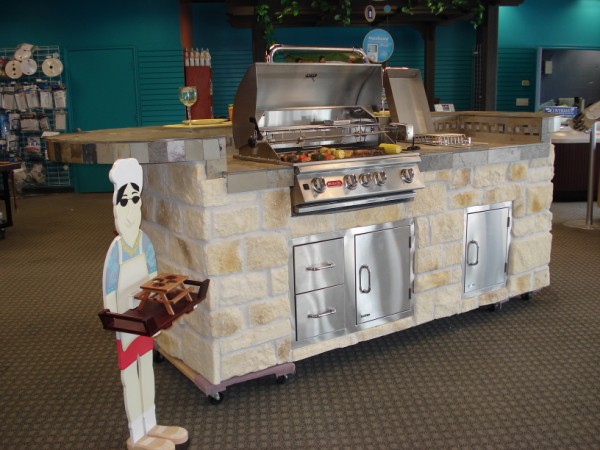 If you've ever wanted an outdoor kitchen but balked at the time and cost of a full-fledged design, Outdoor Homescapes of Houston suggests custom pre built outdoor kitchens.
After all, they require little to no design or planning skills, cost less and take less time to install than a full-scale outdoor kitchen project. Plus, if you move, you can take them with you!
Here's an in-depth look at a custom pre built outdoor kitchen we've installed for clients:
This island, built with a steel stud frame, comes from an "A" rated BBB company in Houston. The cabinet, which comes with a 10-year warranty, is 8 feet long and comes with 2 feet of  custom rounded bar top on each side for buffet service or bar stool seating. That's a total 12 feet of gorgeous outdoor kitchen! On the back side, there's a raised bar top for bar stool seating.
The stone, by the way, is Austin Western by Tejas with a 75-year warranty! The tile is a handpicked Peacock Slate with matching glass/slate backsplash. The grill is Bull Angus 4 Burner Grill with infrared burner (Item # 47629); Door Drawer Combo (Item # 25876); Single Side Burner (Item # 60009) and Vertical Door (Item #89975). Other custom solutions and configurations are available.
The cost: $7,950. That includes delivery within a 50 miles radius of Houston. Utility hookups are extra. We reserve the right to view the installation site before sale and delivery.
You can also go with prefab outdoor kitchens if you like (and here's a great article on the difference between prefab and custom pre built outdoor kitchens by HGTV).
Or, if you're ready to dive in – contact us, and we can help you find the perfect one!