Free Burner And Fridge With Our RCS Built In Grills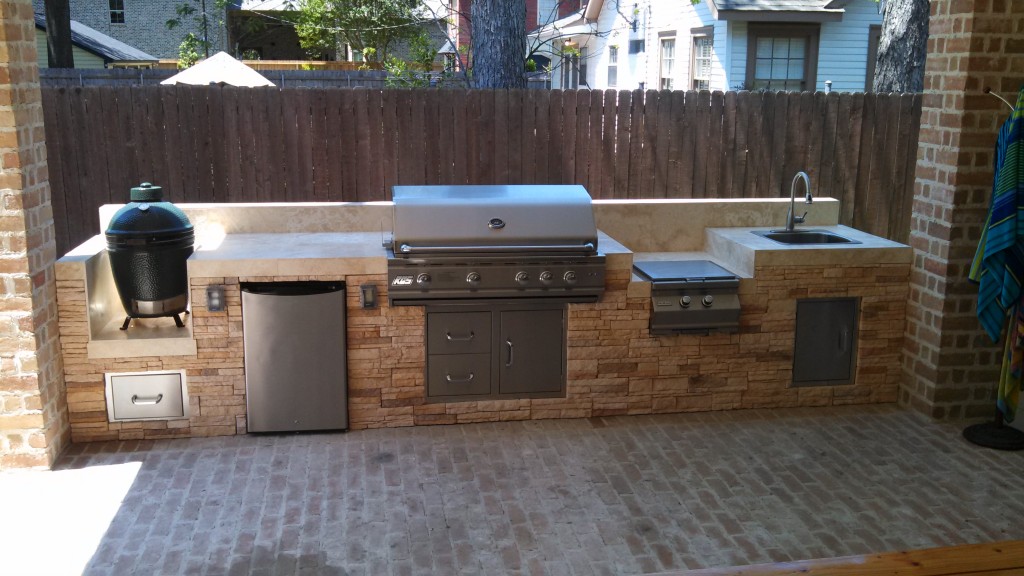 Looking for RCS built in grills? 
Why not get a free side burner and outdoor refrigerator while you're at it?
After all, that's our special offer –  get a free RCS (Renaissance Cooking Systems) double burner and outdoor fridge with our the most popular model of RCS built in grills when Outdoor Homescapes of Houston designs and builds your outdoor kitchen!
To participate or learn more, just contact us!
The RCS grill in the promotion is a 27 Cutlass Series II Grill With Rear Burner (list price $1,599). RCS grills are a definite favorite of ours (after all, owner Wayne Franks cooks on one himself).
Measuring 29 3/4 inches wide by 18 inches deep by 11 inches high (with a 27-inch wide grill area offering 577 square inches of cooking space), this high-performance, commercial-grade grill offers two stainless steel burners and a 15-inch stainless/ceramic high-heat rear burner. Other features include a stainless steel rotisserie motor with heavy forks and rod, 30,000 BTUs of cooking power, 417 square inches of primary cooking space, 160 square inches of secondary cooking space, an interior halogen light, stainless steel cooking grids, grilling zone separators, stainless steel "flame tamers" and a Sure-Strike Ignition System.
The RCS outdoor refrigerator, valued at $369, measures 4.8 cubic feet, with high-quality stainless steel construction that holds up to the elements. It includes a door lock, stylish stainless steel door front with black trim, interior light and adjustable feet/levelers. This model also offers an adjustable thermostat, adjustable interior glass shelves, an automatic defrost system and two inner drawers.
The RCS drop-in side burner, valued at $379, measures 8 1/2 inches wide by 16 1/2 inches deep. It also offers commercial-grade 304 stainless steel construction, 12,000 BTUs of cooking power and a cover/lid.
Don't wait to take advantage of this limited-time offer (worth a combined value of $748)! Contact us today!