Outdoor Smoker Ovens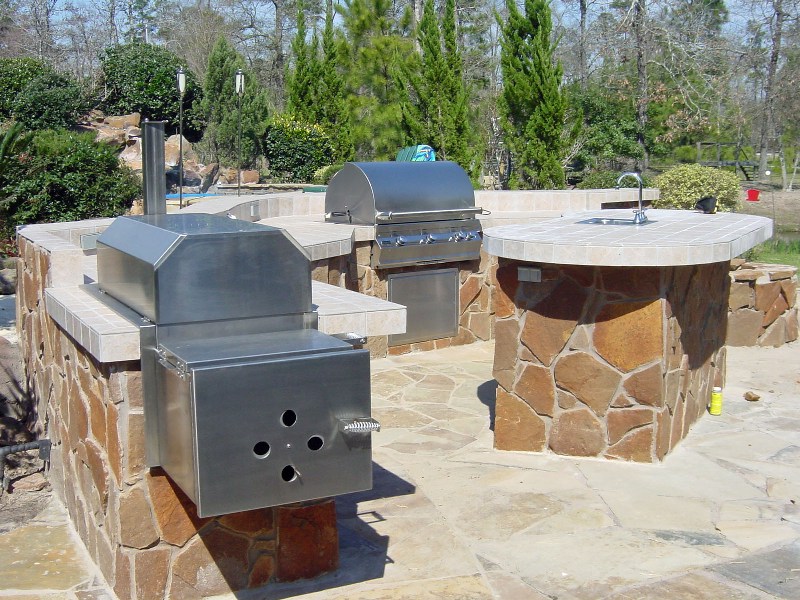 Outdoor smoker ovens give you that pit barbecue experience and authentic, low-and-slow smoky flavor so popular in today's restaurants.
And with wood pellet smokers offering a variety of smoky flavors and easy cleanup, outdoor smoker ovens are becoming an increasingly popular outdoor cooking appliance. 
But on a patio at home, they require the proper placement or ventilation. Otherwise, you're going to smoke yourself out of your outdoor living space!
That's why Outdoor Homescapes of Houston designs your outdoor smoker oven the right way – placing it further away from the house with either no patio cover or one that has enough open space on the sides for ventilation. Outdoor Homescapes will also build your outdoor smoker into a cabinet or island faced with beautiful, natural stone – for a cleaner, more finished, neighbor-approving look.
Here's a recent outdoor smoker project we did. It shows you really can smoke your meats the way you want at home and have a backyard that's the envy of the neighborhood!
"I asked the client how he felt this turned out," says Outdoor Homescapes' owner, Wayne Franks. "He said 'It's like home – I'm gonna live here! And last time I checked, he was still there, smiling!"
Here's the "before" shot of his patio area:
And here are the "after" shots:
Like what you see and want an outdoor smoker oven of your own on your patio?
Contact us! We'll get the process started!
Or, feel free to check out our outdoor smoker oven projects on Houzz!