Why Work With A Professional Designer?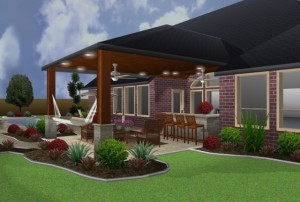 Why work with a professional designer when it comes to outdoor living spaces?
Here are a few reasons:
A planned approach
Let's face it: Most of us never have enough money at one time for everything we'd like to do. That's why we supply you with an overall master design and a PLAN! This way, you're able to install various components over time. If you go this route, elements are broken down into manageable steps that are easier on you – and your wallet! 
We sell design, not inventory
We're designers – not contractors looking to sell off our inventory by advertising "free design services." Contractors that aren't professional designers may not only try to force a design on you that doesn't look the way you want – it may not meet your needs.
Our projects are an extension of your existing home
We make sure your outdoor living space doesn't look like an "add-on." Instead, our materials are chosen to match the existing elements of the house. When we design a covered patio, we also make sure the architecture style and roof lines blend in with the rest of the house.
Call us today for convenient time to discuss your project, at (713) 569 1341. Or, send us an email at info@outdoorhomescapes.com