Aluminum Patio Covers & Pergolas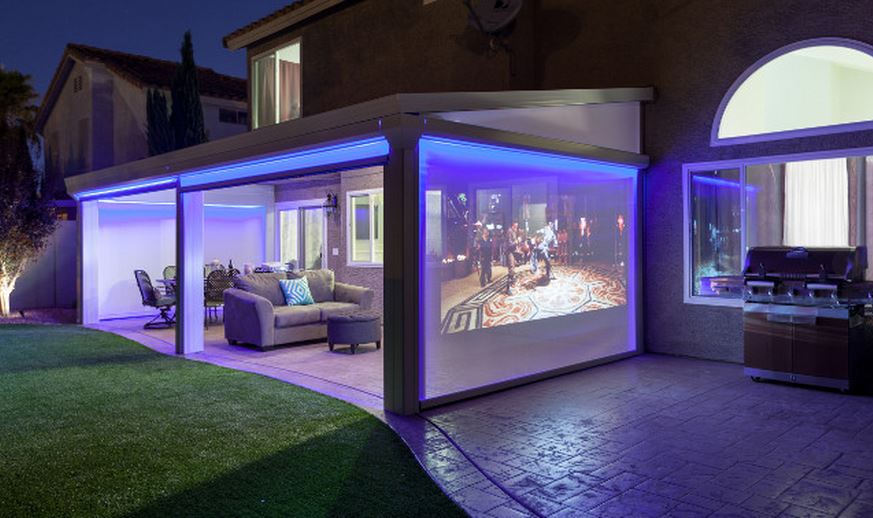 Hey, Houston! Our aluminum roofing products include everything from pergolas to screened enclosures to an exciting, new, climate-controlled outdoor living space called the LifeRoom!
In Houston, aluminum roofing has proved to be invaluable, as its light weight helps it resist heat retention and corrosion from the harsh elements. It's also durable, versatile, stylish and affordable – and available in a variety of textures and finishes.
Outdoor Homescapes is proud to offer the best aluminum roofing solutions on the market – from industry leader Four Seasons Building Products. And since the company's aluminum roofing products are prefabricated, they install in a few days – compared to a month or two for a custom-built product!
"They're one of the biggest manufacturers of outdoor living products in the world, and have developed a nationwide network of service centers ensuring excellent customer service," says Outdoor Homescapes' owner Wayne Franks. "They also offer top-of-the-line warranties for all their products."
Why aluminum?
Ease of Installation
Low Maintenance
Will not rot, crack or split
Weather and Insect Proof
Stability
High Strength-to-Weight Ratio
Pound-for-Pound Stronger than Steel
Corrosion Resistance
Consistency in appearance
Will not expand or contract with temperature changes
Hollow interior allows for wiring
Here's a quick roundup of our aluminum roofing solutions.
Want to learn more about a particular product? Visit our individual product pages.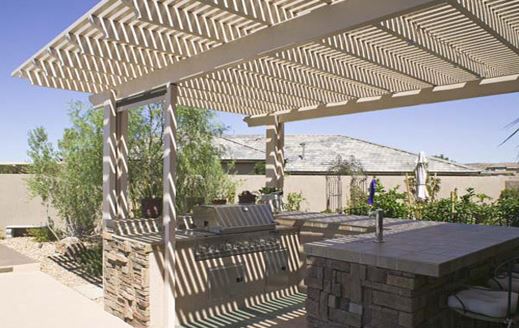 Pergolas
In Houston, shade isn't optional – but the amount of shade you can have at one time – and where, exactly, you have it, should be!
That's why we offer Four Season Building Products' world-renown aluminum pergolas, with their unique lattice cover design. This cover allows flexibility and supreme control over the amount – and placement – of shading over your porch, patio or other outdoor living space.
That's right – with a remote control, you can go from 40 percent shade, to 60 percent shade, to total shade! And if you want part of your pergola to offer shade and the other part to let in sun – you can do that, too!
"Flexibility and control are becoming more and more important to homeowners, but so is ease of use," says Franks. "That's why we really combed the market to find the most versatile and easy-to-use aluminum pergola we could find."
You can also find flexibility in the design and style of your pergola – we offer everything from basic deck and patio covers to freestanding sitting areas to custom designs. Then, make it distinctly your own with add-on features like special-order columns or beautifully contoured beams.
What's more, these prefab aluminum pergolas only take a few days to install – so you don't have to wait for shade! Add special-order columns and beautifully contoured beans let you make a statement that's beautifully distinctive.
Finally, these aluminum pergolas offer superior durability and weather resistance, so they're maintenance-free! No warping, cracking, splitting or repainting! 
For more information, images, or to get a quote, visit our Aluminum Pergolas product page!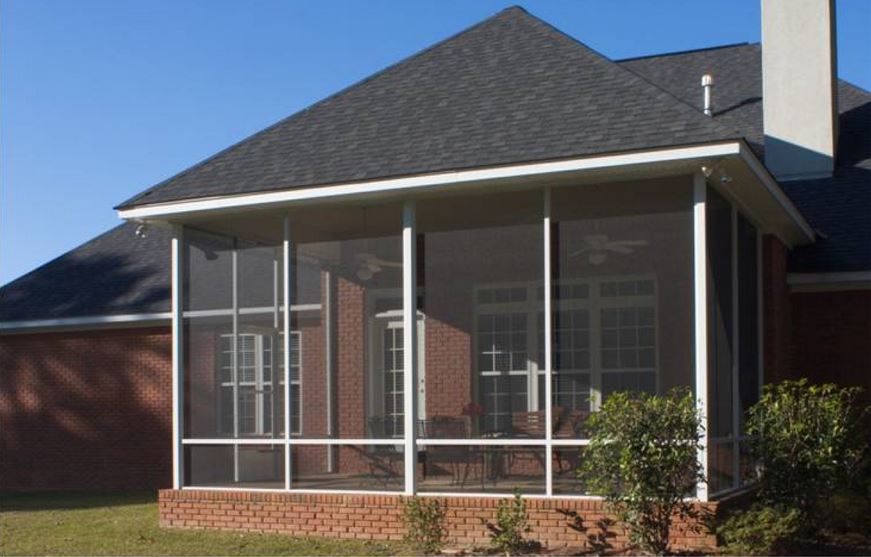 Screened enclosures
Screened enclosures keep out bugs while preserving your view – and Four Seasons Building Products offers the most beautiful, durable, flexible solution we could find!
Several different systems offer you versatility when it comes to designing the right screen room for you.
The full-screen wall option offers a feeling of truly being outside, with a maximum view.
Kick panels keep out grass clippings, dirt, leaves and other debris.
There's also a solid knee wall design with insulated, laminated wall panels. This is a perfect choice if you later decide to make your screened outdoor room a glass patio enclosure.
The picket system, meanwhile, offers extra safety when required by building codes.
Choose from a wide assortment of colors and textures for a patio room or sunroom that blends in perfectly with your home. Guests will never know the screen enclosure isn't original to the house. 
Finally, you can add gutters and downspouts to channel stormwater runoff away from your screen room – and your home's foundation.
Find more information and images or get a quote on our "Aluminum Screened Enclosures" page!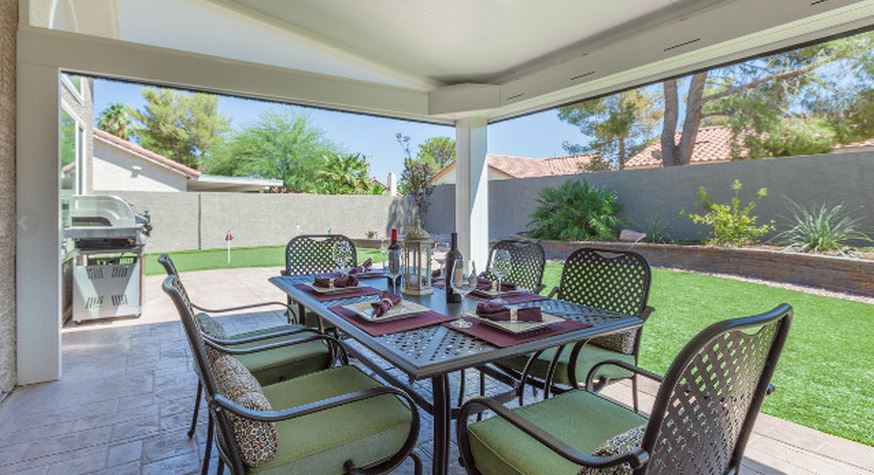 The LifeRoom
Outdoor living spaces now offer all the comfort, technology, flexibility and style of any indoor space – and more!
Enter the LifeRoom – a revolutionary new outdoor living space from Four Seasons Building Products.
We're talking remote control screens, soothing mood lighting and soft-breeze technology. There's even a cool mist climate system that can lower the room temperature by up to 40 degrees Fahrenheit!
Imagine coming here after a hard day of work or a hot day out in the yard – all in a climate-controlled, cool area in front of a full-screen TV with a cool mist and breeze keeping them happy!
"This is the perfect space for a Super Bowl party, family gathering or holiday party for your clients," says Franks.
The price also happens to be extremely comfortable!
For a quote, more images and information, visit our "LifeRoom" product page!