Posts Tagged 'outdoor kitchens'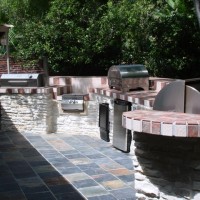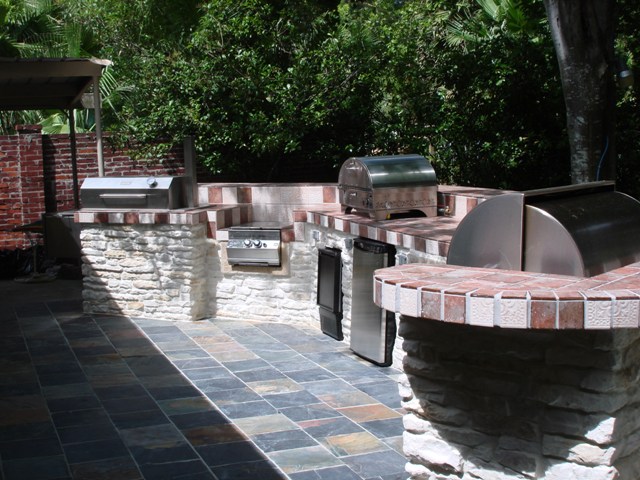 Houston outdoor kitchens are increasingly acquiring multiple, higher-end grills.
The sky's the limit – as you can see in the above image – with its professional-grade grill (right), outdoor pizza oven (center) and smoker (right).
In fact, it's a trend Outdoor Homescapes of Houston owner Wayne Franks speaks about in a May 2014 article on Houston outdoor kitchens in House & Home magazine ("What's Cooking Outside?" starting on page 32).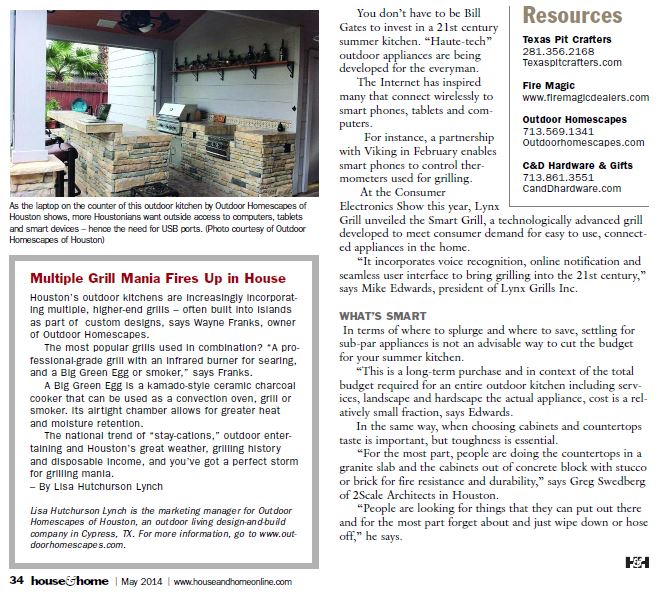 In the article, Franks explains how these multiple grilling appliances are often built into islands or cabinets as part of custom outdoor kitchen designs: "That's because when you start getting into multiple components in any design, you're going to want to group them together, so they look neat and tidy and make better aesthetic and functional sense."
The most common grills used in combination in Houston outdoor kitchens, Franks says, are a professional-grade grill with an infrared burner for searing and either a smoker or kamado-style ceramic charcoal cooker.
Kamado grills like the popular Big Green Egg or Primo grills – have become increasingly popular in Houston outdoor kitchens because they can be used as a convection oven, smoker or grill. So you can cook virtually anything outside you would inside – including roasts, ribs, pizza, baked goods and casseroles.
"They're especially popular for roasts and briskets," says Franks. "The meat comes out unbelievably moist and tender."
The popularity of the professional-grade grills, he continues, has grown out of the desire for restaurant-quality grilling: "The professional-grade grills allow for the higher heat needed to cook meat faster – rendering it more tender and juicy."
Allowing for even higher – and more evenly distributed heat – are infrared burners or grills. Infrared burners superheat ceramic tiles so that they emit radiant heat. This cooks the meat directly instead of just heating the air around it, and is especially good for maintaining a the long-term, evenly distributed heat needed along a horizontal surface for rotisseries.
It's also ideal for searing, since the screaming-hot, even temperature allows you to quickly heat the surface of a steak to a high temperature quicker.
"That's how you get that restaurant-quality brown crust that seals in the juices, instead of a grey, dry piece of shoe leather," says Franks.
Then there's the growing number of smokers.
"With the popularity of TV shows like BBQ Pitmasters and the resurgence of barbecue in general," explains Franks, "more and more people want to correctly cook pull pork, ribs and other "low-and-slow" barbecue meats for that authentic smoky taste and pink ring. And you just can't get that with a smoker box in a regular grill." (According to the Gas Grill Review and Ratings Guide, gas grills have difficulty maintaining the low temperatures needed (225 to 250 degrees Fahrenheit) – especially for extended periods.)
The key, says Franks, is incorporating all these features into one, streamlined, custom design. "When you have an outdoor kitchen island, you've got to properly plan for things like storage, traffic flow and a look that's integrated with the style of the house. Since ideal functionality requires that your outdoor kitchen be close to the house, and we get so much heat and sun in Houston, a covered outdoor kitchen via roof extension should also be considered."
Looking for ideas on how multiple grills can be incorporated into custom outdoor kitchen design? See Outdoor Homescapes of Houston's outdoor kitchen projects on Houzz.
Or, if you're ready to dive right in – simply contact us for an estimate and get started today!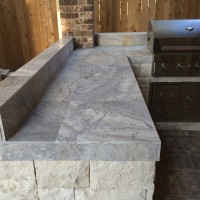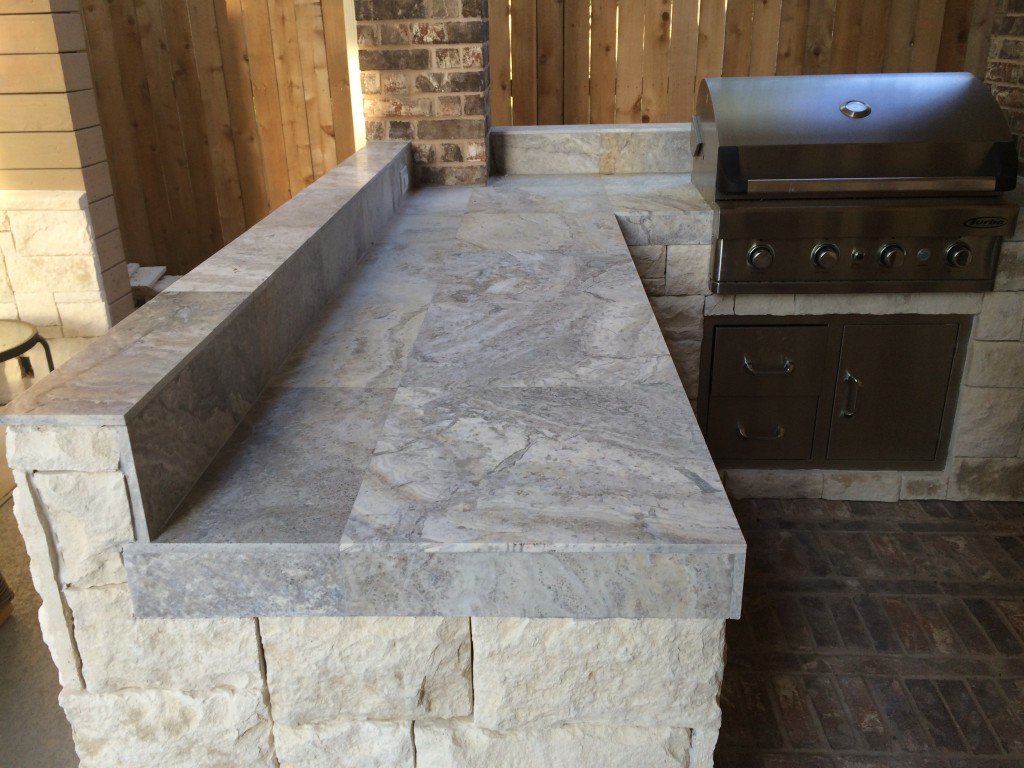 Silver travertine tile is a stylish, unique choice for outdoor kitchen countertops, as you can see in this video of Outdoor Homescapes of Houston's latest outdoor kitchen.
In it, company owner Wayne Franks features a small, stylish outdoor kitchen with silver travertine tile counters and an easily accessible outdoor kitchen fridge.
"It's a natural stone," says Franks of the silver travertine tile, noting the nicely finished backsplash complete with electrical outlets for countertop appliances.
Echoing the hue of the silver travertine tile is the stainless steel of the high-performance grill and storage, drawers and doors housed in islands. Contrasting beautifully with the silver are white Austin limestone dry-stacked island walls.
The same Austin limestone can be seen on the columns of the adjoining covered patio and its audio-visual TV wall – visually tying the spaces together.
"What's kind of unique here is that we've placed the outdoor fridge and drink cooler on the outside of the kitchen island," notes Franks, panning around to the outside of the island, facing the TV and conversation area by the pool. "Real easy access for everyone."
"The client put this pool in, but we helped with the structure," explains Franks. 
Do you  like the look of the silver travertine tile on countertops? If so, you may want to check out some of these images of silver travertine tile on Houzz.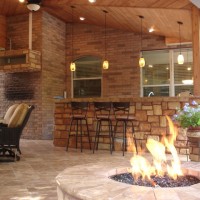 In our outdoor designs contest, the bar/fire pit area is winning by more than 2 t0 1 over the TV/fireplace room!
The Wishpond vote contest, which started Feb. 11 and ends March 11, asks those living in the Houston area to choose their favorite image of the two outdoor designs below: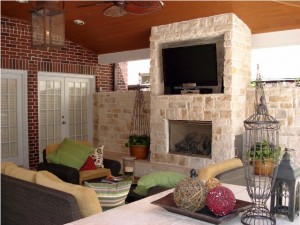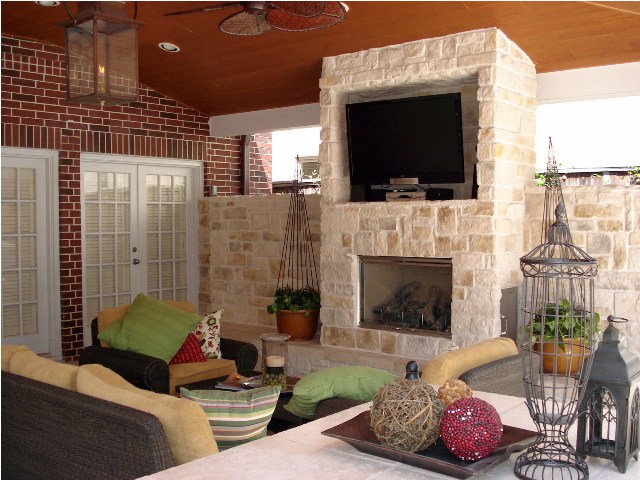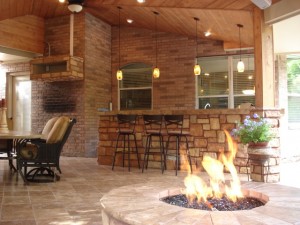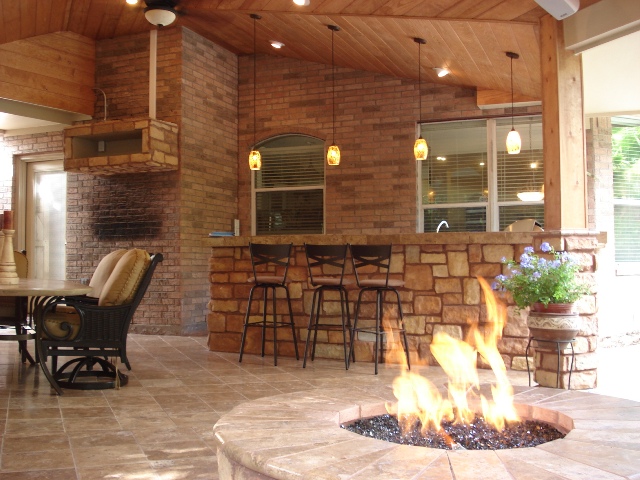 Those who vote have the chance to win $1,995 in outdoor design services. The contest has 14 participants so far – 10 of them voting for the bar/fire pit area and four voting for the TV/fireplace room.
The bar/fire pit area is perfect for having a cocktail at the bar or sharing a bottle of wine with friends in the seating area around the fire. The TV/fireplace room is great for watching the game in front of the fire in winter or movies with the kids during a summer pool party.
The $1,995 outdoor designs package includes two hours of in-home consultation, three hours of software drawings, plans for a landscape, outdoor kitchen, covered patio or one of out other outdoor designs and a 3D graphic with a scale drawing.
Enter now to win!