Archive for the 'Blog' Category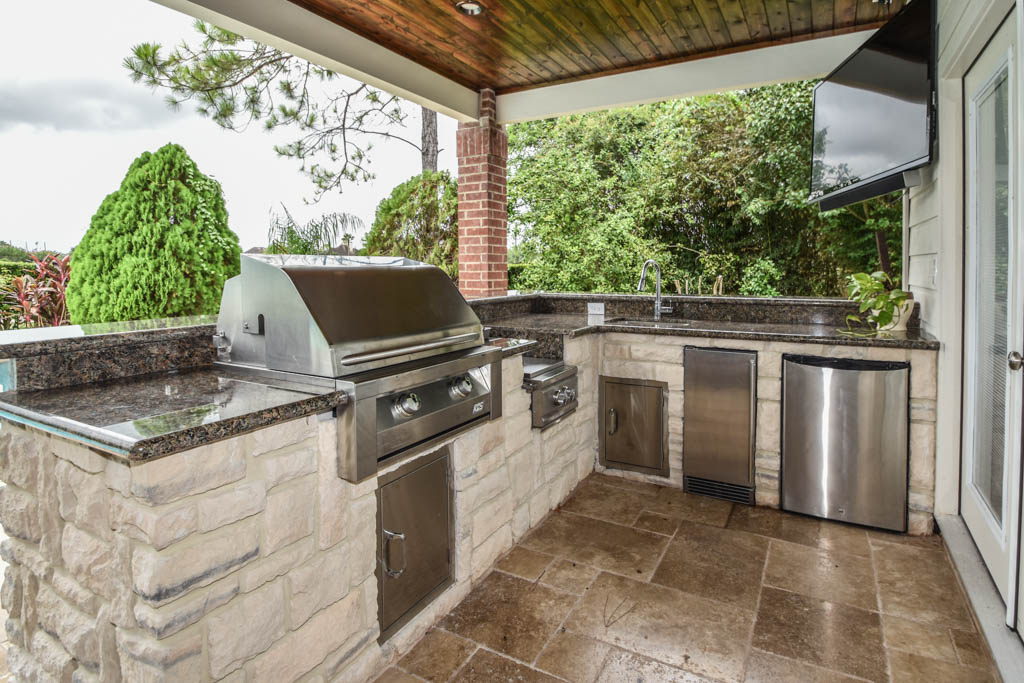 Outdoor kitchens – especially in Houston – are the best way to fully use the space on your property!
Most Americans spend very little to no time in their own back yards. Heat, insects, humidity, and a lack of comfortable gathering spaces are just a few of the reasons that outdoor living is underutilized, especially in a climate like Houston's.
If you feel your family's outgrowing your home, or that your home is too small for the hosting you'd like to do, there's an easier solution than moving— just install an outdoor kitchen!
Reasons For Outdoor Kitchens in Houston
The benefits of an outdoor kitchen for your Houston home may seem obvious if it's something you've always wanted, but there may be some benefits that you haven't yet considered:
They allow you to spend more time outdoors.
They make cooking fun and social, allowing you to enjoy – and sometimes participating in the making of – everything from barbeque to crab boils to wood-fired pizza right on your deck or patio.
They boost the resale value of your home.
They extend your living space for guests or a growing family
They allow room for hosting large parties and gathering.
They ​keep strong cooking smells and smoke outside
They offer an additional fridges, freezer space and other appliances that prevent you and your guests from running back and forth between inside and outside.
They're energy efficient (use less indoor heating/cooling/electricity)
They save you money by promoting eating at home
Popular Outdoor Kitchen Features
If you're considering installing a new outdoor kitchen or upgrading your existing patio or porch space, you should know all your options when it comes to the features of your outdoor living space. Here are a few of the most popular outdoor kitchen and dining features that are being used today in Houston:
Covered Patios​
To enjoy your outdoor kitchen and dining area to the fullest, you should consider installing some type of covering over the area. A covering will block sun and rain, allowing you to enjoy your outdoor living area more often. A cover will also keep your valuable outdoor kitchen appliances and electronics safe from elements such as hail, rain, and scorching sunlight.
There are several options to choose from for patio coverings. A roof extension will make the space flow perfectly with your home. Arbors and pergolas provide cost-efficient partial sun coverage. A free-standing cabana provides extra coverage with optional walls, and allows you to place your outdoor kitchen anywhere you wish, such as by a pool or other water feature.
Try to find an outdoor space designer to design a custom patio covering that will flow seamlessly with your home and feel like an extension rather than an add-on.
Appliances ​
The options for outdoor kitchen appliances are almost endless – especially in Houston, where people cook outdoors year round! You can have refrigerators, kamado-style cookers, built-in grills, smokers, wood-fired pizza ovens – the list goes on! Popular outdoor cooker brands  in Houston are RCS (Renaissance Cooking Systems), the Big Green Egg and Fire Magic.
Talk with your outdoor kitchen installer to make sure you're getting top-of-the-line appliances that will withstand the elements and last for years to come.
Temperature Control
​We get it: Houston is hot.
However, that doesn't mean you can't be relaxing outside, enjoying nature. When designing your outdoor kitchen, don't forget to add features for temperature control.
Along with patio covers, fans are a great, cost effective way to keep things cool (especially if you go with one of the new, industrial-sized ones many Houston homeowners are opting for. One popular brand is actually called Big Ass Fans!
You may also want to include a couple of stylish space heaters to stay cozy in the cool winter months.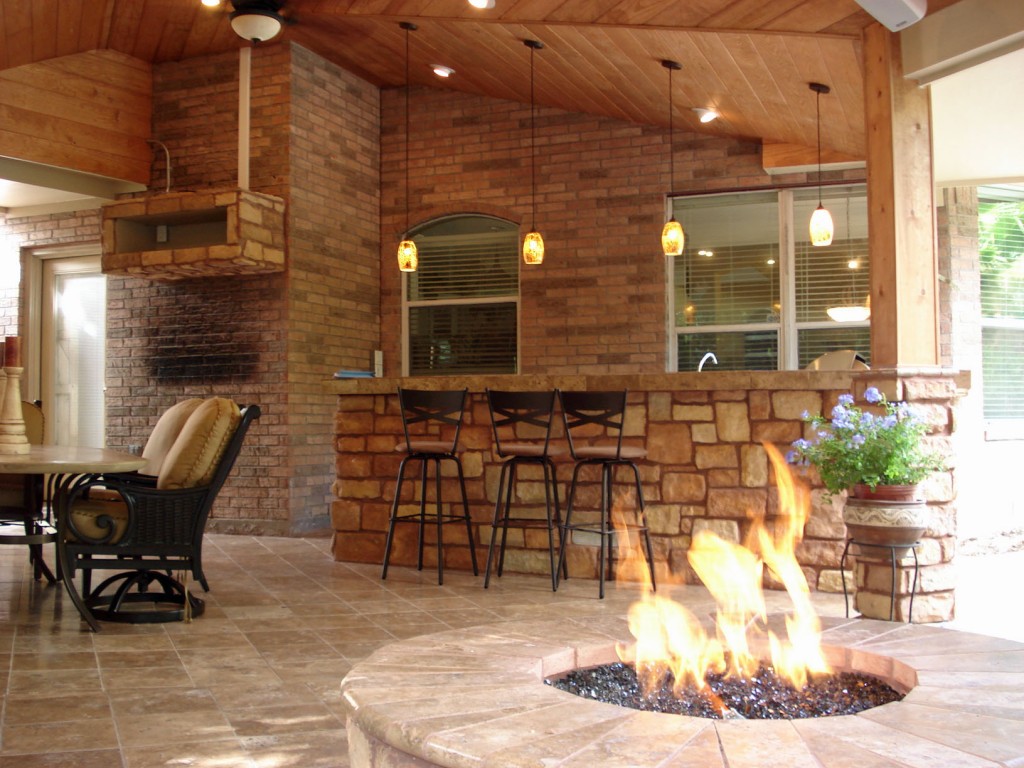 Water and Fire Features
​These elements can really take your outdoor living space to the next level.
Fire features such as fire pits and wood-burning stoves can provide heat in cool months and also great alternative places for cooking s'mores, hot dogs, pizzas, etc. 
Fountains and waterfalls add tranquil, soothing sounds and beautiful scenery to your outdoor living space.
Pest Management
​Many times, even if the weather is perfect, people hesitate to spend time outside and enjoy their yard space because of outdoor pests like flies and mosquitoes. This is especially true in humid climates like the one we have in Houston. However, there's no reason that annoying insects should keep you from enjoying your outdoor space! Citronella candles and torches have limited effectiveness and only cover a small area.
One effective option is to install a screen around your patio area to keep pests away. But if you prefer that your backyard space be open to nature, there are other options such as the MistAway mosquito system. Pest management systems such as this are integrated into your outdoor kitchen space to keep insects away subtly and efficiently.
 
Designing And Installing Your Outdoor Kitchen
Now that you're informed about your options for outdoor kitchen features, it's time to think about the design and installation process. If you choose us for your outdoor kitchen installation or remodel, we'll work with you to create your own custom outdoor kitchen design to perfectly fit your wants and needs.
3D design renderings and virtual videos will help you see your new outdoor kitchen realistically from all angles before the project even begins. Your outdoor kitchen designer should work with you throughout the design process to make any changes that you want as you view the 3D renderings.
Choosing a Space
Think you don't have room for an outdoor kitchen? You may be surprised at how little space you actually need to be able to have a kitchen area in your yard. Kitchen designs can be customized to fit your outside space perfectly, and provide you with lots of functionality, even in a limited amount of space. If you have a front porch, back patio, or even a walkway from one area to another, a custom kitchen island or bar with built-in appliances can be installed.
Work closely with your outdoor kitchen design expert to make sure your kitchen is being placed in the best possible location on your property. 
Designing Tips
​One design tip for your outdoor kitchen is to make sure the kitchen matches the look and feel of both the interior and exterior of your home. 
Your outdoor living space should feel like an extension of your home and its indoor living space. For example, if your home is classic and traditional, a modern patio and outdoor kitchen would look awkward and out of place. That's why it's so important to work with a designer to make sure the kitchen flows with the rest of your property and truly enhances its appearance and resale value.
Every design detail, such as the countertops, flooring, and light fixtures of your outdoor space should blend seamlessly with your tastes and with the rest of the home.
We specialize in state-of-the-art outdoor kitchens. In fact, we've finished more than 800 outdoor kitchens for satisfied customers! ​
Check out our outdoor kitchen projects in Houston
Like what you see? Contact us for a consultation!