Dealing With Flood Insurance? Houston Homeowners Turning To Us!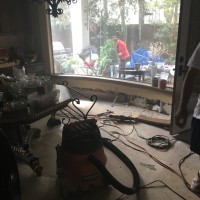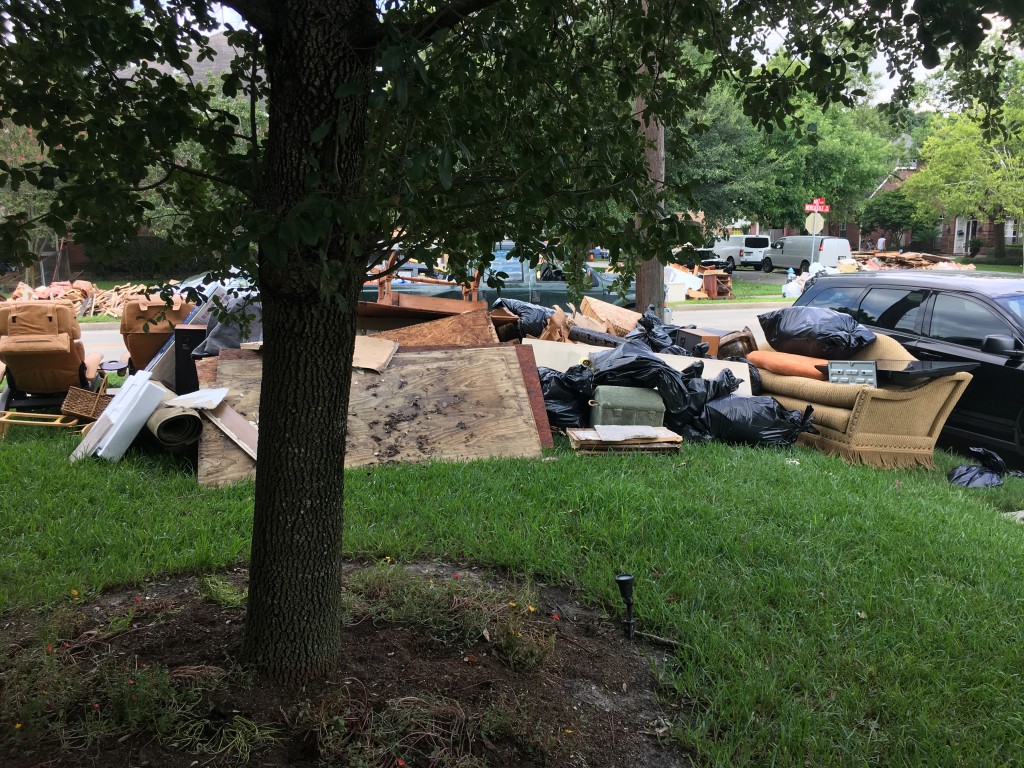 In trying to submit claims for their flood insurance, frustrated Houston homeowners (like the owners of this destroyed property in Bellaire) are turning to us for our insurance claim analysis!
"I've been talking to homeowners needing remodels since the flood, and watching as insurance adjusters write down 'tile floor' when it's really expensive travertine or marble tile, or '2 cm granite countertop' when it's really 3 centimeters," explains Wayne Franks, owner of Outdoor Homescapes of Houston.
"People have spent years making their house a home, and they're already dealing with that loss. Not getting the full amount of their investment back shouldn't be an added stress," he continues. "We want to advocate for them – trying to get them their home – all of their home – back through their Houston flood insurance claim. Because you know on the other side, the adjuster is representing the insurance company."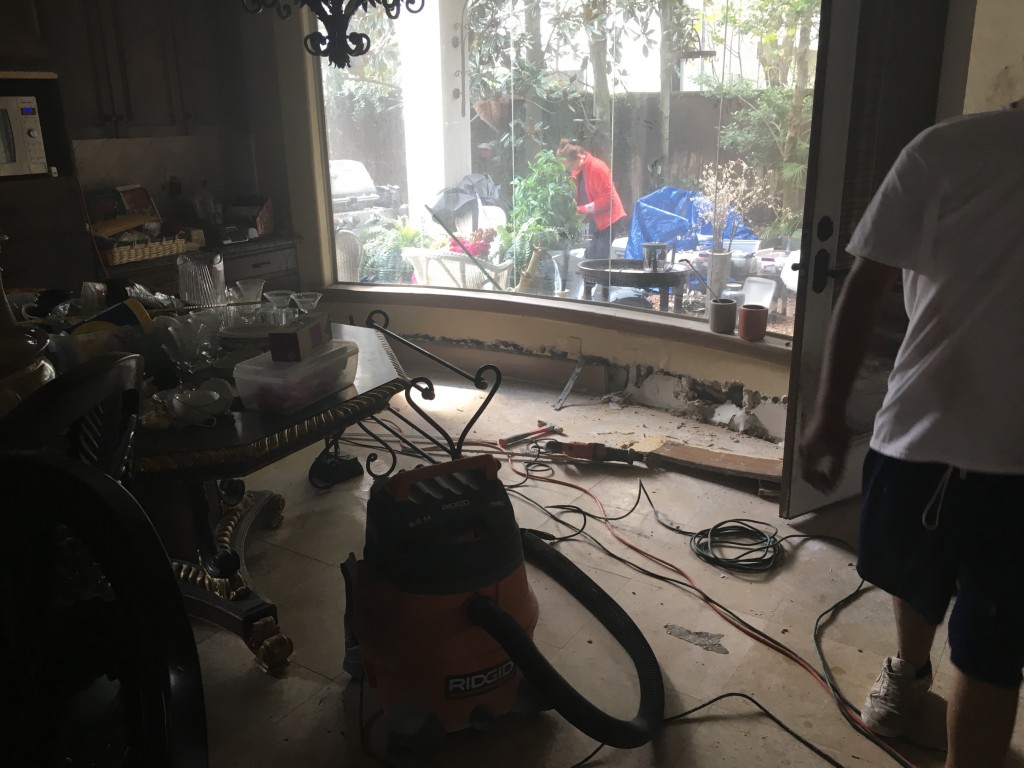 Outdoor Homescapes of Houston's interior design-build professionals are perfect for the job, because they know the specific grades and prices of building materials, finishes and furnishings. "From what I've seen so far, the insurance adjusters just don't have that specialized knowledge," says Wayne. "So we can talk to them before they draft a final settlement offer, or we can look at the final settlement offer and recommend corrections."
At the Bellaire water restoration and remodel project pictured above, for instance, Wayne made sure to speak with the insurance adjuster, suggesting changes.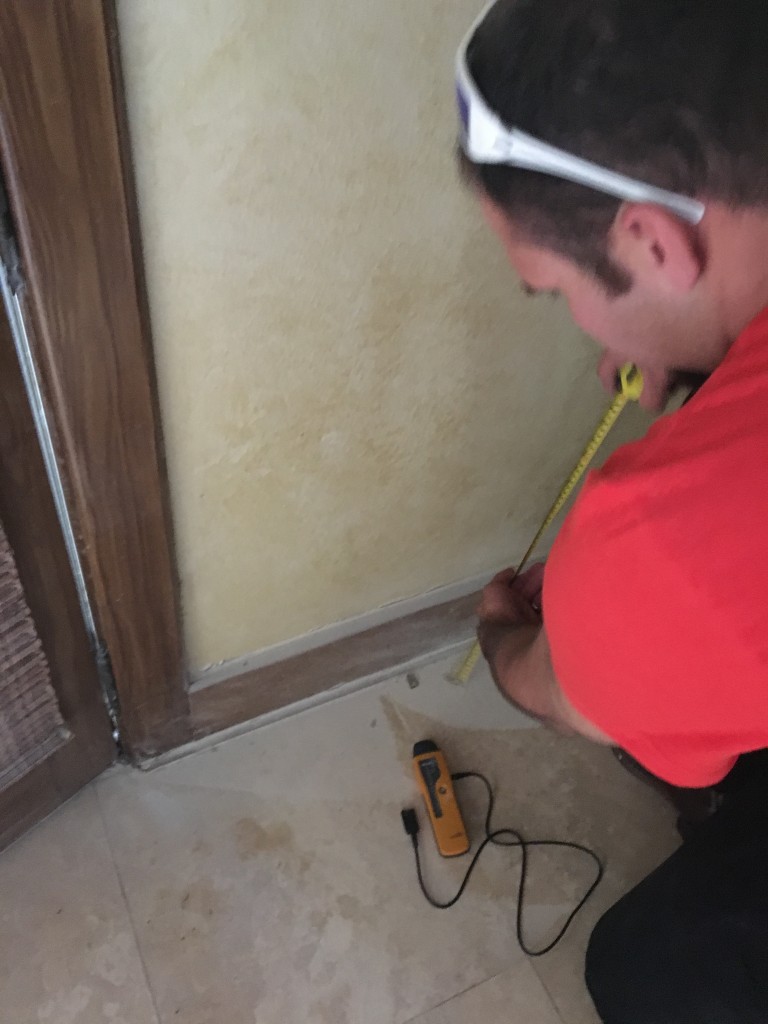 "I met with the insurance adjuster on site before the claim was filed, noting that even though the tile floor looked dry, we used a moisture meter on it (see above picture) and it was still quite wet underneath," says Wayne. "He also thought the tile was porcelain, but it was really travertine – which is more expensive."
Wayne also made sure to tell him that, because the lower counter cabinets had to come out (because the water had been 20 inches high), that the insurance company should give the homeowners credit for the granite countertop, because granite can often crack when you take out the cabinets.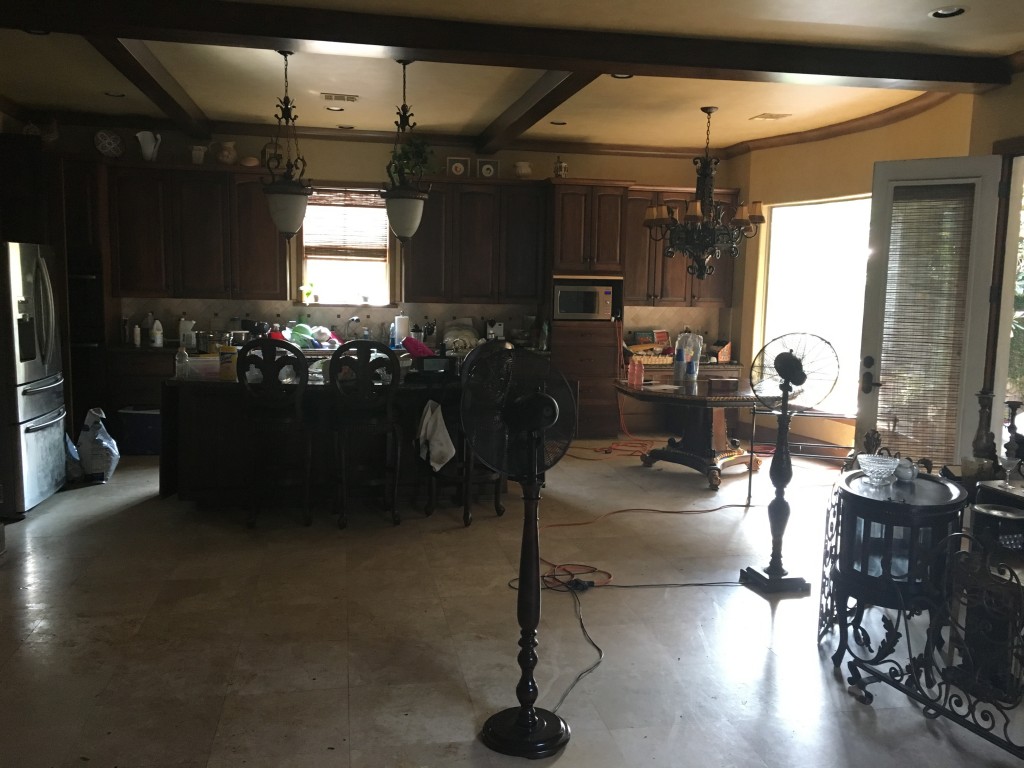 The adjuster agreed with Wayne on these changes, and also agreed that the granite countertop was a centimenter thicker than he'd noted and had a bullnose edge on it that cost more than a standard edge.
"These things add up," notes Wayne. "And we're glad we can help people out in this way."
That's why Outdoor Homescapes of Houston is offering $300 off their flood insurance claim analysis when Houston buy design services from them for their post-flood remodel. 
Interested? Just contact us online!
Or give us a call! (713) 569-1341
Has your home been destroyed Hurricane Harvey flooding and you're worried you won't be reimbursed for the full amount? Post a comment and tell us your story – whoever submits the best story gets a flood insurance assessment from us – free! Make sure to include some pictures of the damage!