Houston Kitchen Remodel & First-Floor Redo – From Blah to "Aaahhh!"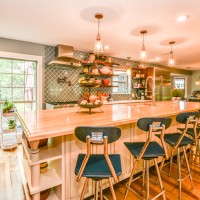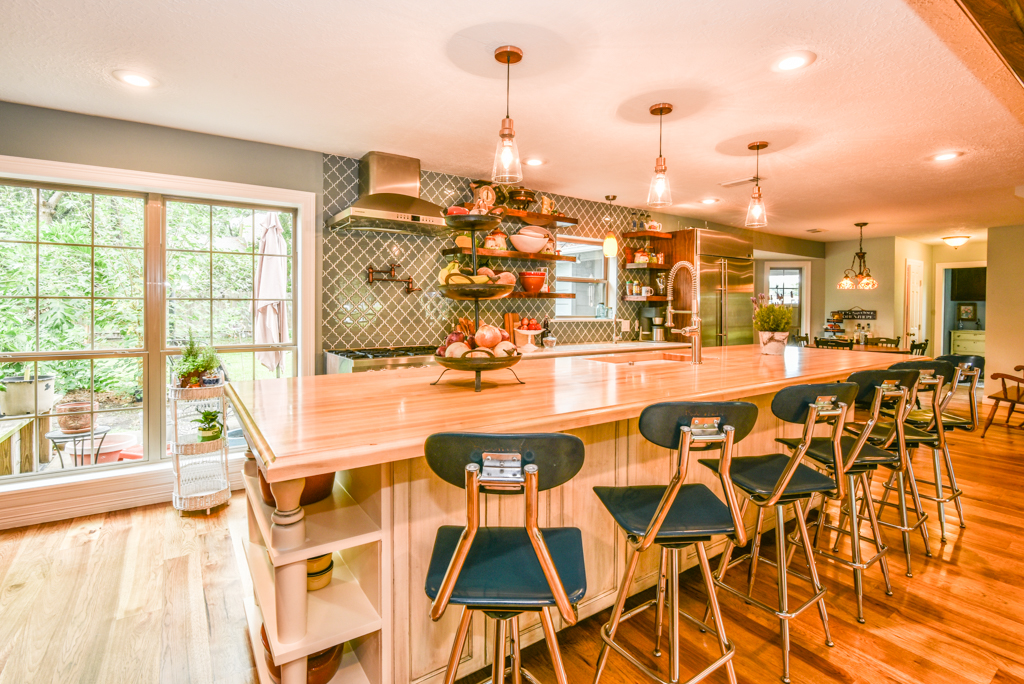 This Houston kitchen remodel and whole-house redesign was nothing less than a time machine – zooming a 40-year-old living space into 2017!
"The kitchen had formica countertops, old wood cabinets, a strange layout and low ceilings," says Lisha Maxey, lead designer for Outdoor Homescapes of Houston and owner of LGH Design Services. "We basically took it down to the studs to create the new space. It even had original terrazzo tile in the foyer! Almost never see that anymore."
Here's a gallery of pics from the project. Click on any image to make it larger:
The new look is all 2017, starting with a pure white maple wood for the new kitchen cabinetry and a 13-foot butcher block island. The china hutch, beam and columns are walnut.
The small kitchen countertop (on fridge side) is Corian. The flooring is solid hickory with a natural stain. The backsplash is Moroccan blue glass.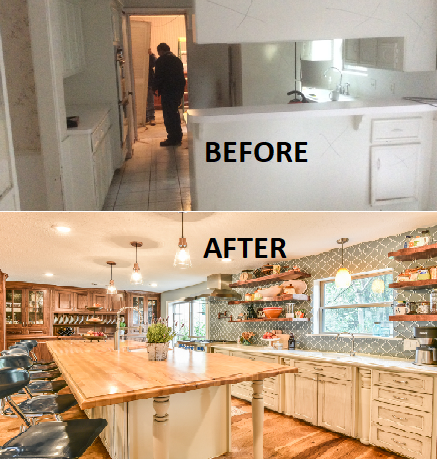 In the island, Outdoor Homescapes added a small, stainless steel prep sink and a large porcelain sink. All finishes are brushed stainless steel except for the pot filler, which is copper.
"The look is very transitional, with a hearty mix of antiques the client wanted incorporated and the contemporary open concept look of today," says Lisha. "The bar stools are actually reclaimed science class stools that my client picked up at a local fair. It was an awesome find!"
In addition to the kitchen, the home's first-floor half bath, living room and den also got an update.
Outdoor Homescapes also built storage into the space under the stairs and warmed up the entry with custom blue and beige wallpaper.
"In the half bath, we used the client's favorite color, orange," says Lisha. "We added a vessel bowl that was also found at a fair and an antique chandelier to top it off."
The paint in that room was textured by running a dry brush vertically while the paint was still wet. "It appears to be wallpaper, but not!" explains Lisha. Outdoor Homescapes also used black/white custom tiles in the bath and laundry room to tie it all in.
Lisha used antique pieces in the laundry room with a custom black/white porcelain floor. To open up the wall between the old kitchen and living room, we had to install a 26' steel I-beam to support the second floor. It was an engineering feat! Took six men to get it into place!
"The client – an empty nester couple – had already done their upstairs remodel and they knew the first floor would be a gut-out," continues Lisha. "The home was in very poor condition prior to the remodel, and everything needed to go. Basically, wife told husband, we either do this remodel or we sell the house. And Mr. inherited it from his Mom, so it has sentimental value to him."
Lisha loves how original it turned out, noting the refreshing department from the usual all-white kitchen with black/white flooring, Carrera marble or granite countertops and subway tile. "The clients were open to mixing up styles and working with me to make it come together," she says. "I think there's a new excitement in mixing the decades and finding a way to allow clients to hold on to treasured antiques or special pieces while incorporating them in a more modern space.
Her favorite area is the large island.
"I love that they will spend holidays and regular days around that space," she says. "It's just so welcoming!"
Some more "before" pics of the former kitchen and rest of the house: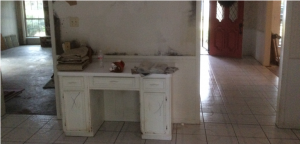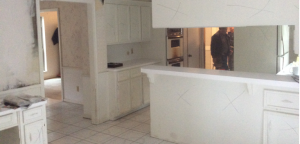 And here are more "afters" of the rest of the house: