Unique Houston Patio Features Colorful Tile, Wine Trough, Basketball Court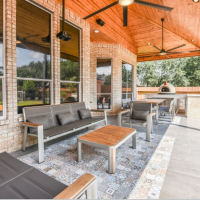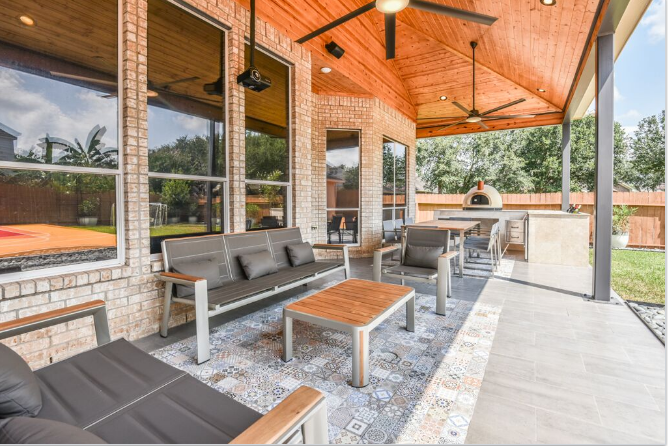 The owners of this unique Houston patio didn't want what everyone else had.
They had a specific vision in mind – colorful, detailed tiles, a more contemporary look, minimalist furniture – all next to an oversized basketball court.
"The client – a professional couple in their 40s with kids – was very sure about what they wanted from the get-go," says Lisha Maxey, head designer for Outdoor Homescapes of Houston and owner of LGH Design Services in Cypress. "They wanted a truly unique space and were adamant about not using the typical heavy stone that we see a lot of our clients lean towards in outdoor spaces. The finishes made it unique, and we were happy to accommodate them!"
As you can see from the original layout, the existing space included the basketball court, an odd-angled walkway to a detached garage and a basic, narrow, rectangular patio. (Click on any image to make it larger).
"While the patio itself is mid-century modern, we also brought in Tuscany touches on the kitchen island," says Lisha. "You'll see the wine trough there and also the hand painted murals. It's definitely a unique mix, but it works!"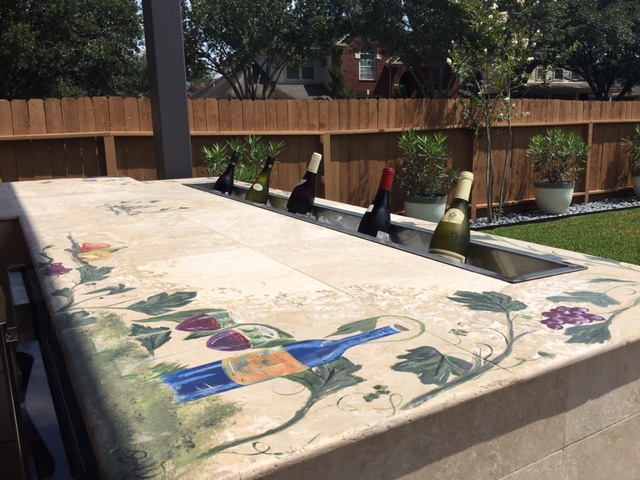 The area filled with smooth rocks between the basketball court and new patio, she explains, is a French drain. "The client didn't want gutters on the new roof," she explains. "They wanted to keep the metal frame for the roofline clean and sleek and not covered up by a gutter system."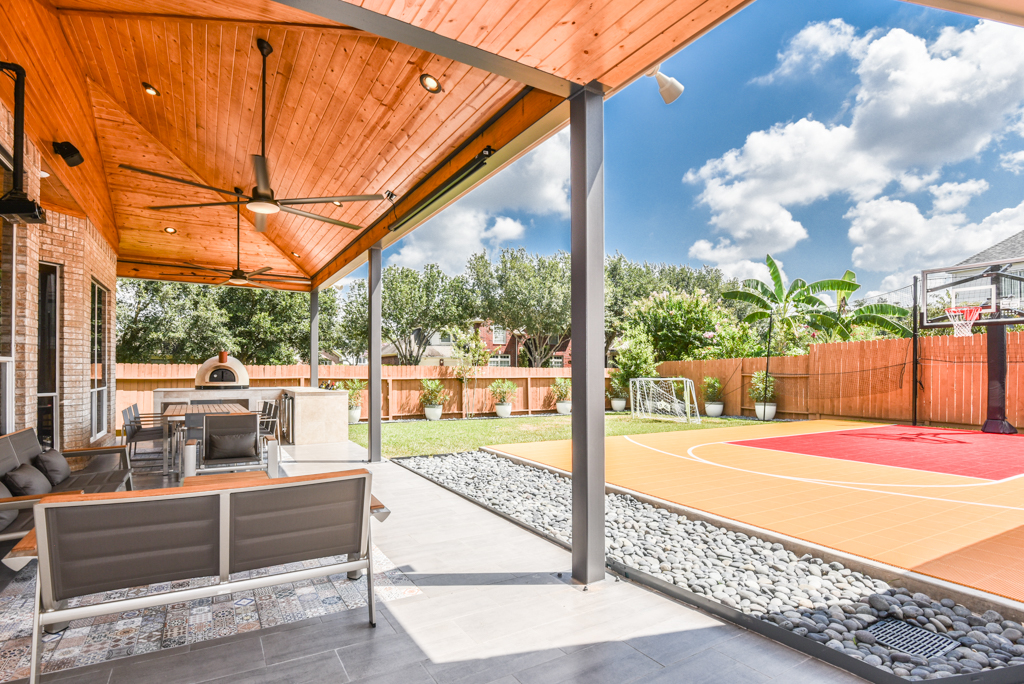 The outdoor ceiling of the new hipped roof extension is pine, stained with Minwax 'Golden Oak. The modern-looking posts are metal, painted black. Two industrial-sized fans and lots of recessed lighting keep the area bright and cool. 
"The client wanted a 'rug' look using the detail tiles, creating a designated area for seating and dining." says Lisha. "We went through many iterations to get it exactly the size/type they wanted." 
The outdoor, wood-fired pizza oven is a Forno Bravo (pssst! see our Forno Bravo pizza oven special!) Below it is storage space for wood. 
The outdoor kitchen, faced in ledgestone and topped with a concrete counter, also houses an RCS stainless steel outdoor fridge and wine cooler.
The client was more than happy with the results. 
"We came into this patio project with strong demands and high expectations," reads the client's review of this patio project on Houzz. "We had a modern, chic patio in mind and Wayne accommodated our needs. The crew – his tilers, framers, roofers, painters and plumbers – produced excellent quality workmanship and were able to meet those expectations with relative ease."