It's Our 2014 Big Green Egg Giveaway!

It's time for our Big Green Egg Giveaway! Outdoor kitchen design has been revolutionized by this versatile, ceramic charcoal cooker and we want you to take advantage of it with our special offer!

That's right! For each outdoor kitchen designed and built by Outdoor Homescapes of Houston, we're offering a complimentary, large Big Green Egg grill (valued at $800 and up) build into an island!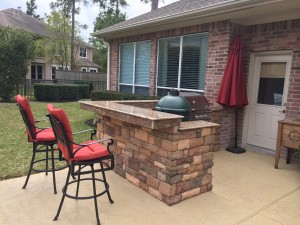 What's a Big Green Egg, you ask?
Well, it's arguably one of the most well-known, popular kamado-style ceramic charcoal barbecue cookers out there! Kamado-style cookers are derived from an ancient clay cooking device known as a "kamado." They've become increasingly popular in recent years because they cook in a unique style that makes meat unbelievably tender, moist and juicy. People also like kamado grills because they can be used as ovens, grills and/or smokers.
But why a Big Green Egg?
Well, of course, there are many other models and brands of kamado grills besides the Big Green Egg. In fact, we also just started offering the charcoal-free Kamado Gourmet for our outdoor kitchens, too. But the Big Green Egg brand is widely acclaimed as the first American-designed model and has become become synonymous with kamado-style barbecue cookers. Even if people are talking about a different kamado grill, they often call it a Big Green Egg. Besides, you can't argue with all of the brand's top ratings, like this About.com review on the Big Green Egg.
The thing about the Big Green Egg grill, however, is that it needs to be raised to a proper working height. And sure, you can buy a
metal stand, called a "Big Green Egg Nest," for this purpose. But Big Green Egg Nests don't offer the serving and working space an outdoor cooking and grilling area really needs. Of course, you can also buy a Big Green Egg table or cart, but in our humble opinion it looks … well, awkward (see image at left).
In contrast, our popular Big Green Egg island designs offer a sophisticated, integrated approach, with this kamado-style cooker built into a stone island along with a grill, granite countertops and other outdoor kitchen amenities. It's about design – one that's incorporated into your existing space and looks like it's always been there.
Want to see how Big Green Eggs look built into outdoor kitchen islands? Here's a video from last week's blog post on one of our most recent Big Green Egg islands:
And here's a photo gallery of our other Big Green Egg islands:
Aren't they gorgeous? No wonder our Big Green Egg images on Houzz are our most popular!
So – are you interested in joining our Big Green Egg giveaway? All you have to do is contact us!

14 Responses to "It's Our 2014 Big Green Egg Giveaway!"