Big Green Egg Grill Giveaway – One Week Left!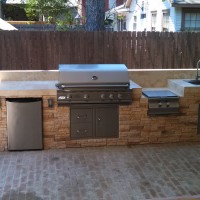 Big Green Egg Grill Giveaway alert! Only one week left to participate!
Here's the deal: Get a built-in, large Big Green Egg grill FREE when you let Outdoor Homescapes of Houston design and build your outdoor kitchen!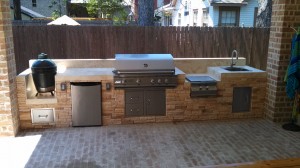 To enter, just go to our Wishpond Big Green Egg Giveaway landing page on our Facebook page. Or, simply contact us!
But – just to review – what's a Big Green Egg? And why would you want it built into your outdoor kitchen (or summer kitchen, or patio kitchen, or whatever you prefer calling it)?
A Big Green Egg is what's known as a kamado-style ceramic cooker. So what's a kamado, you ask? Well, it's a grill, oven and smoker in one with an airtight ceramic chamber that allows for greater heat and moisture retention. This renders food incomparably moist and delicious, with all the flavor sealed in! Kamado style cookers are especially popular right now for briskets, roasts and anything you'd normally cook in an indoor convection oven.
Oh, and it's green and shaped like an egg – hence the name "Big Green Egg."
The Big Green Egg, however, must be elevated to a proper working height. You can buy a metal stands, called a Big Green Egg Nest, but you still need working and serving space. For this reason, Big Green Egg tables or carts are also available. But in our humble opinion, they look kind of awkward:
And, since many of today's outdoor kitchens are acquiring a growing number of amenities and appliances, the most popular aesthetic and functional option is combining them all in built-in islands.
Pictured above is our latest Big Green Egg outdoor kitchen island.
It's 16-feet long, complete with a Big Green Egg (size small) and an RCS outdoor refrigerator on the left. The countertop is a honed and filled, hand-picked, NYSA 18-inch travertine tile. Moving toward the right is a stainless steel 42-inch professional-grade RCS grill with a infrared burner for searing. 
The grill – along with the Fire Magic double burner for crawfish and shrimp boils – help accommodate all the outdoor entertaining done by the homeowner. So do the outdoor sink and built-in storage from several stainless steel doors and drawers. The island walls are dry-stacked Virginia Profit ledge stone.
Gorgeous, no?
So why put it off anymore? You work hard – don't forget to play! Join our Big Green Egg Grill Giveaway today!