Our Favorite Patio Covers: The Double A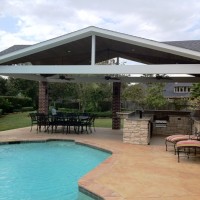 Here it is – the first in Outdoor Homescapes of Houston's favorite patio covers!
"This is one of my favorite outdoor living spaces," says company owner Wayne Franks in the video (above).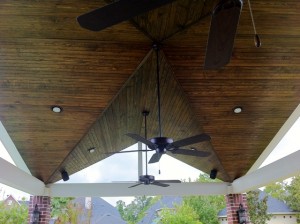 Under a roof extension spanning more than 28 feet, he notes, is an outdoor kitchen complete with a custom sink, granite countertops, an RCS double burner, 3 burner grill and power burner. Built into islands of Austin natural stone off the back of the house, this covered outdoor kitchen also includes a wet bar, Kegerator, ice maker, flat screen TV and stainless steel storage.
One of the things I like most about this outdoor living space is the ceiling," says Franks, noting how the wood ceiling comes to a point in the middle.  "The ceiling was done in what we call a double A type of ceiling, or double gable."
Franks also likes how the wet bar is right off the pool, and how the homeowners can watch football this fall from their large dining table and patio seating.
"And when it gets cold out," says Franks, walking across the designer stamped concrete to another covered outdoor living space, "here's the beautiful fireplace we built."
The 18-foot-high fireplace, constructed of red brick to match the home's exterior, features a flat screen TV over a wooden mantel with a stain matching the wooden ceiling above. The columns supporting this patio cover are also red brick. 

One Response to "Our Favorite Patio Covers: The Double A"