Houston Fire Pits – 4 Of Our Favorites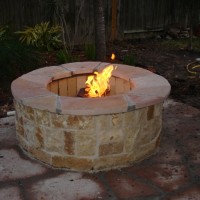 Here are a few of our favorite Houston fire pits – all part of outdoor kitchens, covered patios and other outdoor living spaces designed and built by Outdoor Homescapes of Houston:
 Nighttime fun around the fire …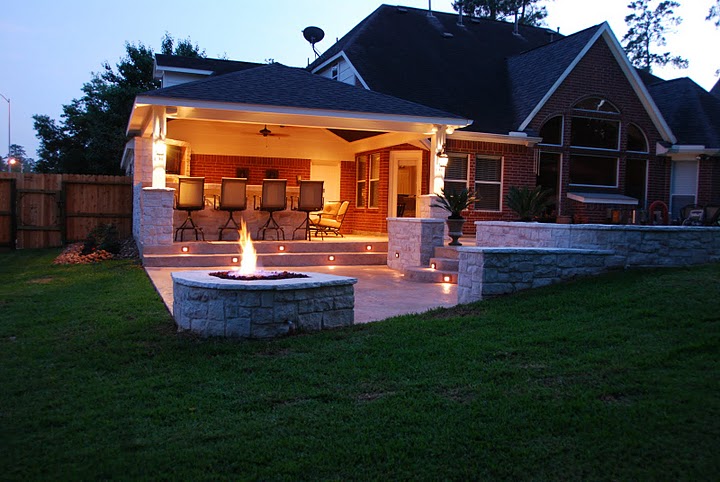 This fire pit by Outdoor Homescapes of Houston helps extend outdoor entertaining into the night with its warmth and glow. Conveniently located near the covered patio and its outdoor kitchen, outdoor media room and outdoor bar and grill area, cool drinks, hot steaks and tonight's game are only a few steps away. And patio chairs can be brought over at night to create a cozy fireside conversation area.
 Linger a little longer …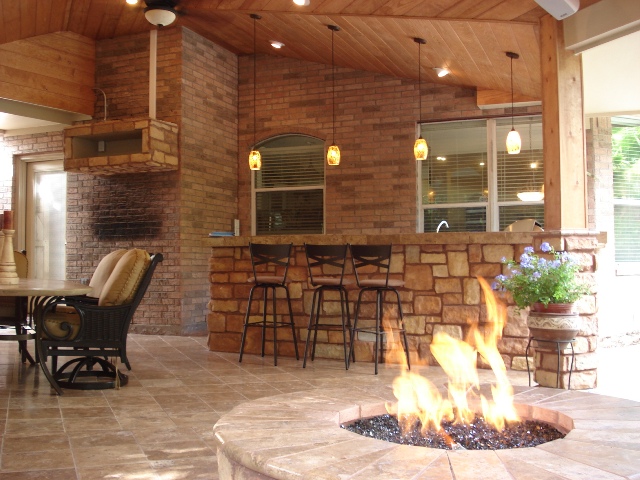 As is the case with many Houston fire pits, this design has a rustic, down-to-earth glow that matches Houstonians' blend of energy and hospitality. The wicker swivel chairs around the dining table can be brought to the fire as nighttime settles in (or as the season grows colder). And a glass of wine or bottle of cold craft beer is always nearby – on the other side of the outdoor bar and grill island.
Family time …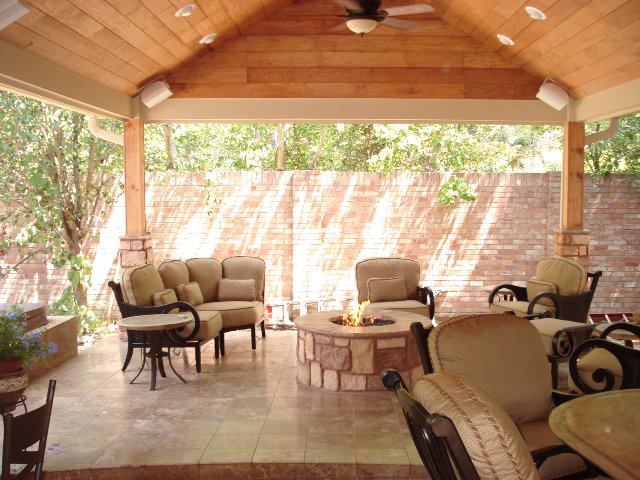 We're all so busy and in front of screens all day. Why not start an evening ritual of family time around the fire? This is the ideal environment for it – with a dining table for family dinners nearby. Just a few steps more, and you can snuggle up, let your dinner settle, listen to some wind-down music from the speakers above and share something about your day.
A personal retreat …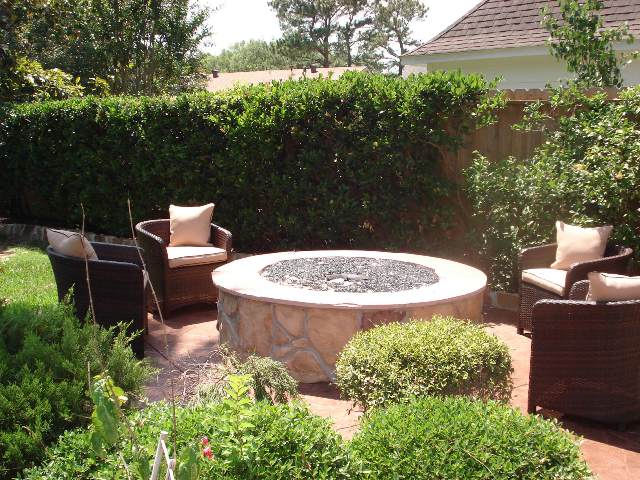 Even though Houston fire pits typically beckon a crowd, they also provide an ideal get-away in a world of distractions, worries and obligations. This intimate setting, with a fire in the middle, creates a focal point, a sense of calm and an infusion of energy.
Like what you see? Want a fire pit – or outdoor living space – of your own? Just contact us today! We'll get the ball rolling!
You can also find more design inspiration for Houston fire pits on Houzz.