Houston Modern Outdoor Kitchen: Heavy Metal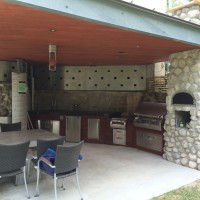 This modern outdoor kitchen in Houston pulls off the industrial look perfectly – especially with its I-beam metal roof design!
This 400-square-foot, triple-ribbed, trapezoidal metal roof – and its grey, galvanized steel I-beam – proved to be the perfect outdoor living space idea. "I mean, what's more industrial than an I-beam?" asks Outdoor Homescapes of Houston's owner, Wayne Franks. "It also matched the metal roof on the existing house, and we always want to make our Houston outdoor living spaces look like an original part of the home."
Here's a better view of the I-beam construction: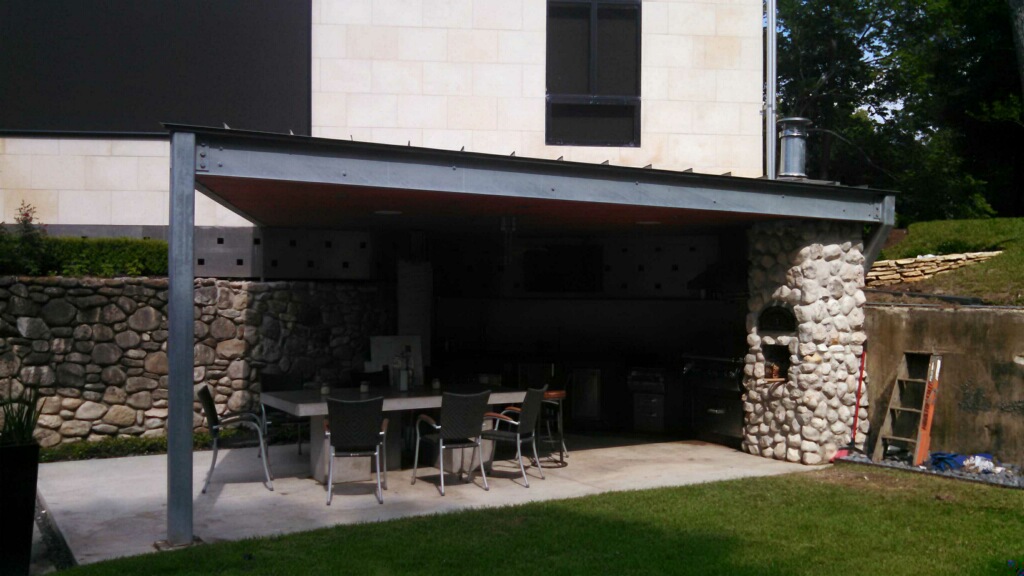 In addition to the metal roof, the use of concrete and stainless steel help complete the look of this modern outdoor kitchen. The table, floor and backsplash are concrete and the walls roof, and appliances steel. 
"An ultra-modern outdoor kitchen calls for ultra-modern appliances," says Franks. "So we outfitted it with a full line of stainless steel, commercial-grade Fire Magic amenities."
Here's a better view of all the appliances: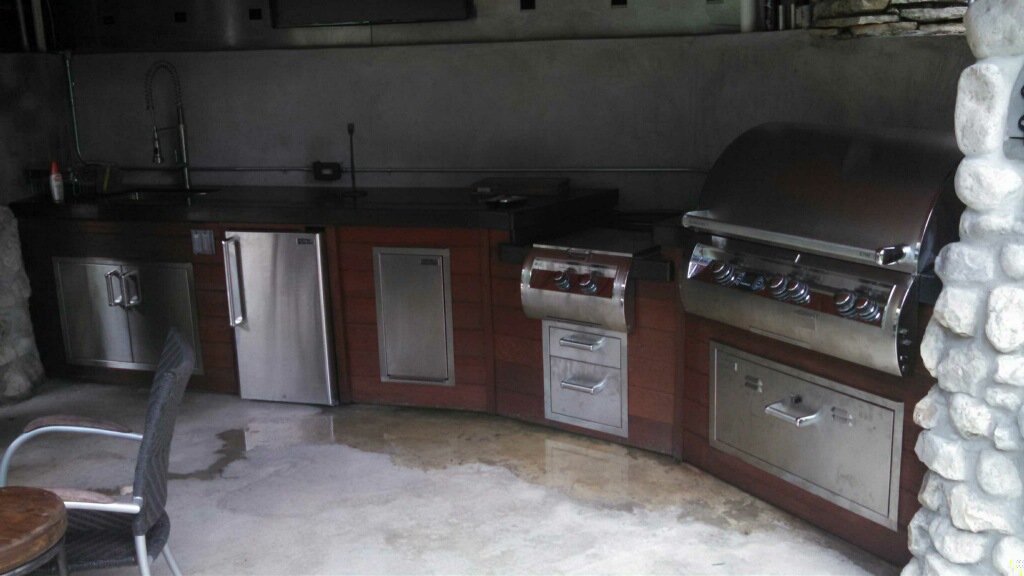 In addition to an e790 Echelon Fire Magic grill, these components included a power burner, warming and trash drawers, a range hood, sink, icemaker, fridge and storage. Balancing out the ultra modern look, however, is a beautiful, rustic-looking pizza oven.
"It's faced with a Mountain Valley natural stone," explains Franks. "The stone matches  an exterior wall of the house."
For an even closer look at this modern outdoor kitchen project, here's a video tour by Franks:
"The client is a prominent Houston homebuilder in the Memorial area of Houston," explains Franks. "They found us on the web, saw our projects and felt we could do the best job matching the ultra modern architecture of their house. I think it turned out pretty great, myself."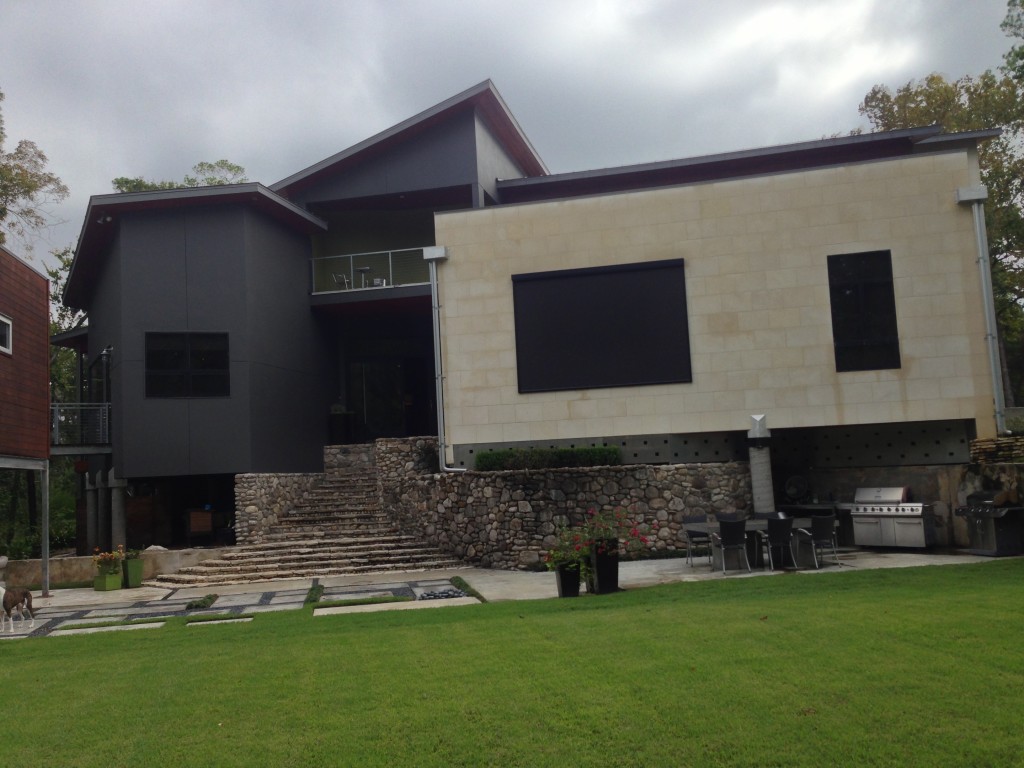 The warm, red tones of western redwood balance out the cooler tones of the concrete and stainless steel, he continues. Stained with a clear polyurethane to show off the color, the wood can be seen in the tongue-and-groove boards on the 10-foot-high ceiling. Redwood boards serve as facing on the kitchen cabinets, too.
This modern outdoor kitchen, of course, also includes a 55-inch flat-screen TV mounted to the pre-existing stainless steel wall with perfect sightlines to the concrete slab table. (Outdoor Homescapes is offering a special promotion right now: free TV installation when you have your outdoor kitchen, covered patio or other outdoor living space project designed and built by us. Interested? Just contact us!)
"And since the house is on a hill above the outdoor kitchen, we're actually pumping the water from the sink back up into the house to the sewer," says Franks. "That's pretty neat."
Question: What do you think of this ultra modern outdoor kitchen in Houston? What would you add or take away? Post a comment, and let us know – we're always looking for feedback and opinions!
Or, if you're interested in your own outdoor kitchen in the Houston area, just contact us! We'll be glad to help you get your project started!
Also – feel free to check out our modern outdoor kitchen projects on Houzz!