Houston Outdoor Living Spaces Fun for Football Fans, Non-Fans

Houston outdoor living spaces enter a precarious time during football season.
For football fans, this means gathering around the outdoor TV or media center, enjoying the cooler weather without the hassles of watching the game indoors.
For non-fans, however, it can become an extension of life indoors – exclusion from the TV and resident football fans' time.
Whichever group you're in, we've got tips for enjoying your Houston outdoor living design during football season – whether or NOT you're a fan!
For fans
"Watching football in an outdoor living space offers many benefits – enjoying the weather, more seating, the kids can play, easy cleanup" says company owner Wayne Franks. "So the  first thing we'd like to do for the fans is offer a promotion to help those who don't have an outdoor TV get one."
That's why, from now until the end of the football season, Outdoor Homescapes of Houston is offering free installation of outdoor TVs (an $800 value).
Those interested in the promotion can contact us for more information.
For those who already have a media center in their Houston outdoor living spaces – or want to install one – so they can watch the games outside, Franks offers the following tips:
Make sure the TV is in a shaded area (perhaps under an eave), so you can see the screen better.
Invest in an all-weather TV and/or movie screen
Put your TV in a weatherproof TV enclosure when you're not using it.
Make sure to provide lots of weatherproof, comfortable seating with a good sightline to the TV screen, (this is why it helps to have a professional outdoor space planner like Outdoor Homescapes).
Plan for food and beverages. A nearby outdoor kitchen and grill island (also with a sightline to the TV) comes in handy for grilling up steaks, burgers, wings and hot dogs. This island can also house a bar with stools, an outdoor refrigerator for cold beers and even a Kegerator beer dispenser.
Provide for quick bathroom breaks. If a bathroom isn't easily accessible for half-time pit stops, you can build one into a covered patio: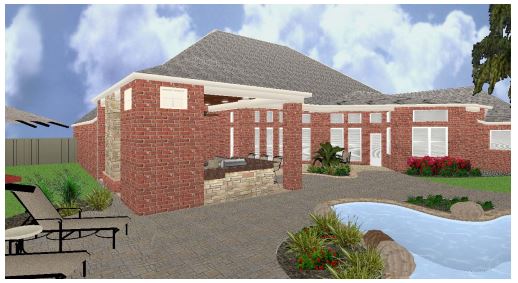 Offer nightlighting and pathlighting. At the end of the season, it gets darker earlier, and you'll want guests to be able to find their way around. Outdoor Homescapes specializes in outdoor lighting and nightscaping systems.
Banish bugs. You can defend your space by putting out citronella candles, keeping food covered and hanging bird feeders (since birds eat bugs). Outdoor Homescapes also specializes in MistAway mosquito systems.
Provide outdoor heaters when the weather gets cold.
For non-fans
To those who don't watch football in their Houston outdoor living spaces, Outdoor Homescapes designers Lisha Maxey and Gretchen Kliafas offer the following advice:
"Let's face it," says Kliafas. "During football season, our backyard retreats kind of get taken over by the men as they watch football, grill burgers and relax with some beers. Our backyard sanctuaries start to feel more like man caves or sports bars."
Prevent yourself from feeling sidelined, she says, by planning a girlfriends' get-together. "You can plan it for the same night, enjoying wine and hors d'oeurves by the pool while the guys watch the game. Or, you can institute your own Girls Night a different night the same week, in which you and your friends get to watch what YOU want and dominate the outdoor media area."
You can also offset the Guy Factor of your outdoor living space, says Maxey, by adding some feminine touches with outdoor furniture and décor.
"Furniture and accents with organic shapes or curves balance out the hard, masculine lines of a space," says Maxey. "Soft accents like decorator pillows, drapes and throws will also achieve the same effect."
Of course, you may also want to consider just joining the crowd, since NFL statistics show that 40 percent of the football season's fan base is women. 
"Instead of fighting against football season, you can try to learn more about the game along with your significant other," says Kliafas. "You never know – you might find a new common interest – or impress him once you've gained a little knowledge."