Houston Patio Addition Stylishly Meets Budget, HOA Rules

We love this rustic-modern Houston patio addition with an outdoor kitchen and double pergola!
It not only made the most of a long, narrow space while satisfying strict homeowners association rules, but did so affordably in a warm, timeless style.
Here are a few more shots of the finished project (click on any image to make it larger):
"The client really enjoys outdoor living, but had a specific budget they wanted to meet," explains Outdoor Homescapes owner Wayne Franks. "They also live on a golf course and had to meet particular HOA requirements."
The HOA requirements restricted how far back the new 450-square-foot patio and pergola could extend back into the yard. The HOA also wanted to make sure the patio's colors and materials matched the existing home and others around it.
Here are some"before" pics, so you can see what we started with:
"We chose colors and materials that offered texture and character, but that would go with just about anything around it," says Wayne. "We found that with the Fantastico travertine and the Austin limestone – two materials clients love and just can't go wrong with."
The Austin limestone facing the 8-foot-square, L-shaped kitchen island is dry-stacked in a castle pattern for a naturalistic, rustic look. Yet its light, neutral color keeps it fresh and modern.
Adding to the modern look are the stainless steel appliances: an RCS 30-inch stainless steel grill, double burner and outdoor fridge. Even though the finishes on the sink and light fixtures (Hunter pendant lamps and Hampton Bay light/fan combos) have a different finish – oil-rubbed-bronze – this actually follows the recent trend of mixing different metals, materials and finishes.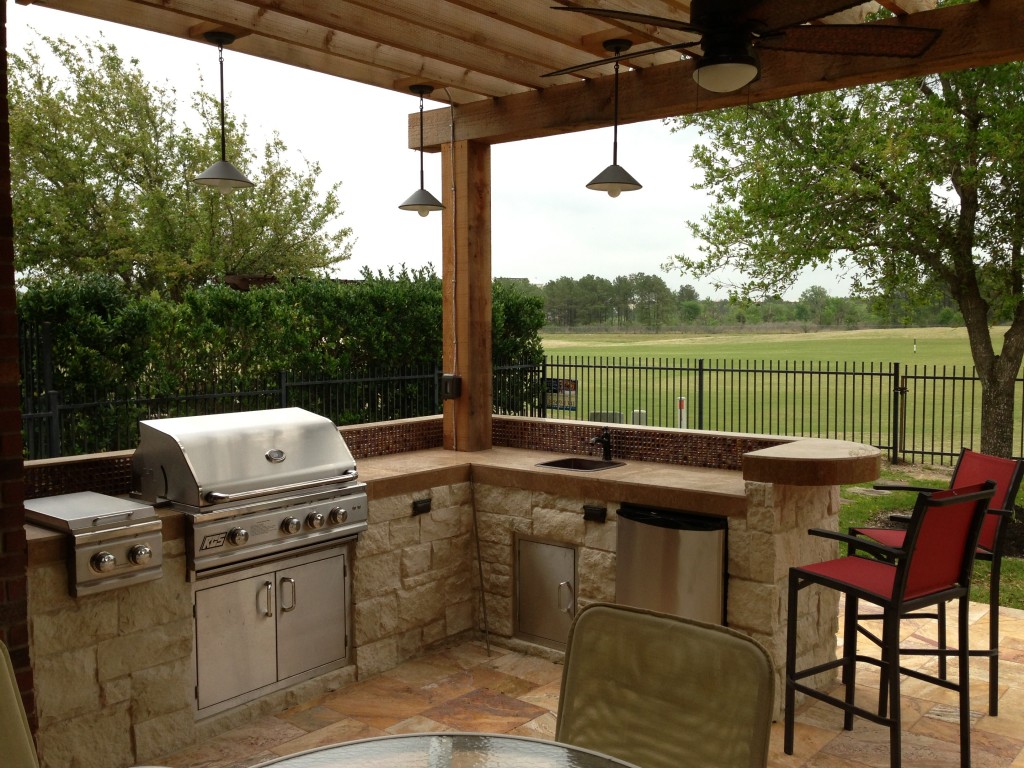 "The look's not so matchy-matchy anymore," explains Wayne. "Mixing it up makes it look more authentic and personalized."
That's why backsplashes like the one in this project – done in glass and metal tile mosaic – are also becoming more popular than traditional tile.
Another recent trend can be seen here, too – an amping up of color variation and texture.
"In addition to the split-face texture of the rock, you can definitely see the bold color variation in the travertine," says Wayne.
The flooring is a Fantastico travertine, laid out in a Versailles pattern. "The Fantastico tile is killer," says Wayne. "It goes great with red brick, which we have a lot of around here." The countertop with the rounded, raised bar at the end is English walnut travertine.
Here's another view of the outdoor kitchen: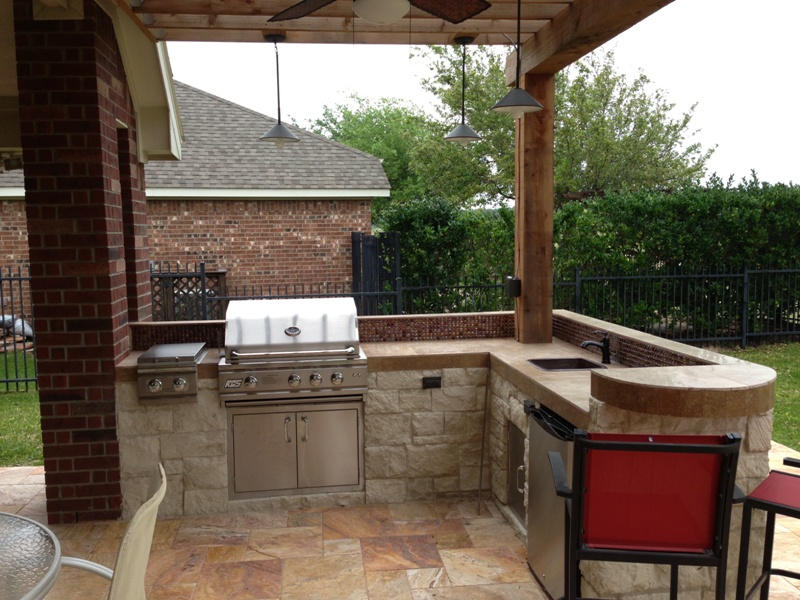 The red bar stools also add a pop of exciting color that contrasts nicely with the greenery around the patio.
The double pergola, continues Wayne, is No. 2 pine stained a Minwax honey-gold color. One side of the pergola – the side over the seating area – is covered with Lexan, a clear material that keeps out rain, heat and UV rays.
The pergola also juts further into the yard on that side. "It's called a scallop, and it just lends some interest," explains Wayne. "It prevents the pergola from just looking like one big rectangular hunk of wood."
Wayne particularly likes how everything blended so well with the brick – which was a big concern – yet didn't come off as too neutral or boring.
"The Fantastico travertine and red chairs do an excellent job of pulling the red from the brick and working with the warmth of that color to make a super inviting space," says Wayne. "We're really pleased with how it all ties together so well."