Houston Patio Designers Satisfy Budget, Style, HOA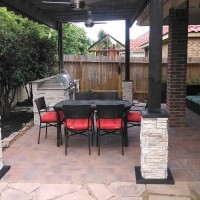 Houston patio designers Gretchen Kliafas and Kristy Buel Franks made this beautiful covered patio with an arbor and outdoor kitchen what it is — an extraordinary example of style, affordability and adaptability.
"We had to overcome some major hurdles on this project — the property had a no-build line all the way to the back door and the client had a very, specific, conservative budget in mind," says Outdoor Homescapes of Houston owner Wayne Franks. "And we certainly couldn't have done it without Gretchen and Kristy."
Gretchen, he notes, "did an incredible job for a boatload of reasons" in her first stint as project manager for Outdoor Homescapes.
"The project had a different size, dimension and selection projection than what was approved by the homeowner's association four months later," says Gretchen, who was hired as a Houston patio designer in April 2014. "I guess you could call it my trial by fire!"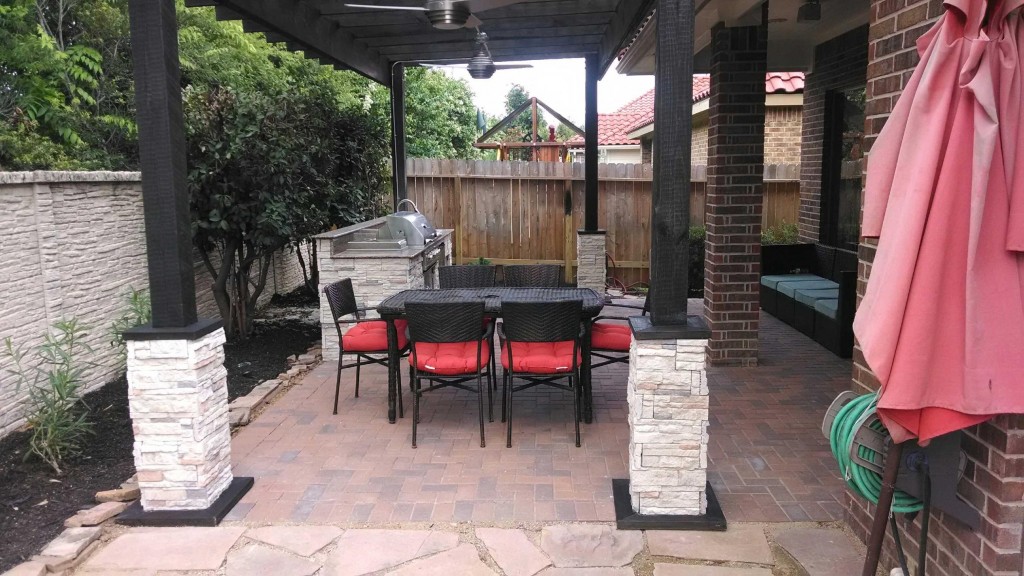 After meeting with the clients several times, Gretchen quickly put her 12 years of construction design experience to work, re-creating the project on a much smaller scale while maintaining its design integrity. The clients chose their design and functional elements for the most part, but Gretchen guided them through surface and finish selections like granite, stone, paver color and stain.
"Often, clients fall into one of two categories – those who want A LOT of input and want to meet at every supplier or go over multiple choices of details," she explains. "Then there are those who want turn-key design services — more of a presentation style — which is what I did with this client. They're busy … hectic schedules … so I presented all the elements together in their space, giving them multiple options."
Also instrumental in the success of this project was graphic designer Kristy Buel Franks.
"She continually worked with Gretchen and the homeowners' association to make it happen and conform to HOA covenants," says Wayne.  "As usual, her floor plans, elevation drawings, 3D graphic renderings and virtual video tours also helped the client really see the entire project before it was built."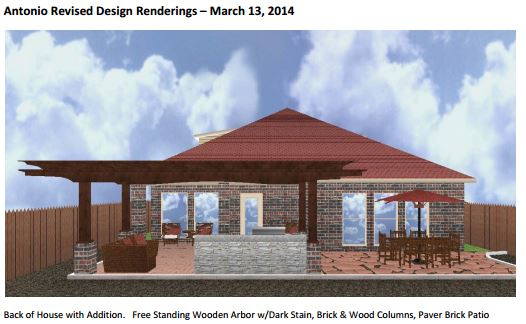 "A lot of times, it's hard to tell what the finished project will look like from black-and-white, 2D drawings," says Kristy, who's been a Houston patio designer with Outdoor Homescapes since 2010. "I think the ability to do the renderings in color — with materials chosen by the homeowners — helps give the project a finished look."
This, she explains, gives the client that peace of mind that there aren't going to be any surprises when the construction is over. "They don't have to wonder, 'Is this stone going to go with the counters?' or 'Will the stain on the stain on the ceiling look OK with the existing brick?'"
But it's 3D virtual video tours, she says, that really distinguish Outdoor Homescapes from its competitors – and rank Kristy up there with some of the most cutting-edge Houston patio designers.
"Even though I'm able to create graphic renderings from many different angles, it's the video that truly shows the finished project from every perspective," says Kristy. "It's that realistic walk-through that clinches it for clients — and that keeps the buzz building about our design capabilities."
Check out more of these Houston patio designers' work on this project on Houzz.
Looking for Houston patio designers yourself? Contact us, and we'll get your project underway!
Or, feel free to browse our patio designs on Pinterest or covered patio projects on Houzz.