Houston Patio Remodel Boosts Outdoor Party Potential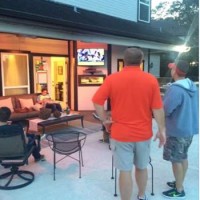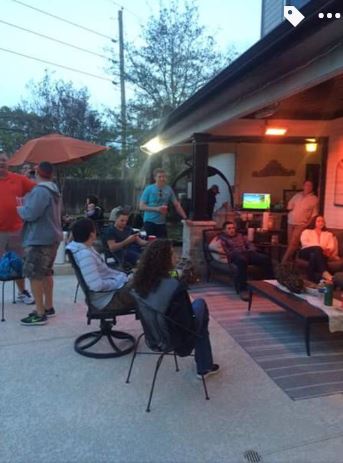 Our Houston patio remodel, we think, is just one example of why it's important to update your outdoor living space if you entertain outside.
"It was our best party yet, especially after revamping our outdoor living space this past summer," says company owner Wayne Franks. "Among our changes were a renovated pool, a permanently installed electric outdoor heating system, a new patio ceiling, lighting fixtures and furniture from Restoration Hardware and more upscale, stamped-concrete flooring."
The patio furniture is from the Klismos collection, in weathered zinc, with Sunbrella fabric in the color "Smoke." A sand-colored sisal area rug visually anchors the new conversation area.
Here are a few shots of the patio upgrades (click on any image to make it larger):
"All the renovating really paid off when it came time to throw our annual Super Bowl party," says Wayne's fiancee (and Outdoor Homescapes' main designer) Lisha Maxey. "Everyone had a comfortable spot to sit – and we had about 12 to 15 guests. Everyone also couldn't stop remarking how much better everything looked. I really think that's part of what made it our best Super Bowl party ever."
Awesome food and fun activities also helped – from a cake bake-off pitting guys against gals to virtual golf to Wayne's famous tenderloin done on the grill:
LED outdoor lighting – Wayne likes to call it "nightscaping" – helped the party linger into the night. A new outdoor audio-visual system and bigger flat-screen TV made the game easier for everyone to see and hear. And the permanently installed outdoor infrared heating system (by Solaira) helped to keep the nighttime chill off much better than the previous portable propane heaters.
What Wayne and Lisha did with their own back yard mirrors a local and national trend – updating and improving outdoor living space to make it more friendly for outdoor entertaining. In fact, according to a 2015 outdoor living survey by Houzz, 60 percent of homeowners surveyed were improving their outdoor living spaces for this very reason. And the top addition: patios, at 60 percent.
The investment is well worth it, according to the National Association of Realtors – especially in warm areas like Houston, where the return on investment is between 100 and 200 percent.
How can we amp up YOUR outdoor entertaining space? Fill out the contact form (at right) to learn more, get a quote or start working on the design of your dreams!