Houston Pool Remodeling In 5 Days? You Bet!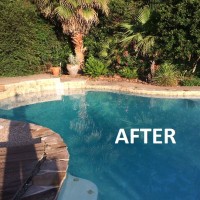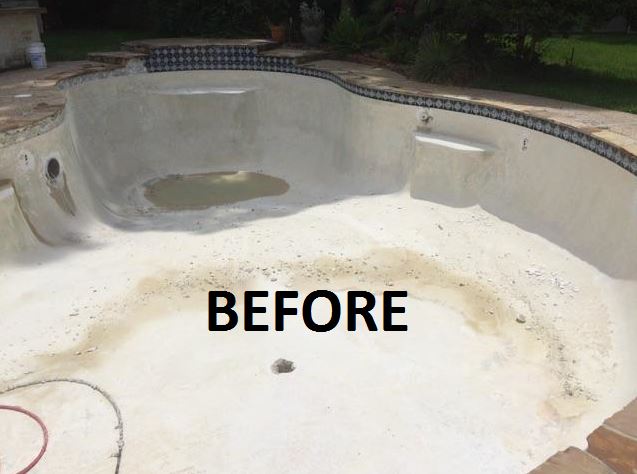 Houston pool remodeling: It's our newest specialty!
Why remodel your pool? Just take a look at the difference a redo made in this pool makeover by Outdoor Homescapes of Houston for company owner Wayne Franks' concrete and plaster in-ground pool!
"It took only five days, and turned out just gorgeous," says Franks. "We've actually had years of Houston pool remodeling experience in addition to this, but it wasn't something we advertised. From a homeowner perspective, however, redoing my own pool made me realize just how important pools are to the overall function and aesthetics of outdoor living spaces."
But no one wants to wait that long to use their pool, either, while they're waiting for repairs and updates.
"That's why we're offering a five-day pool remodel," says Franks, "with $1,000 off the pool remodeling with any outdoor kitchen project designed and built by us!"
The only requirements are that the pool be 28,000 gallons or less and include white plaster. Restrictions also apply to waterline pool tile.
Interested or just want to learn more? Just contact us!
This beautiful pool makeover included replacing the waterline tile and plaster of Franks' 15-by-30-foot free-form pool. "Our plaster pool was 20 years old and had started to crack and crumble," explains Franks. "Not only was the crumbled plaster itself unappealing, but algae would settle into the cracks and it cost extra time and money keeping the water clear and blue. It kept needing scrubbing and more chlorine."
In fact, the average life of pool plaster, explains Franks, is 10 to 15 years. If you haven't recoated and resealed yours in that long, you're likely to face similar issues – not to mention clogging up your filter with disintegrating plaster.
To remove and replace the concrete and plaster, Outdoor Homescapes first had to drill a hole in the bottom of the pool and then drain it. "Otherwise, the pool will literally float on the ground water surrounding the pool because of the pressure of that water pushing upward on the pool once it's drained," explains Franks. "Sometimes, concrete and plaster pools will have a built-in hydrostatic relief valve that solves this problem. But this one didn't, so we had to create our own."
Then, after draining, the next step was to power wash and chisel off all the old concrete and plaster and replace.
For other pool remodels, Outdoor Homescapes can offer decorative plaster or plaster with colorful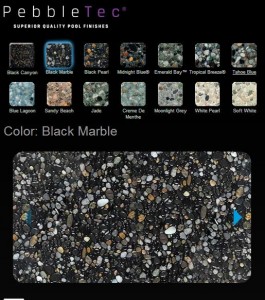 quartz or art glass mixed into it, mosaics, extensive waterline and coping tile selections through Master Tile and state-of-the-art pool finishes like Pebble Tec.
Surrounding hardscapes can also be updated with everything from natural stone to designer concrete. "We did a grey concrete floor overlay in the furnished area of our space with a fractured earth pattern to it," notes Franks.
"In our case, the porcelain waterline pool tile was overdue for replacing," says Franks. "It was an old, outdated, dark blue. Now it's an earth tone, to match the 'Buckskin' flagstone coping. We went with a neutral color for more of a clean look. But it has so many variations and depth to it, it's anything but boring."
The new, 3-inch square tile, part of Master Tile's Volcano series, also serves as a decorative accent on the pool steps.
"We look at outdoor living spaces as integrated components that should be visually tied together, for a cleaner, more coordinated look," says Franks. "That's why we make sure to match or at least harmonize elements like the waterline tile of a pool to the backsplash of an outdoor kitchen."
For existing outdoor living projects with mismatching elements, Outdoor Homescapes' team of designers helps clients coordinate materials, textures and finishes. For new projects, they develop an overall master plan with harmonizing, timeless decor and design elements in the current project so it can accommodate future additions and changes.
"It's a natural for us to match materials in outdoor living spaces, and this remodel made us realize how important pools are to those spaces," says Franks. "It's just as important to keep them up to date and integrated with your home and all it's outdoor living elements, and smart, integrated outdoor spaces is what we've excelled at for a decade in Houston."