More Halloween Patio Decorating Ideas For 2014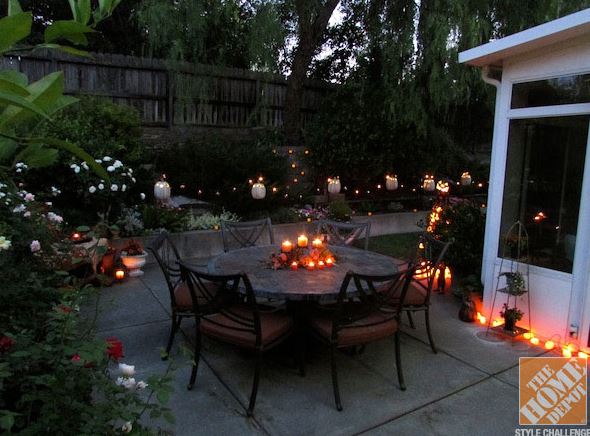 Here it is – more Halloween patio decorating ideas!
Our last installment was so successful, we decided to show you some more!
Mystery makeover
Among the Halloween patio decorating ideas we found is the one above. It's from Home Depot's blog, The Apron, in a Sept. 23, 2013 blog post entitled "Halloween Decorations Create Luminous Holiday Décor." In the post, holiday decorating expert Melissa Valeriote took on Home Depot's Halloween Style Challenge with this Halloween-themed patio makeover.
The challenge involved decorating a neglected corner of her patio with Halloween items mailed to her in a mystery box by Home Depot. The items, all available from the home improvement chain, included eight 12-inch, orange, foam "Harvest Pumpkin" decorations and a couple strings of orange pumpkin lights.
After painting the orange foam pumpkins a rustic cream, Valeriote then hung them off of shepherd's hooks and used them as luminarias along the back perimeter of the patio. After cutting star shapes out of the pumpkins, she then inserted battery-operated candles and hung them from the hooks with 14-inch wire twine. Copper star string lights strung hook to hook helped to further illuminate the patio.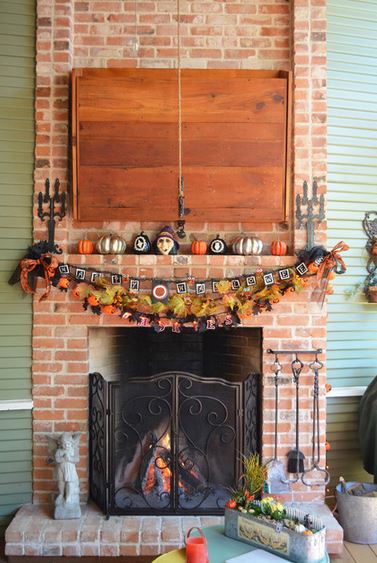 Fun Fireplace
This is a great Halloween patio decorating idea captured by Houzz writer Sarah Greenman. Entitled "My Houzz: Color and Heirlooms Combine in a Welcoming Bungalow," it features a Halloweened-up Rumford fireplace on a Dallas "man porch."
The fireplace not only features fun gothic candlestick decorations on each end of the mantel, but a black Halloween banner and metallic pumpkins. The custom reclaimed-wood TV cabinet above lends an additional creepy touch (perhaps unintended?) with its rope-and-pulley system used for opening and closing.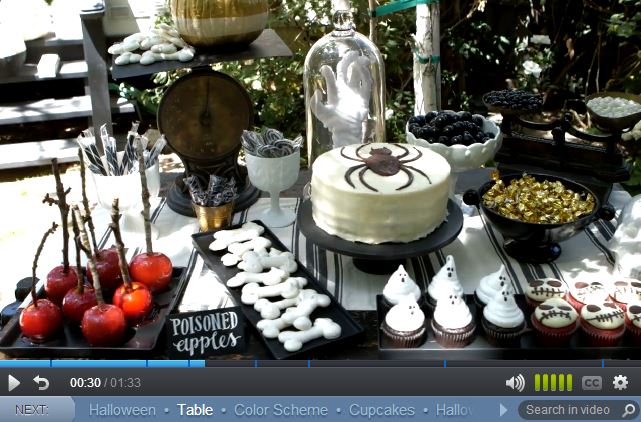 Boo-worthy buffet
Many Halloween patio décor ideas we found revolved around throwing outdoor parties. We especially liked this black-white-and-metallic one for kids, featured in a video on Better Homes and Gardens' website, features black-and-white paper fans, overlapped over each other to dress up table legs. White compotes and a vintage metal scale do double duty as Halloween décor and candy holders. A cloche covers a moving, mechanical hand for a few surprises and copper buckets hold ice-cold beverages.
For a more grown-up take, you can chill wine and beer in rustic-looking copper ice buckets (below) or punch spooked up with fog from dry ice? (Just put the punch in a bowl nested in another bowl, then add dry ice and hot water between the two bowls).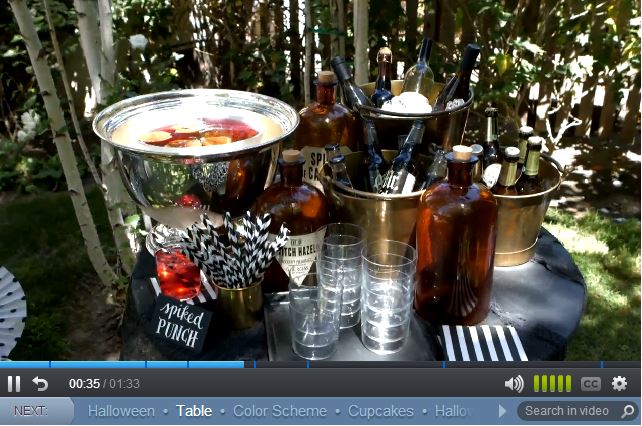 What are some of your favorite Halloween patio decorating ideas? Post a comment and let us know!