Before And After – Outdoor Grill Island And Bar

How much of a difference can an outdoor grill island and bar make?
A world of difference, as you can see in this before-and-after feature of a side yard outdoor living space connecting a Houston home and garage!
As always, Outdoor Homescapes of Houston started the outdoor living space design process by taking "existing" or "before" shots of the property from different angles. Here's the backyard view of the back of the garage, where a covered patio with a rustic-meets-contemporary outdoor grill island and bar is planned.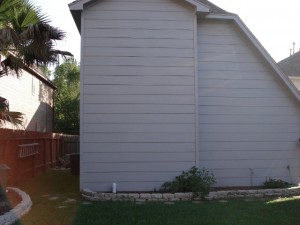 And here's the back view of the house to the right: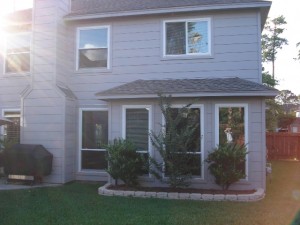 After speaking to the client's family about its functional and aesthetic preferences and coming up with a design, the next step is always 3D renderings of the project. This way, clients know exactly what their outdoor kitchen, covered patio or other outdoor living space will look like and can make any changes before it's built.
This first rendering shows the view from the back yard, with the new covered patio and its outdoor grill island and bar coming out from the back of the garage via roof extension. You can also see how a second roof extension spans the distance between the garage and house, creating an outdoor living room in between.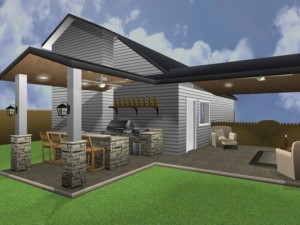 Here's another 3D graphic rendering, showing the view from the house: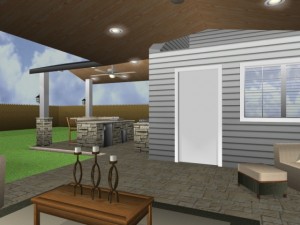 And here's the finished project!
First, a view of the outdoor grill island and bar coming off the garage. The front face of the bar area, which has a built-in kegerator and outdoor refrigerator, has been raised to accommodate counter seating. The patio cover – made via gabled roof extension – features a wood ceiling with rustic, vintage-inspired outdoor ceiling fans. And the rustic theme continues with the light-colored, rugged-faced natural stone islands.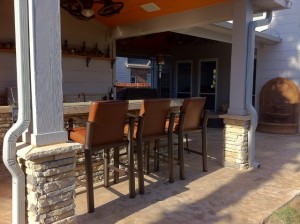 These second two shots show the completed outdoor grill island and bar off the garage …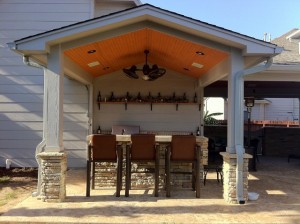 Here are two closeups of the outdoor bar and grill area: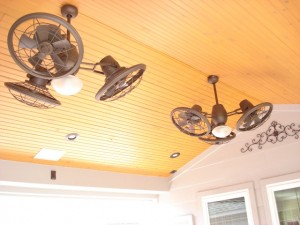 And here's a closeup shot of the completed living room, with a Roman fountain, an outdoor heater, a natural stone retaining wall, designer stamped concrete floor, patio table and chairs: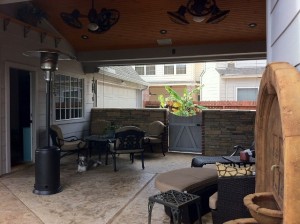 The homeowners are so pleased with this project, and use the outdoor heater to extend their enjoyment of the space into the cold season!
We hope you enjoyed this before-and-after feature of our outdoor grill island and bar! What do you like best about this project? Leave a comment and let us know!
Also check out more of our outdoor bar and grill projects on Houzz!