Outdoor Living Color Schemes – Houston Designers Offer Ideas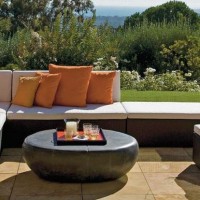 Outdoor living color schemes help establish the personality, mood and style of an outdoor living space, say two designers with Outdoor Homescapes of Houston.
Here, Gretchen Kliafas and Lisha Maxey share some ideas on how to effectively use color in your outdoor living space.
"I truly believe in the 60-30-10 theory of color," says Gretchen, who joined the Houston outdoor design company in April 2014. "If you balance your colors and underlying color tones in this ratio, your outdoor living color schemes will always look pulled together."
Take, for instance, the color palette in this outdoor living space designed and built by Outdoor Homescapes:
"In this outdoor living color scheme, the red was definitely the 60 percent," says Gretchen, noting the red brick home exterior, columns and pavers as well as the fiery-red seat cushions. "The dark brown of the furniture and pergola represent the smaller 30 percent, and then I believe the cool silver of the appliances brought the last 10 percent – for just the right pop."
The red seat covers, she continues, coordinate with the client's existing red patio umbrella. "They also had a strong, underlying warmth in their existing brick and flagstone, so it was a natural transition to continue the red and terra cotta colors. I also think red is a natural choice for outdoor living, since it's opposite on the color wheel from the green of the outdoors."
But color options have grown in the past decade as designers have gotten bolder and looked to personalize outdoor rooms. In fact, bright and cheery colors are right on trend for 2014.
"The colors have gotten very happy, because we're all feeling better," says outdoor living expert Susan McCoy, crediting the recovering economy, in the National Hardware Show's report on 2014 outdoor living trends.
"And many of these colors can be brought in with outdoor furniture and décor," adds Outdoor Homescapes' senior designer Lisha Maxey, who's offering $500 free in outdoor furniture consultation when you get an outdoor living space by Outdoor Homescapes."That's where my partnerships with design-savvy brands like Restoration Hardware and Janus et Cie come in."
Both brands, she says, offer a variety of decor options that make color moveable and changeable. Think customized upholstery fabric for furniture pieces, area rugs, drapery, throws, planters, patio umbrellas, seat cushions and throw pillows.
Here's an outdoor color scheme with pops of orange, for instance, by Janus et Cie: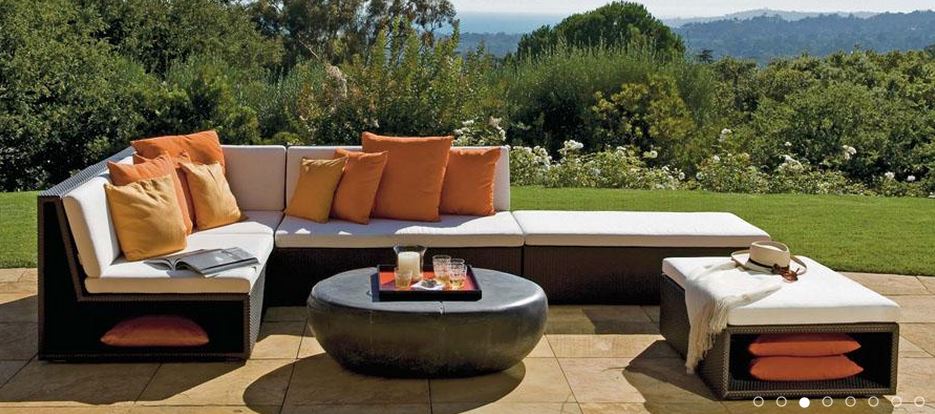 Blue is another popular choice for outdoor living color schemes. Here's one including mostly Restoration Hardware pieces that was featured in Colorado Homes and Lifestyles magazine.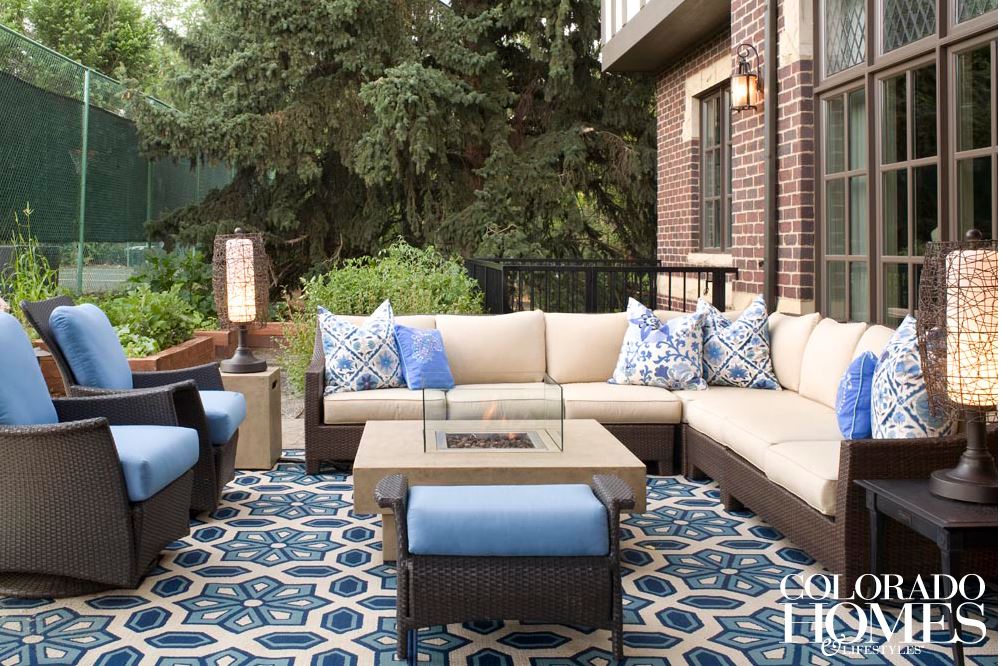 Looking for more outdoor living color schemes? Check out our outdoor color palettes on Houzz. You can also browse our outdoor color scheme ideas on Pinterest. And here's a great HGTV slideshow on "Bold and Colorful Outdoor Rooms."
Or, just contact us for a consultation. Our designers will be glad to help you out!
Question: What are some of your favorite outdoor living color schemes? Post a comment and let us know!