Outdoor Media Room, Kitchen a Hub for Houston Family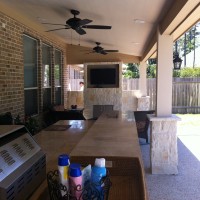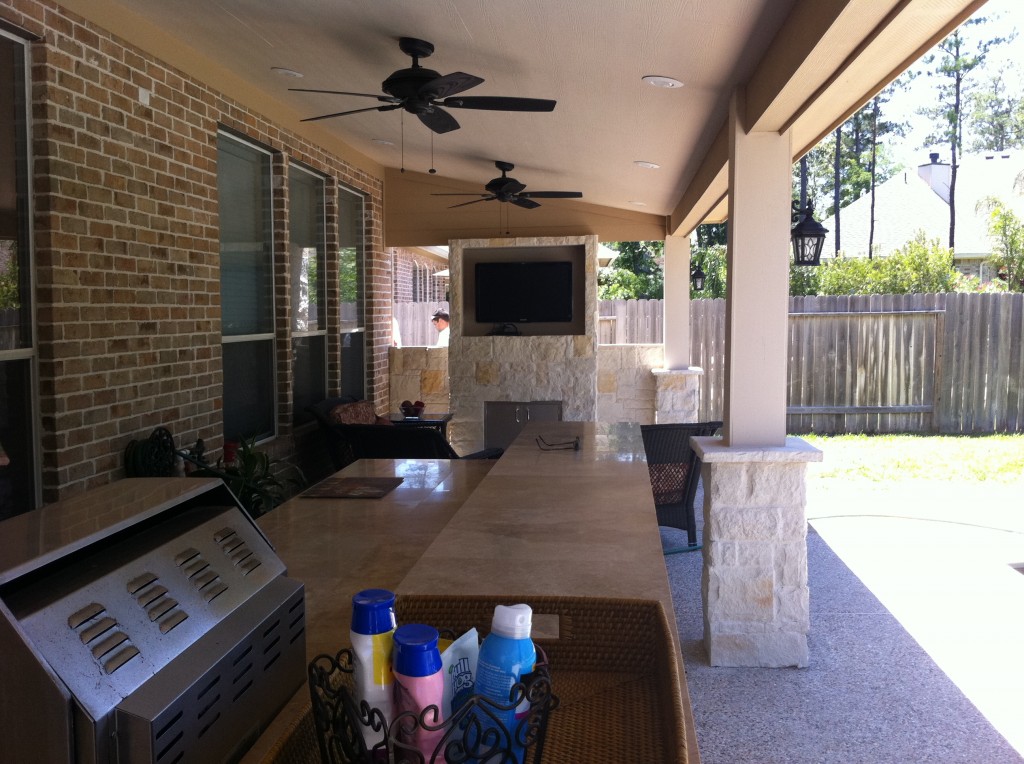 This outdoor media room and kitchen had to meet the needs of a Houston family needing kid space and adult space.
The kids wanted an outdoor audio visual area watch TV and movies. The grownups wanted an outdoor kitchen, bar and grilling area where they could enjoy themselves while watching the kids. And they all wanted a covered patio with places to sit between dips in the pool. 
However, the family had very limited space between the back of their house and their pool, and no room for anything in either of the side yards:
Stringent homeowner association rules also required that any home modifications match the existing home's architecture, color and finishing materials. The pitch of the roof also had to be such that it didn't overlap the bottom of the second-story windows above.
So here's what we came up with: A 40-foot-long by 11-foot- deep roof extension off the back of the house (longer than most, but with good engineering specs and design work, we were able to preserve the structural integrity):
At one end of the covered patio below is a 12-foot by 8-foot outdoor living room with a custom audio-visual cabinet. At the other is an L-shaped, 8-foot-square outdoor kitchen island with a built-in commercial-grade RCS grill, a 4-by-8-foot outdoor refrigerator and a outdoor icemaker.
Keeping in line with the existing home's beige siding, white trim and brown accent façade, we helped the homeowner choose appropriate finishing materials: Austin Western limestone (mostly white with beige accents) for the TV cabinet, kitchen island and column supports; Old English travertine (beige) for the countertops) and white, fluted columns.
The Old English travertine countertop has a raised back for a bar with counter seating. The diamond-pattern tile backsplash also features inset fleur de lis accents. 
The family is more than pleased with the results – two outdoor rooms with two different functions – all within the same covered outdoor living space!
Does your family have similar needs? Check out our "Projects" section for even more ideas! You can also check out our outdoor media rooms on Houzz.
Or, simply contact us and we'll work out a custom solution for you, too!