Outside Kitchen Design Ideas: Houston Patio Goes Mediterranean

Looking for outside kitchen design ideas? Gotta love the Mediterranean flair of this backyard patio, Houston outdoor designer Wayne Franks says.
Designed and built by his company, Outdoor Homescapes of Houston, this fully loaded family and entertaining space echoes the stucco, travertine tile patio and Mediterranean style of the existing home while exuding a more modern, transitional style.
"This was a high-profile client – both VPs of different oil and gas companies who entertain affluent guests on a regular basis – so they wanted to make sure they had high-end appliances and all the latest amenities they could order," says Lisha Maxey, senior designer for Outdoor Homescapes and owner of LGH Design Services in Houston. "They also have two kids, ages 7 and 10, and wanted a family gathering space that better accompanied their new, luxurious pool."
What really sets apart this outside kitchen design idea, however, is the way the elements are used throughout the space.
"Usually, outdoor kitchen designs for a backyard are grouped into one island or cabinet," explains Outdoor Homescapes of Houston owner Wayne Franks. "But here, the patio, roof and fireplace were all in place, separated by stucco columns, and the outdoor kitchen elements had to work around them."
A 14-foot-long cooking island houses a built-in Fire Magic grill with a Magic View Window (allows the chef to check on food without lifting the lid and losing valuable heat). The island, the countertop of which is "Carnaval" granite from Lackstone, also features a Fire Magic power burner, warming drawer and trash drawer. On one side of the fireplace, forming an "L" with the cooking island, sits a built-in Primo ceramic grill.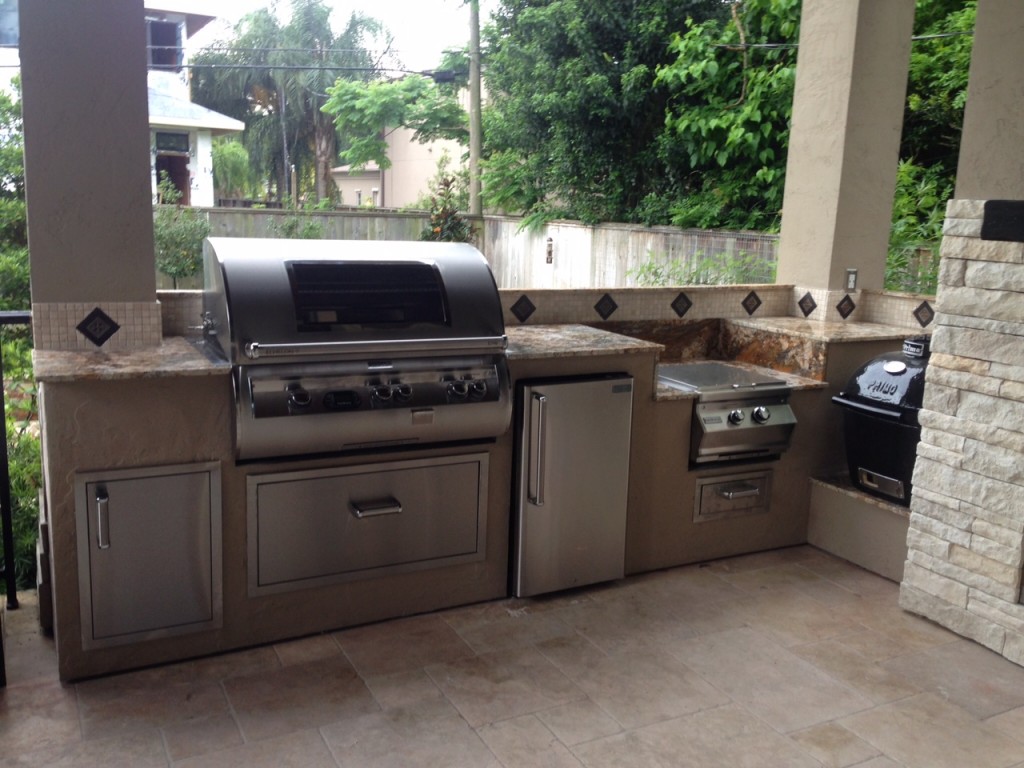 On the other side of the fireplace is a 3-foot-long cabinet housing a bar with a wine cooler, ice maker and upper cabinet. And finally, just outside the patio door is a 7-foot-long cabinet with a modern Kohler sink with a high-arc Moen faucet (sink and faucet from Faucets Direct), a trash drawer and another upper cabinet.
Outdoor Homescapes of Houston, by the way, outfitted both cabinets with glass inserts, custom pulls and three-way sensor lighting.
"At the beginning, this was basically a blank space with a fireplace in the middle," says Maxey. So Outdoor Homescapes upgraded the fireplace with Austin Stack Stone in white (No. 401) from Colorstone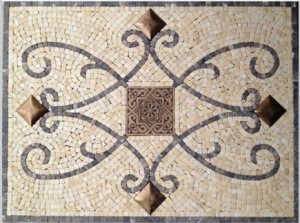 .  "The stone added that pop," notes Maxey.
The fireplace's espresso-colored, distressed wood mantel (from Mantels.com) and upper wood cabinets were both stained with the Minwax color Jacobean. The ceiling fans were also updated with ones featuring similarly espresso-colored, wooden fan blades, to match.
The table in the middle – a cast-iron, Mediterranean style gem with hand-forged scrollwork designs from Patio 1 in Houston – seats 10.
"We wanted this kind of Mediterranean feel," says Maxey. "We wanted rustic, but the appliance package was so new, with all its stainless steel, so we kept a the cabinets and the columns stucco instead of stone for a more clean, modern look and then did the custom tile backsplash and mosaic in more of a rustic, Mediterranean look."
The backsplash is a 1-inch travertine tile background with 4-inch square metallic insets, both from Floor & Decor. The tile for the 18-by-24-inch rectangle mosaic (above) came from Great Britain Tile Co. and included a Dianno Reale tumbled border and background. The bronze, diamond-shaped insets are tumbled Dark Emperdor tile and the scrolls are tumbled Noce tile.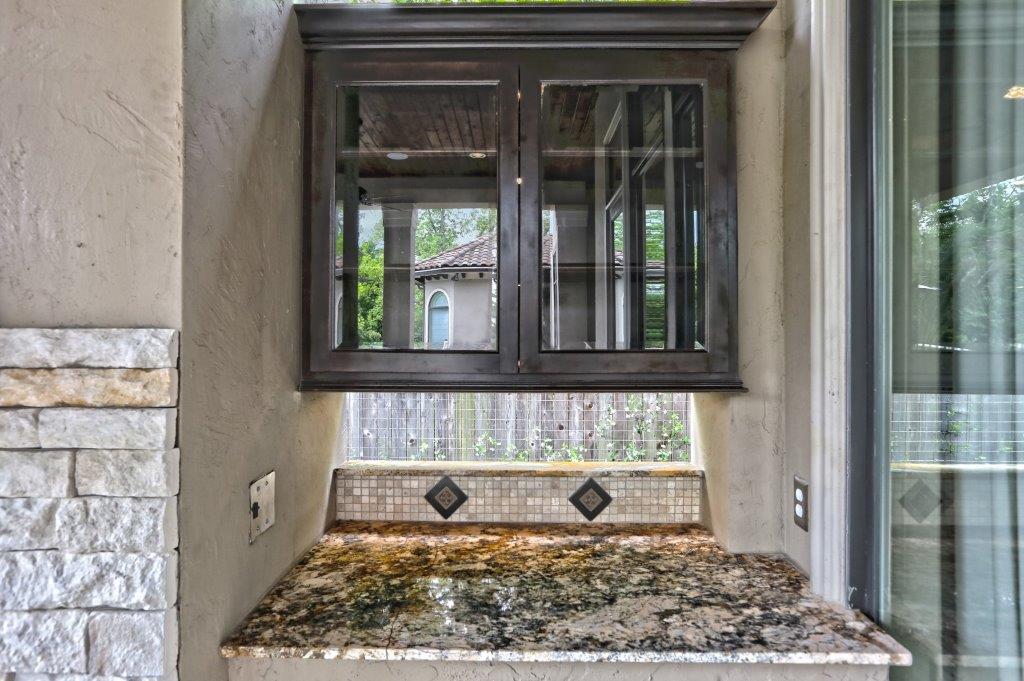 The client, who admits they have high standards, was more than pleased with the project – especially browsing through Outdoor Homescapes' vast library of patio kitchen design ideas, the 3D virtual video tour that let them preview the project from every angle before construction. They also liked the personalized design consultation.
"OH provides a very neat service where one of their designers will either shop/buy for you or shop with you for the more detailed pieces that will finish your home," reads the client's review on Houzz. "This was a very positive, personalized feature … Lisha helped narrow down an enormous marketplace of materials and finishes to a few we could choose from."
What do you like about this project? Write a comment and let us know!