We're Taking On Luxury Outdoor Furniture in Houston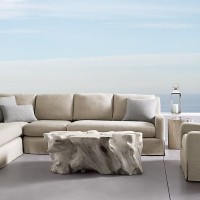 Q&A with Lisha Maxey (Senior Designer for Outdoor Homescapes of Houston) and Wayne Franks (company owner)
Looking for luxury outdoor furniture in Houston?
We've got you covered with our new line of products – and our new Senior Designer, Lisha Maxey!
To celebrate this brand new venture, Outdoor Homescapes is even offering a special summertime promotion: $500 off an outdoor furniture and/or lighting consultation. Just contact us to take advantage of this limited-time offer!
And now – here are more details on this exciting new expansion, from  Lisha Maxey and company owner Wayne Franks:
Q: So why is Outdoor Homescapes partnering with Lisha to provide luxury outdoor furniture and outdoor lighting?
Lisha: It's been my experience that customers want a truly turn-key operation for outdoor kitchens and other outdoor living spaces. Customers do ask for direction when buying outdoor furniture, ceiling fans, etc. So it just makes sense that we facilitate this in a broader sense.
Wayne: Very true. It's a natural for us. Some clients also want something unique and custom that exactly matches their final finishes. They also want personalized on-site service – not just going to a store and getting "stuck" with what they have or with a salesperson that doesn't really know what their space looks like.
Q: Do think there's a movement toward more upscale outdoor furniture and outdoor lighting?
Lisha: I don't know if it's so much a trend as it is that customers purchasing luxury items are usually very savvy and educated and expect more than the average with everything. I think it's about us plugging into the customer experience and guiding the client through all the available options.
Wayne: Service, service, service … Most people want a professional's touch here, and it's all about details, details, details …
Q: Are there any particular luxury outdoor furniture and lighting brands/designers you're excited about showcasing?
Lisha: Currently, I'm a trade partner with Restoration Hardware and Janus et Cie. And I'm working on building this list of partners.
Q: How will you be involved in the outdoor design process?
Lisha: I plan to be involved from the beginning on most projects. The expansion into high-end outdoor furniture and accessories is actually going to be just one piece of what I'll be doing. Project managing and project sharing will also be part of my job.
Wayne: She plans to offer an online library of upscale outdoor furniture and lighting at some point, but her current trade partners already have some amazing tools in place – publications, samples, catalogs – you name it.
Q: What seem to be popular luxury outdoor design choices right now?
Lisha: I would say that wicker is still Number One for most clients. But cast iron is making a big hit. Custom fabric is also on the top of the list, along with trendy accessories like lanterns, flameless candles, draped linen sheers.
Wayne: Clients love anything that can personalize a space and make it their own.
Q: Anything else you feel is important to add?
Wayne: Yes. Since we're already known for our cutting-edge 3D graphics that let you see your project from every angle before it's even built – of course we'll be incorporating your choice of outdoor furniture, lighting and accessories into those renderings. That way, if what you've chosen doesn't look right in the space, we can alter it before you make a purchasing decision.
Question: We'd love to know – what are some of your favorite brands or designers of luxury outdoor furnishings? Post a comment and let us know!
Or, if you'd like to get started on an outdoor living space project, simply contact us – and we'll get the ball rolling!