Houston Designer Shares Outdoor Decorating Ideas For Your Patio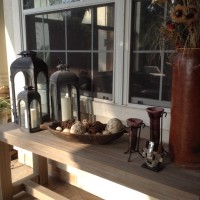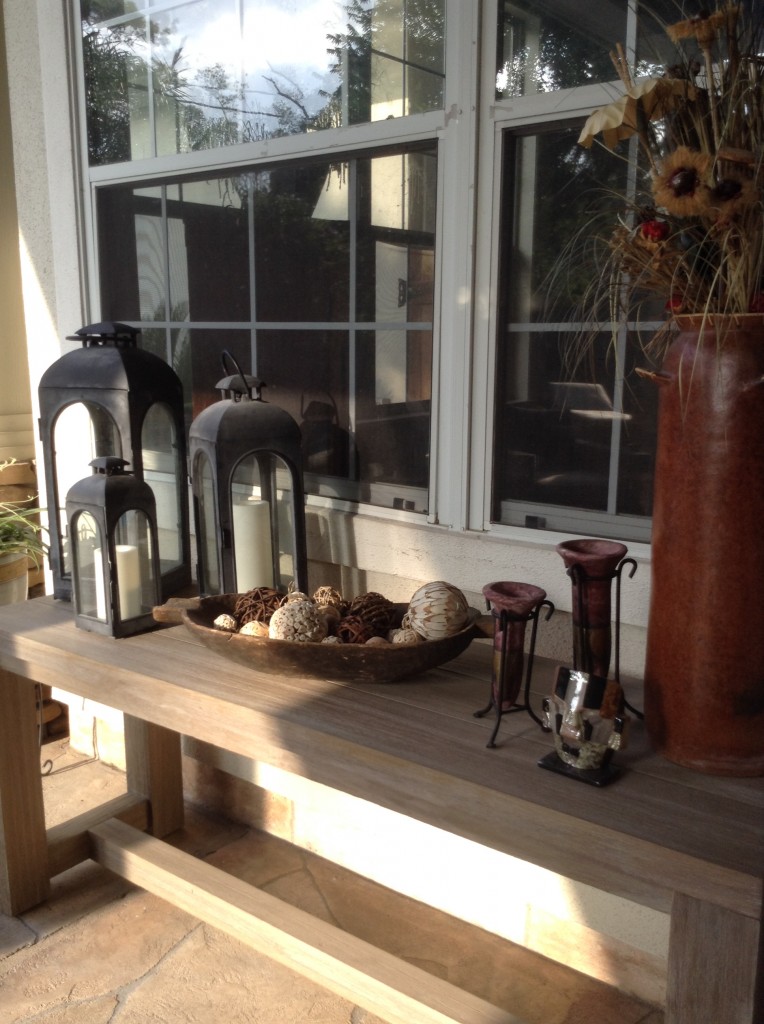 Outdoor decorating ideas? We have plenty here at Outdoor Homescapes of Houston!
"Outdoor décor is important because it allows us to put our own personal stamp on our patio or other outdoor living space design, " says Senior Designer Lisha Maxey. "It's what makes this part of our house feel like home."
So here's her quick-hit list of outdoor decorating ideas and images. Feel free to look around! Steal an idea or two!
Think "weathered" and "timeless"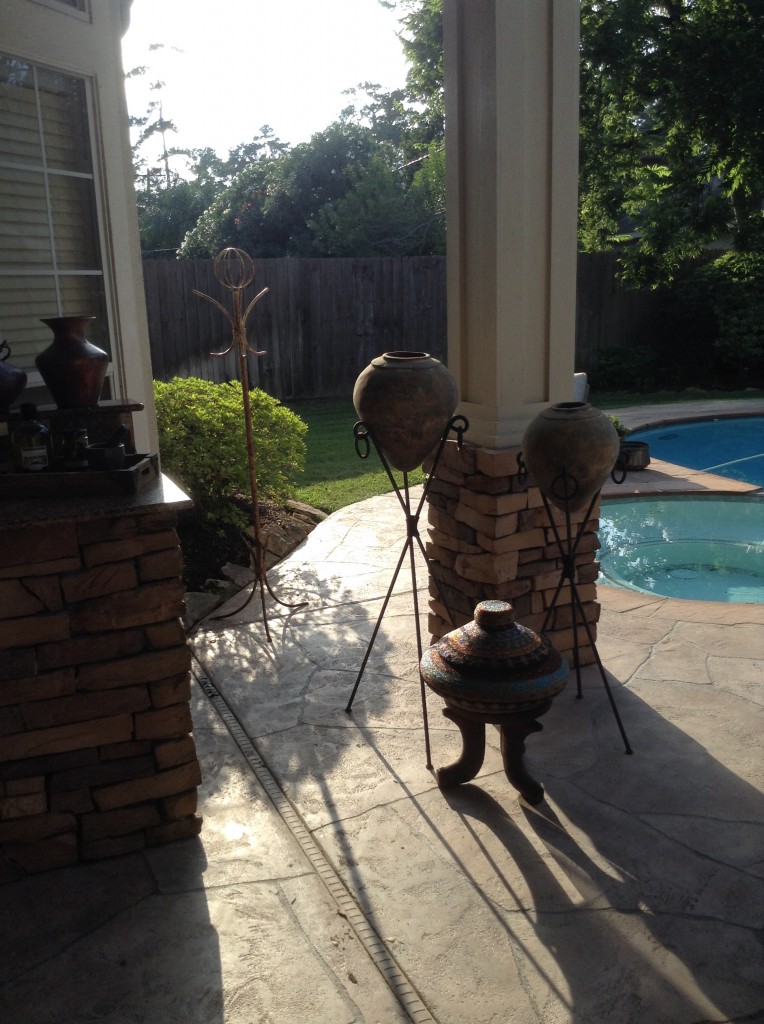 "Outdoor decorating accents that mimic cast iron and ancient stone are super popular right now," says Lisha, noting the pottery above in one of Outdoor Homescapes of Houston's many outdoor design projects. Cast stone (concrete or another masonry product cast into molds made of real stone) is a more accessible, less expensive option than real stone, she explains. And zinc-coated steel offers a lighter, more rust-resistant version of cast iron.
"Popular outdoor décor objects right now include finials, spheres, trays, candle holders (with LED candles,) pedestals, lanterns and oval bowls or troughs" says Lisha.
Much of today's outdoor furniture also features this "weathered" look, with distressed finishes and aged-looking patinas.
You can find a lot of this kind of outdoor décor and furniture, she says, via upscale furniture manufacturers like Restoration Hardware and Janus et Cie (Lisha is an established trade partner with both). In fact, Outdoor Homescapes is offering $500 worth of outdoor furniture consultation to each new outdoor living space, covered patio or outdoor kitchen client.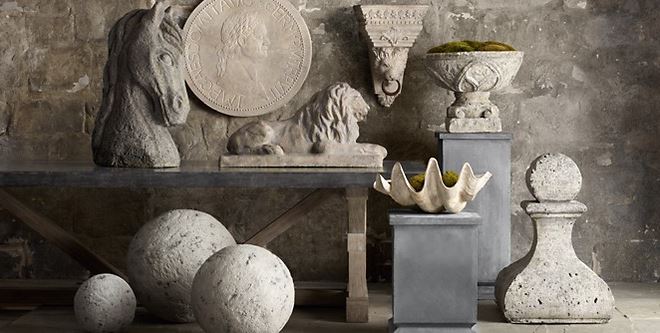 Don't forget the plants and flowers!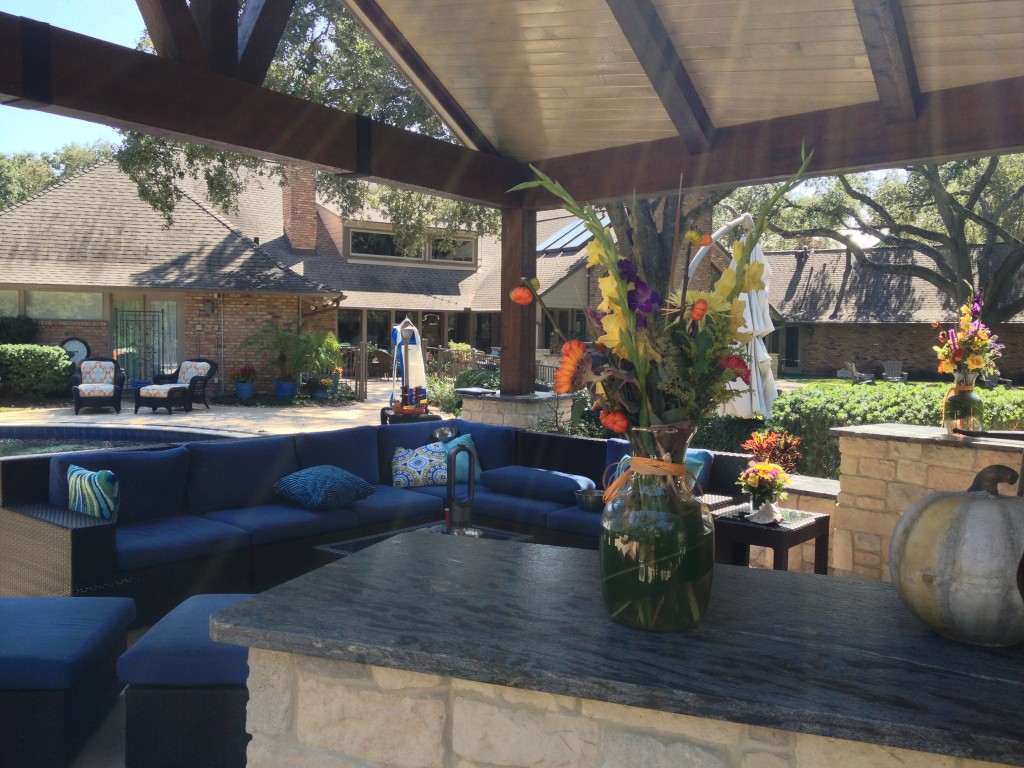 "The organic, curving forms of flowers and plants soften the hard, straight lines of manmade structures," explains Lisha. "So your outdoor decorations should definitely include them – even if it's just a vase of flowers."
Topiaries (like the ones below from Restoration Hardware) are popular (especially when you want to incorporate a more formal or classical look). So are container gardens, terrariums and climbing vines (the latter is especially great if you have an arbor, pergola or trellis).

 Celebrate the seasons

 "Switch up your outdoor décorating to reflect the time of year or season," says Lisha. "The idea of summer can be expressed with nautical objects like shells, coral or driftwood, and see-through, airy objects made of glass. Breezy materials like sheers and linen and colors like sky blue and sand also do the job."
Fall, says Lisha, can be easily brought it with sunflowers, pumpkins, bowls of apples and the addition of more candles and more golds, reds and oranges. Darker accents, heavier materials and more fall-like botanicals (like dried seed pods, grapevine and bittersweet) can be brought in as it draws closer to winter. "Since fall is also grape harvest time, anything involving wine and vineyards will also play well."
And of course, winter calls out for outdoor decorations like evergreen branches, candles and winter holiday touches. The owners of this outdoor living space by Outdoor Homescapes pulled this off beautifully: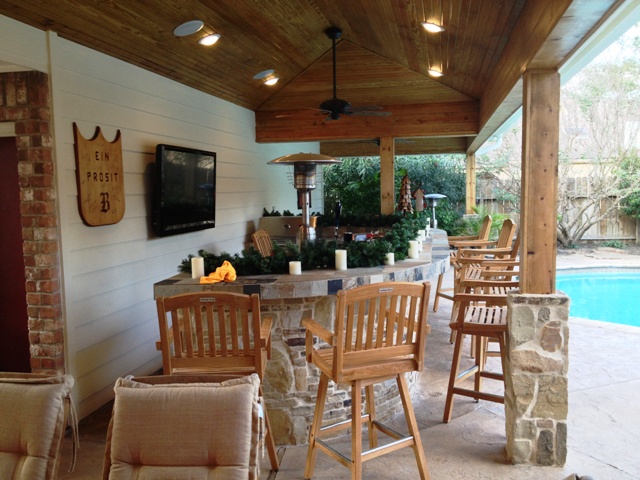 Go bold with little pops of color
"Throw pillows, seat cushions, umbrellas, rugs and throws are all ways to make color changeable and mobile," says Lisha. "You can also change up the hue or shade of upholstery or pillows with slipcovers and cushion covers."
For instance, Lisha notes how the patio (above) didn't need a ton of outdoor decoration: "The bright red seat cushions, which echoed the red of the brick and contrasted perfectly with the greenery of the environment, added just the right pop."
This is another area where plants and flowers come in handy – especially those with colorful foliage coordinating or contrasting with your outdoor décor.
And don't discount the color of functional items you're using anyway.
"Something as simple as a beach towel, tote or organizing bin not only adds another shot of color," notes Lisha. "It it has a way of making the space homey – like it's actually used by humans – and not like a display room or magazine page."
Question: What are some of your favorite outdoor decorating ideas? Post a comment and let us know!
Our professional design team would also be happy to help you coordinate your outdoor décor in a new outdoor living space. Interested in getting started? Just contact us!