Houston Kitchen Designers Shine With Contemporary Classic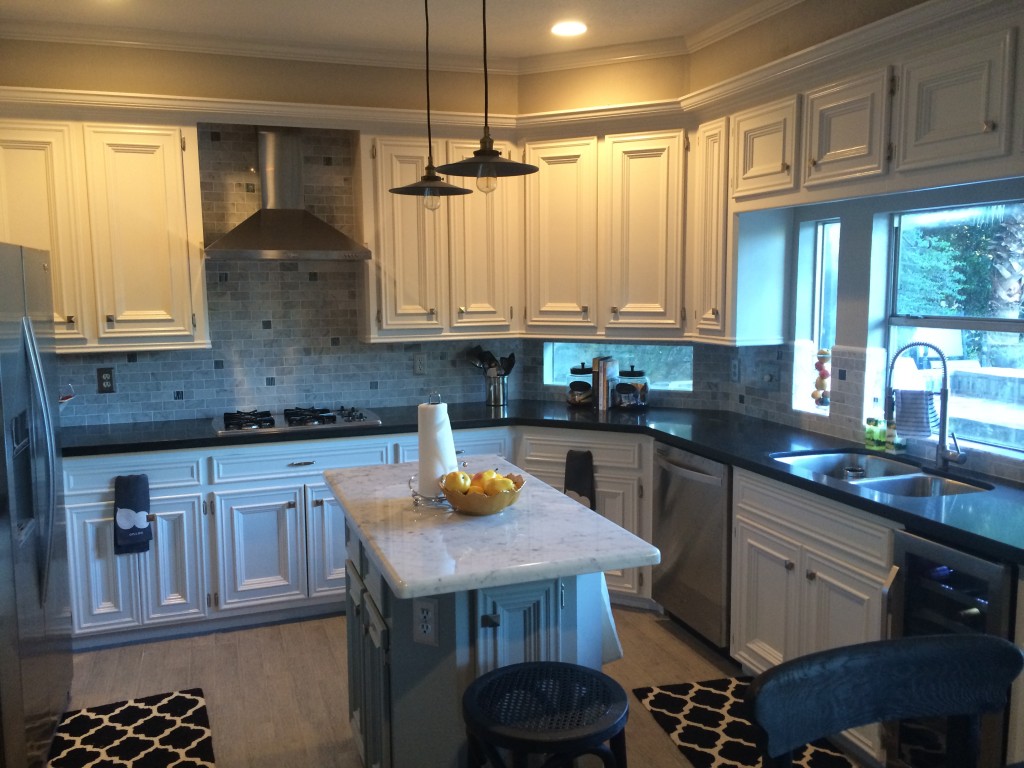 Houston kitchen designers Wayne Franks and Lisha Maxey have done it again – this time with a timeless, yet contemporary remodel.
"The client wanted something homey with a comfy, family feel," says Lisha, senior designer for Homescapes of Houston.
"They liked contemporary style," adds Wayne, Homescapes of Houston's owner. "But we couldn't push it too far, since  the style of the home is so traditional."
This Houston kitchen remodel hits all the right notes – staying on trend while keeping it neutral and classic for years to come!
The clean, contemporary, white-black-and-grey color scheme is just the beginning of this transformation from the previous kitchen: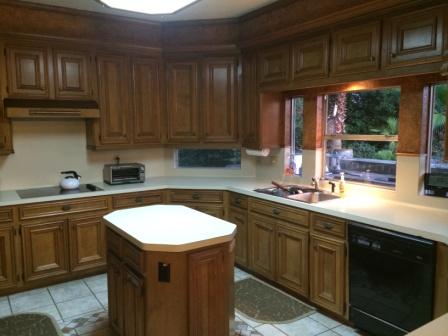 The revamped 20-by-15-foot kitchen and adjoining dining area also features new stainless steel appliances by Maytag, lighting and furnishings by Restoration Hardware and countertops in white Carrara marble and Absolute Black honed granite.
The paneled oak cabinets are now painted a crisp, bright white and finished off with polished nickel pulls. The center island is now a cool grey a few shades darker than the warm grey on the walls. On top of the grey on the new sheetrock, previously covered in a camel-colored textured paint, is Sherwin Williams' Faux Impressions sparkly "Striae Quartz Stone."
Ho-hum 12-inch ceramic floor tiles with a western motif border have been replaced with grey tile "planks" resembling distressed wood. An oak-paneled flush-mount light fixture has given way to recessed lights and barn pendant lamps in oil rubbed bronze from Restoration Hardware. And the section housing clunky upper and lower banks of cabinets between the kitchen an dining area now has a sleek counter-turned-table with custom-milled legs.
"At first, we wanted to open up that section altogether, but then realized they needed more counter space," explains Lisha. "The table – a continuation of the granite countertop – was the perfect solution. Plus, it offered space for extra seating."
The black, high-back and low-back bar stools, she adds, are also from Restoration Hardware – as is the new round chandelier and the dining table over which it hangs.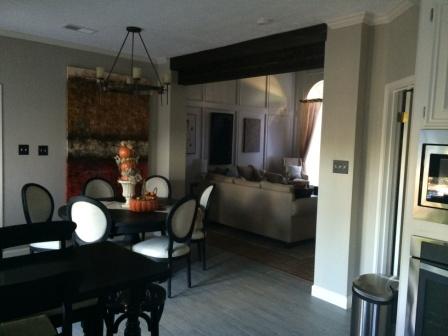 As you can see from the photos and video, Wayne and Lisha also took out a wall between the kitchen and living room and remodeled the adjoining living room as well. A decorative cedar beam stained Minwax Jacobean now spans the ceiling where the wall once stood.
The oak paneling and stairway railings in the living room, meanwhile, also got a coat of white paint, plus new window treatments and light fixtures from Restoration Hardware. Staining the top handrailing with the same Jacobean dark stain, however, made the look more contemporary.
The outdoor living space also got a revamp, with a new patio ceiling also stained Jacobean, as well as new outdoor furniture and an outdoor area rug from Restoration Hardware. The furniture is from the Klismos collection, in weathered zinc, with Sunbrella fabric in the color "Smoke."
Here's a video of the new living room and patio:
Does your kitchen need a revamp – inside or out? Just contact us! Wayne and Lisha can make it happen!