Celebrate Thanksgiving Outdoors On The Patio in 2015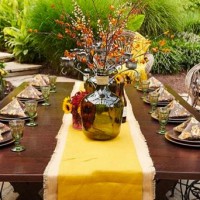 Hosting Thanksgiving outdoors on the patio has become a popular way to celebrate the holiday – at least in Houston. 
"After all, it's still warm enough to entertain outdoors, and everyone's extending the season so that it's year-round," says Outdoor Homescapes of Houston owner Wayne Franks, who's noticed an increase in outdoor living space design clients wanting turkey fryers and rotisseries built into their outdoor kitchen islands for the holidays. "And if it's a little chilly – you can always add the warmth with an outdoor fireplace, fire pit or outdoor heating system."
Never hosted Thanksgiving outside before – or want a few creative ideas? Here, we provide tips on all the major elements. And if it's a beautiful outdoor living space you need, of course we've got you covered there, too. Just contact us and we'll get the party started!
Outdoor heating
Since Thanksgiving occurs when the weather starts getting cooler, it's a good idea to make sure you have outdoor heating options in place. Regardless, outdoor heaters are a great idea for extending the season, since more and more people are relaxing and entertaining outdoors year 'round ow.
Outdoor Homescapes of Houston offers permanently-installed outdoor heating systems as well as fireplaces and firepits. Each have their benefits and drawbacks in Houston outdoor living spaces.
When it comes to permanently-installed systems, we offer electric, quartz infrared heaters by Solaira. We attach these energy-efficient, reliable heaters up and out of the way. That way, they'll always be there when you need them. And when you don't – you won't even notice them.
If you want a more architectural element or the rustic crackling of a wood fire, one of our outdoor fireplaces may be the right option for you.
Fire pits, meanwhile, offer a more low-maintenance alternative to fireplaces, which require cleaning and ash removal. And we build them beautifully. Check out our blog post "Houston Fire Pits: 4 of Our Favorites.
Cooking the turkey
First, let's talk turkey – or at least how to prepare it outdoors. There are a several ways to do it, we've found:
On the grill
Here's a great Martha Stewart recipe for slow-grilled turkey.
Deep-fried
Deep-fried turkey more your thing? Here's the BBQ Guys' guide to making deep fried turkey outdoors, safely and deliciously.
Spit-roasted on a rotisserie
Whether it's on a charcoal or gas grill, you'll find instructions for both in this great write-up on spit-roasted turkey from Steve Raichlen's Barbecue! Bible
In a smoker
Here's a particularly delicious recipe for turkey in a smoker from AllRecipes.com.
In a kamado-style ceramic cooker
Got a Big Green Egg? Here's Your Turkey Day Cheat Sheet. And here are plenty of recipes for Thanksgiving turkey on the Big Green Egg.
Decorating outdoors for Thanksgiving
Looking for some decor that'll get your outdoor living space looking Thanksgiving worthy? We've gathered a few ideas from decorating pros:
Thanksgiving patio decor on Houzz
Outdoor Thanksgiving on Pinterest
Hosting Thanksgiving Outdoors With Decor By HGTV
Well, we hope you can use some of these tips on hosting Thanksgiving outdoors, or just extending the season with some outdoor heating! Looking for more ideas and inspiration for an outdoor Thankgiving? Check out these 8 tips for hosting Thanksgiving outdoors by Simple Bites.