This Houston Covered Patio is Perfect for Football Season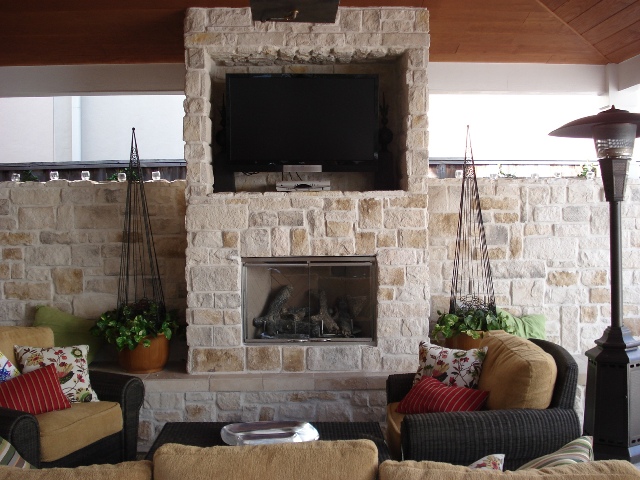 Take a look at this Houston covered patio! Isn't it the perfect place to watch football on TV in fall?
"In my opinion, this outdoor living space contains the essentials of a great football season hangout," says Wayne Franks, co-owner of Outdoor Homescapes of Houston.
These basics include:
A large-screen TV
A large coffee table for holding drinks, food, remotes
An outdoor kitchen nearby for streamlined cooking and serving of food (no in and out of the house)
An outdoor refrigerator for easy access to cold drinks
Buffet-style serving off the outdoor kitchen
Lots of comfy seating
A heater and fireplace for extra heat and light going into cooler weather (this gas fireplace has vents that shoot the heat straight out into the room)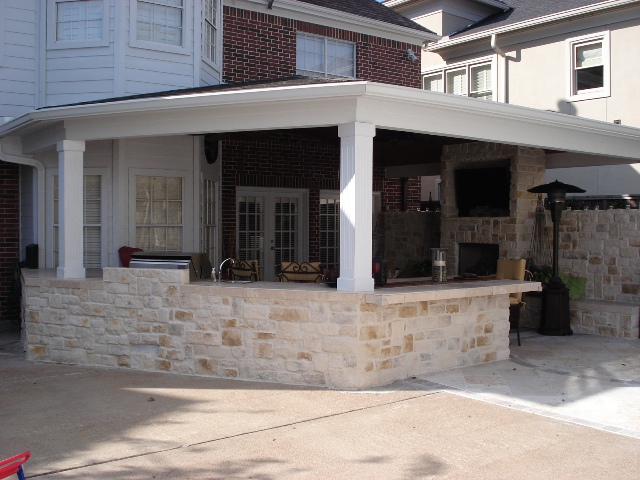 "You also want to allow enough space for good traffic flow," adds Wayne. "You don't want it to be too crowded."
This is where a Houston-area covered patio designer like Wayne is so important. Whenever he designs a covered patio in Houston, he knows how to seamlessly integrate proper space planning with beautiful design – so the space looks and functions the way the family wants. For a proper TV viewing height and distance, the TV was placed atop the gas fireplace insert. (The fireplace and wall go up about 5 feet high, and then the TV is built into the 6-foot-high section of wall above that).
Speaking of outdoor TVs — from now until the end of the football season, Outdoor Homescapes of Houston is offering free installation of outdoor TVs (an $800 value).
Those interested in the promotion can contact us for more information.
 "Another important point to consider is that this still needs to be a versatile space – good for football fans and non-fans alike," continues Wayne. "This client, for instance, was a big football guy and so this covered patio was set up for football season. But he, his wife and two young kids also wanted a year-round space for family time and movies, so there's plenty of visual and functional softness built in."
"Softness," he explains, is not just a literal, tangible thing achieved with cushions, throw pillows, area rugs and throws. It also comes from the organic forms of plants, the curving lines of the wicker sofas and the decorative spheres in a bowl used for decoration. "Every space needs curving or imperfect shapes and forms to offset the hard lines of manmade materials."
Even  the "hard lines" that come with all the outdoor structures that have given "hardscaping" its name can be balanced out with the use of natural materials. Stone – with its uneven edges and rustic, natural appeal – is an overwhelmingly popular choice for Houston covered patios. The stone used here on the fireplace, walls and outdoor kitchen island is Austin Western Limestone.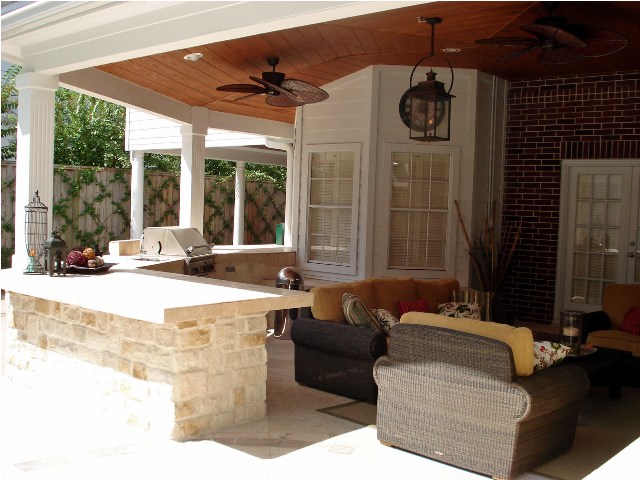 Houston covered patios also provide shade and heat protection for outdoor TVs, says Wayne. This 400-square-foot hex-shaped hip roof extension also shelters the TV and audio-visual system from rain. "The 18-foot-long privacy wall the fireplace is built into also helps block the light."
Want your own covered patio in Houston for enjoying football season outside? Just contact us, and we'll hook you up!
Or, just check out our Houston covered patios on Houzz!