Houston Patio Design – Watching Football On TV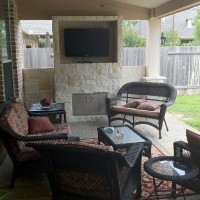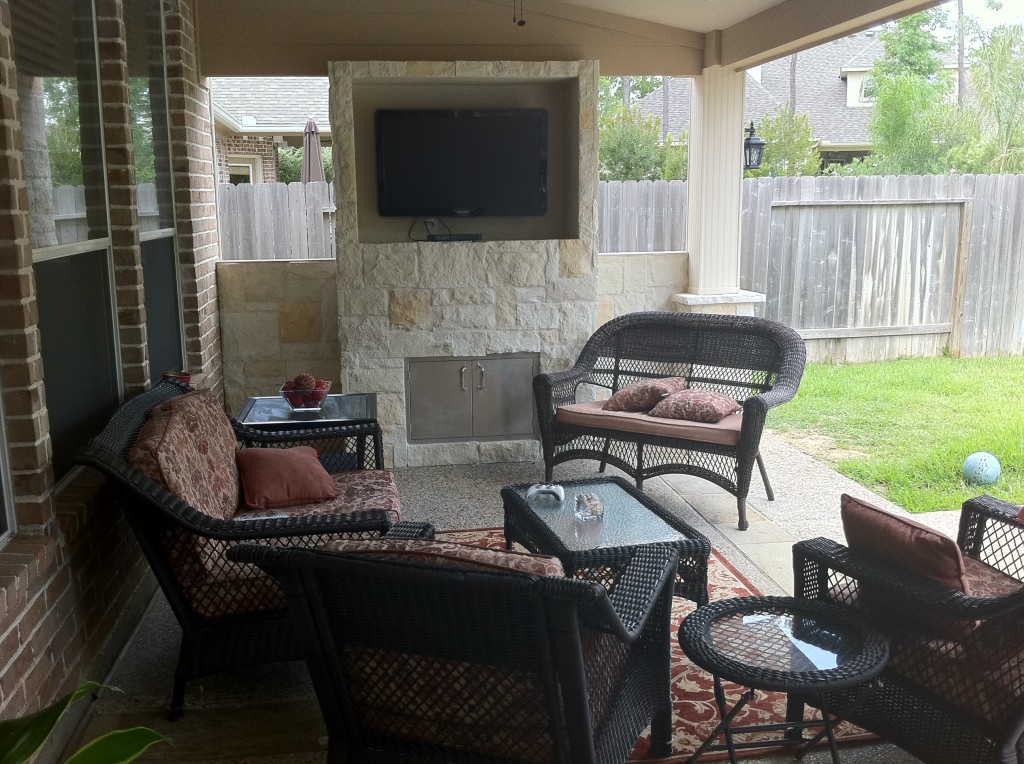 In the fall, Houston patio design often centers around allowing clients to watch football on TV outside.
So much so, says Outdoor Homescapes owner Wayne Franks, that patio designs in Houston with outdoor audio-visual systems are an extremely popular choice at this time:  "Clients wanting outdoor media systems – especially for watching football in fall – have doubled in five years."
In fact, Franks would say eight out of 10 Houston patio design customers now want an outdoor TV, with football game watching a major motivator.
That's why Franks is offering a special promotion to those wanting Houston patio design with TV. From now till the end of football season, get your outdoor TV installed for free ($800 value). If you're interested in this special offer, just contact us!
So, what do you need if you want a Houston patio design to watch football on TV?
Here are three essentials from Franks. Also feel free to check out our Houston patio design pictures on Houzz!
Houston Patio Design – 3 football-friendly tips

Big, weatherproofed TV
The larger the screen the better, says Franks, because people are viewing it from farther away outside. Houston patio designs are also going to need an outdoor-rated TV or a weather-proofed indoor TV.
"I personally don't advise paying for an outdoor TV, since they typically cost more than $4,000," says Wayne. "An indoor TV costs about $600 and usually lasts clients about two to three years here. So I just say keep on buying indoor TVs."
An indoor TV, however, should be placed in a weatherproof cabinet or enclosure – to protect it from dust, moisture and theft. Prefab outdoor TV enclosures start at about $600, although you can make your own out of Plexiglass if you're handy. "At the very least, patio designs in Houston with outdoor TVs should include some sort of roof to put the TV under," says Franks. "You should also provide some sort of weatherproof cover for the outdoor TV when it's not in use, like a grill cover.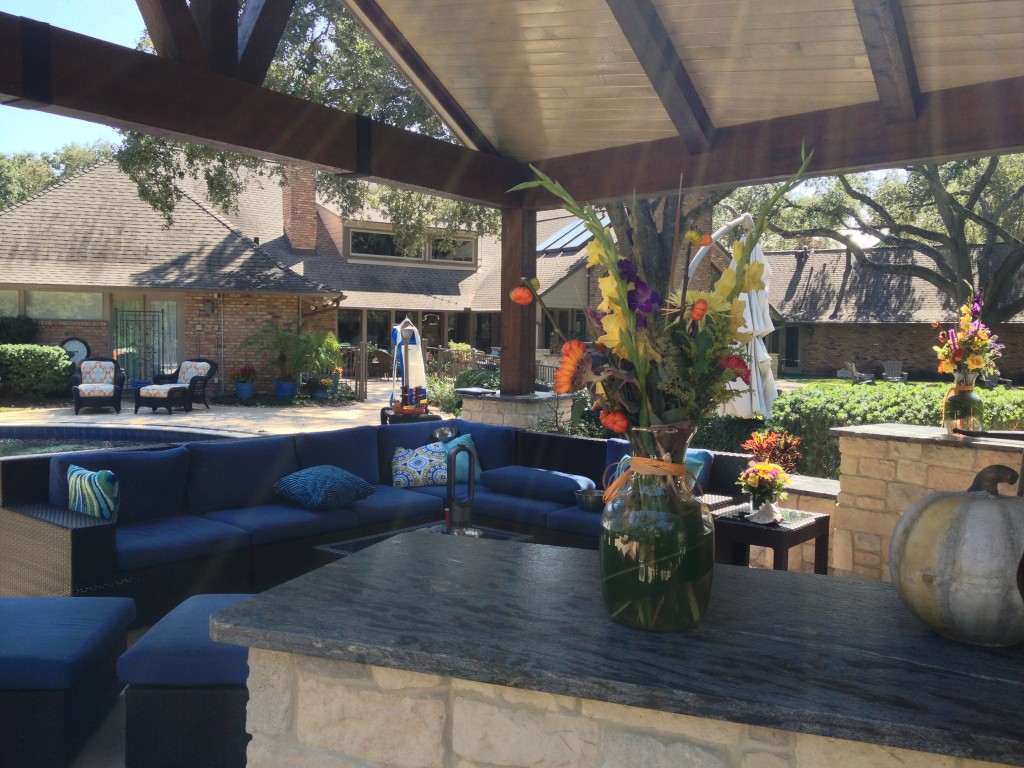 Comfortable outdoor seating
"When it's game day, people will be watching football on TV for several hours – sometimes with multiple games in a row," explains Franks. "This means your patio design should include an actual couch or wide chairs with cushions – not just a few plastic patio chairs."
If you're looking for the right outdoor furniture, Outdoor Homescapes' patio design team can help. In fact, we're offering a limited-time special promotion right now – $500 off all outdoor furniture consultations. (Interested? Contact us.)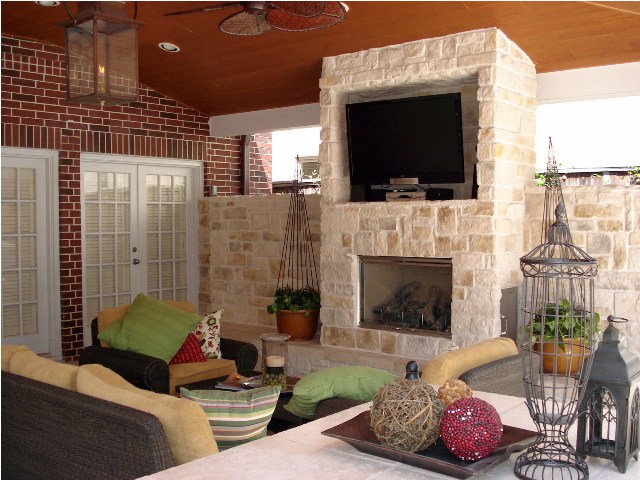 Outdoor heating
"In Houston, it starts getting cold in November," says Franks. "But long before that, people start using their fire pits, fire places and portable heaters."
Such fire features, he explains, not only provide extra heat as the season grows colder – they also provide extra light as the days get shorter. Portable propane heaters start at about $80.
Question: If you have – or would like to have a Houston patio design with outdoor TV – what other amenities would you include? Outdoor kitchen? Kegerator? A commercial-grade grill? Comment and let us know!