4 Houston Patio Designs for Football Season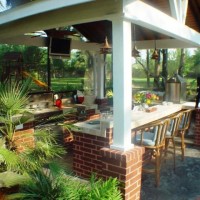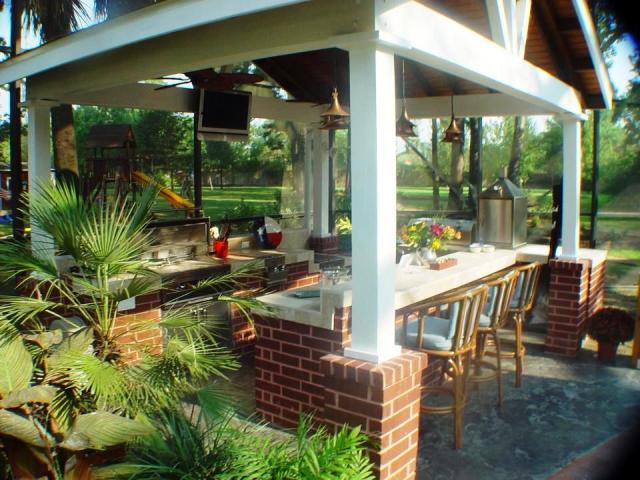 How 'bout this for an outside kitchen design idea: Houston outdoor kitchen designs with TVs for football season?
After all, outdoor living spaces always become huge hangouts when the game's on. Cold drinks, hot steaks off the grill and catching the game with friends are all more fun in the shade of a covered outdoor kitchen or patio.
But a cabana with a TV, outdoor kitchen, bar and grill – like the one shown above – is just one of many designs you can choose.
Here, we've got four more football-season-friendly Houston outdoor kitchen designs you'll like – from family-friendly digs to straight-up man caves. All these covered outdoor kitchens were designed and built by Outdoor Homescapes of Houston – which, by the way, is offering a football season special: Free outdoor TV installation ($800 value! Interested? Contact us for details!)
Want a complete walk-through of one of our

Outdoor kitchen for football and family

The large, 55-inch flat screen TV in this Houston outdoor kitchen design allows you and your guests perfect sightlines to the TV while you're taking care of food and drinks and they're watching the game.
The TV and comfy seating are in a 12-by-8-foot outdoor living space with a custom audio-visual cabinet faced with Western Austin Limestone (components, remotes and DVDs are hidden behind the stainless steel doors at the bottom). Behind this outdoor living room is the L-shaped, 8-foot-long outdoor kitchen island with a built-in commercial grade RCS grill and outdoor refrigerator and an outdoor icemaker. The counter's raised back also creates a bar where stools can be added for additional seating.
When not in use as a football-watching hangout, this Houston outdoor kitchen allows the kids to watch movies and TV on one end while the parents entertain guests on the kitchen-and-bar end.
Backyard kitchen with accessible fridge
This Houston outdoor kitchen design not only offers football game viewing from the built-in hot tub, but easy access to cold drinks and food.
"In this case, we put the outdoor refrigerator on the exterior of the adjacent outdoor kitchen island so guests can get drinks for themselves," explains Outdoor Homescapes of Houston owner Wayne Franks. "Usually, all the appliances are built into one side of an outdoor kitchen island – the side facing the host – so they can fetch drinks for guests if needed. And usually, the setup also enables guests to get drinks themselves if they want. But the placement of this kitchen actually created a barrier to the fridge, so we put it on the outside of the island to make it easier for everyone."
Outdoor kitchen meets man cave
This Houston outdoor kitchen features a huge 55-inch flatscreen TV, slab concrete table, stainless steel walls and a killer e790 Echelon Fire Magic commercial grade grill. It's about as manly as an outdoor kitchen can get. And why not? In the Saber Grills 2014 Outdoor Living Survey, 30 percent of male homeowners said they're solely responsible for decorating decisions in their outdoor space. And just over half (53 percent) of outdoor decorating decisions are made by men among first-time homeowners.
And – since this homeowner likes to play sports as well as watch them – this yard also has volleyball and basketball courts. Players can cool off afterwards with drinks, thanks to the built-in refrigerator and icemaker. Meanwhile, pizza made in the outdoor pizza oven or wings, ribs and burgers from the grill can be kept in the warming drawer underneath the grill.
Check out this video of the football-friendly Houston outdoor kitchen project:
Summer kitchen that goes beyond summer
This Houston outdoor kitchen is perfect for catching the football game  – especially when the weather gets colder. Super comfy cushions and pillows warm up this space functionally and visually. And a built-in fireplace below the TV adds extra heat in the coldest part of winter.
"As you can see, a football-season-friendly outdoor living space isn't just limited to your typical man cave," says Franks. "After all, this is a multifunctional space usually getting used by an entire family. This may also be the room where Mom holds her book club, the kids watch movies with friends or the couple entertains some business clients."
The outdoor kitchen counter to the right also has a bar where stools can be pulled up for extra seating.
QUESTION: Which football-friendly Houston outdoor kitchen do you like best? Post a comment and let us know!
You can also feel free to browse our Houston outdoor kitchen pictures on Houzz. Or, if you're ready to get started with your own Houston outdoor kitchen project, just contact us!