Blog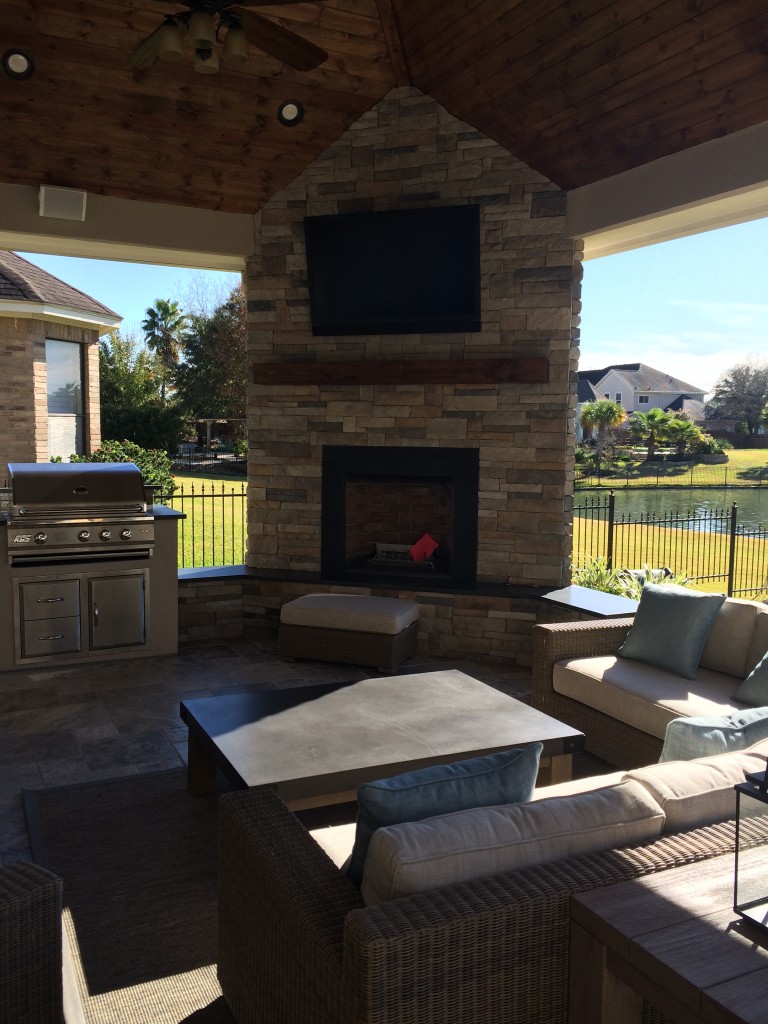 We are so excited about this stylish Houston patio addition!
It's one of our most recent outdoor living space design projects – and one of our new favorites!
We particularly love the rustic corner fireplace, as well as the beautiful, vaulted pine ceiling and Restoration Hardware furniture.
"Even though this space has an outdoor kitchen – often the highlight of our projects – the focus here is beautiful, comfortable outdoor living," says Outdoor Homescapes of Houston owner Wayne Franks. "And I have to say, I think this is one of the most gorgeous spaces we've created for doing that – in style."
"This project was special from the start, as we were creating this space for a friend of Wayne's who had been a long time mentor to his boys growing up," adds Lisha Maxey, owner of LGH Designs in Houston (she coordinated furniture and finishes for the project). "This client was the principal of their high school and knew all of them very well and Wayne, too. This made it very personal, indeed, and we wanted everything to be perfect!"
The 23-by-16-foot addition, located at the back of the house in Cypress, looks out onto a manmade lake in the homeowners' subdivision. The focal point? A fireplace (9 feet 8 inches high by 7 feet wide) in Earth Grey rustic ledge stone from Colorstone in Houston. The fireplace features a custom wooden mantel, stone bench seating and a 52-inch Sunbrite outdoor TV.
Another highlight is the flooring – silver travertine tile laid out in a Versailles pattern. "We chose silver travertine in a 'Tumbled' color palette with variations of cream and brown," says Lisha. "So we had those two colors, plus grey, to pull from."
The 7-foot-long, stucco outdoor kitchen island's countertops are also noteworthy – Absolute Black granite in a leathered finish offering a modern look and a dark grey hue that works perfectly with the color palette.  The kitchen island also houses an RCS 30-inch grill and fridge: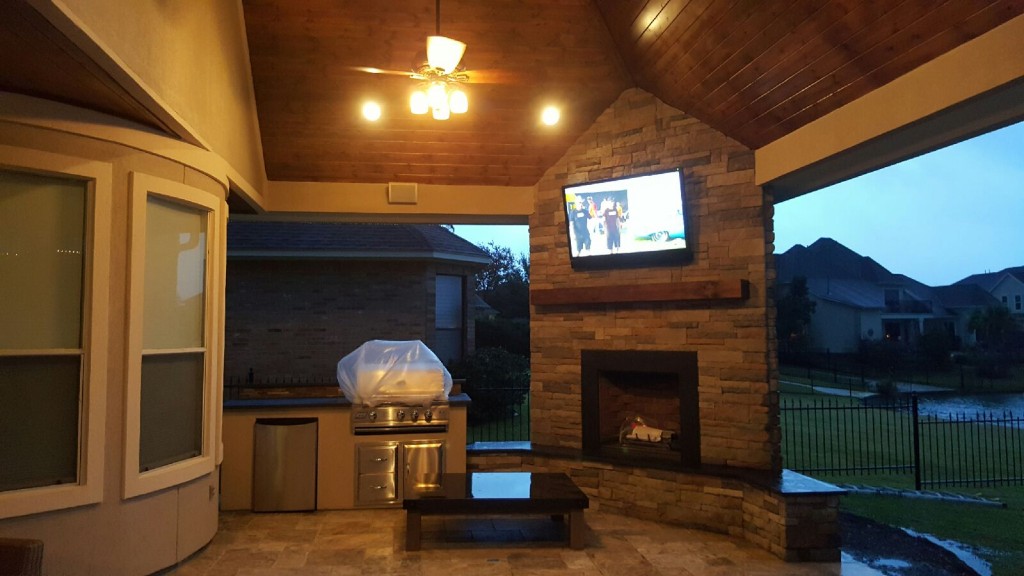 The seating area includes a sectional couch, coffee table, two swivel chairs and two ottomans – all from Restoration Hardware.
"We used the Biscayne sectional, swivel chairs and ottomans in gray, with textured linen weave in Sand, and cushions and peacock accent pillows in gray," says Lisha. The coffee table is made of solid teak with a concrete top – as is the matching side table.
"We added a console table, also in teak, behind the sofa," continues Lisha. "And for accents, we added three Amalfi lanterns in weathered zinc."
A Sunbrella® Heathered area rug (in Gray) was added to anchor the space and visually tie it together.
"The space as a whole leans towards a transitional style, in that it has many traditional cozy comforts and colors, but the furniture gives it a more contemporary look," says Lisha. "The idea from the beginning was to marry these two styles, as our clients wanted a look that would not age and be in vogue for years to come." 
On the exterior, you can see how we worked to make the addition blend with the existing home – matching the shingles and stucco and continuing the landscaping.
 3D graphic renderings and a virtual video tour allowed the clients to know exactly what the space would look like beforehand: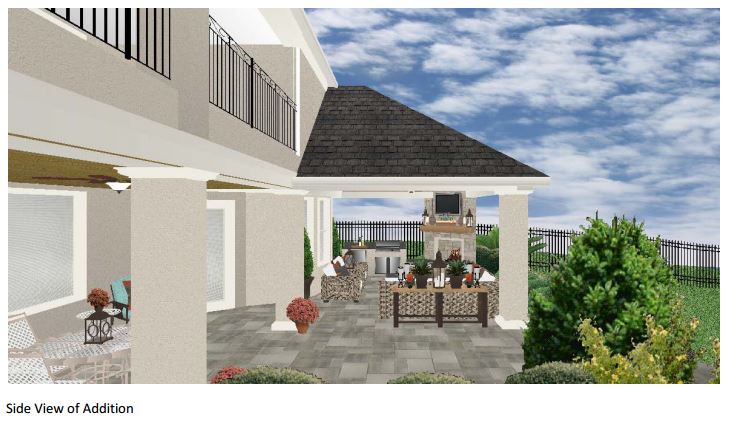 "It takes a lot of the guesswork out of the process," says Outdoor Homescapes' graphic designer, Kristy Buell Franks. "Floor plans and elevation drawings are good for giving an idea of the overall scope of the project, but it's the 3D renderings that really show what the space is going to look like."
The 3D graphics and video tours also help immensely when choosing finishing materials and furniture, she says: "The clients' choices can be put into the design to allow them to see how they'll look in the space." 
Here's the virtual video tour Kristy created for the project:
What do you like about this space? Post a comment and let us know! And don't forget to share and like this project on social media!